If you like Dominican food, it's time to find out more about the ingredients, culture, and traditions that shape its flavors. Plus, the 10 most popular traditional Dominican dishes you must try!
What are the top three staples in Dominican cuisine that come to mind when you think of Dominican food? I'd assume you thought of salami, rice and plantains. Dominican food tends to stand out because of these three ingredients that while aren't typically used in the same dish, other than a favorite known as locrio de salami with tostones, at least one of them can certainly be found in most Dominican dishes.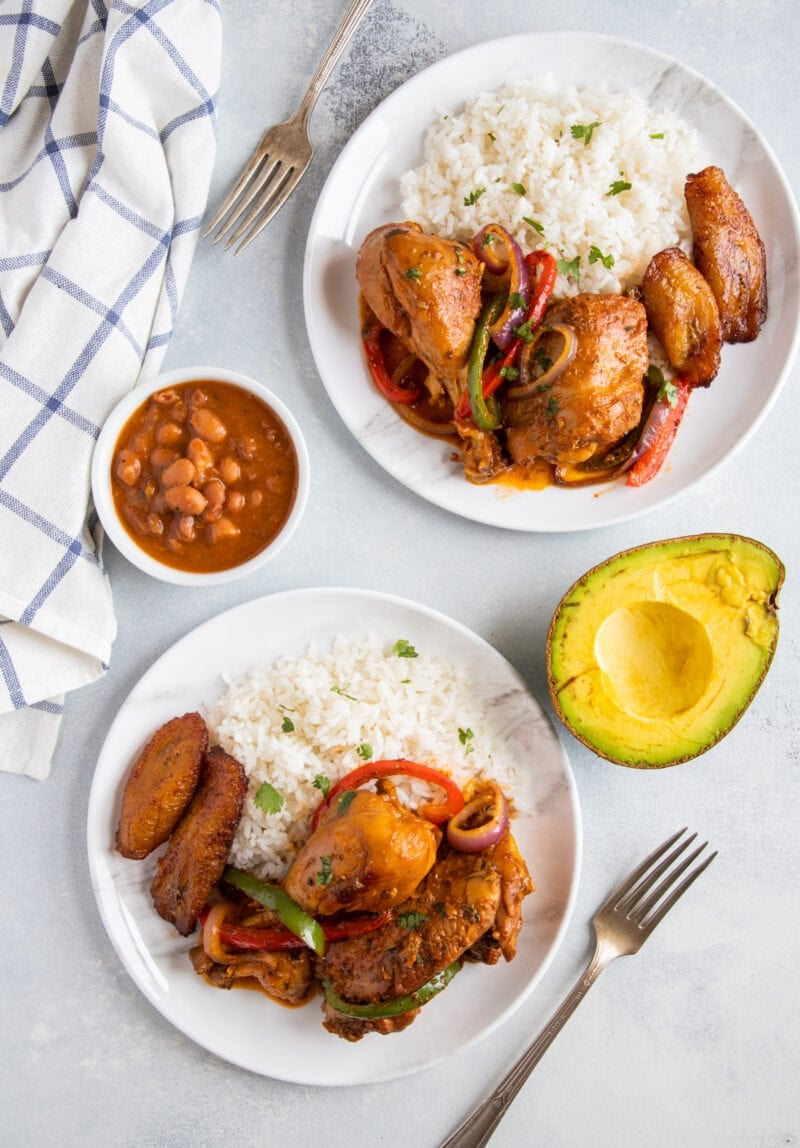 While taste is certainly an extraordinary factor when it comes to mastering the craft of cooking Dominican food, it's important to take a step back and look at the history of some of these meals. Because Dominican food would not be what it is if it wasn't for the influence of other cultures.
What is traditional Dominican food?
Traditional Dominican dishes range from delicacies, desserts and regular meals. Some of these foods include tostones (fried plantains), mangú (plantain mash), and sancocho (caribbean meat and vegetables stew). And yet, what really brings all of these foods together is its common use of the beloved and cherished food staple that can be found in most, if not all Dominican households — plantains, or platanos.
Presales are open!
The Dominican Kitchen is a collection of 80+ authentic recipes created with easy-to-find ingredients and featuring comforting traditional Dominican flavors. As a thank you to anyone who pre-orders a copy, we are giving out a FREE preorder bundle. Check out our cookbook page for more details.
BUY NOW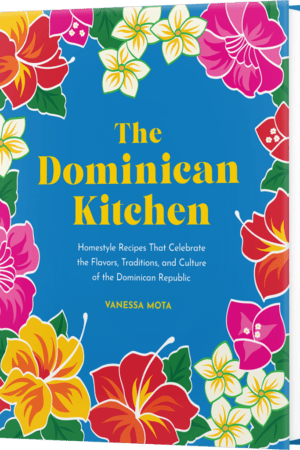 Plantains are used in most Dominican dishes because they can be cooked in various ways, which is similar to how potatoes are known for being multifaceted. Plantains can be fried, boiled, mashed, or left to ripen and be fried to cook the sweet island delicacy of maduros. Whether it's used as a side, a main dish or something to throw in whatever meal you're cooking up, Dominicans have made plantains their go-to vegetable.
What makes Dominican food unique?
Dominican food, like that of other cultural dishes, is truly made with soul. Its variation meals with blends of herbs and crops with fried cheeses, meats, onions, tomatoes, and sazón, or sauce, topped with leftover stew sitting at the bottom of the pan is not only what makes the Dominican foods so unique. There's also the heart put into each meal by our Dominican mothers and fathers who are known for spending hours by the stove telling their children stories of how things once were.
While the taste is truly important, there are also lots of healthy elements embedded underneath all of the salt, oil, and adobo that Dominicans love with its mixtures of root vegetables, stewed meat, and overall high vegetable fiber. That's because Dominicans, as well as many other cultures in Latin America and the Caribbean, grew up raising animals and tending to farms of their own to ensure the best quality of meats and vegetables in their meals.
When you go to the Dominican Republic, especially in places within the Campo area (countryside), it's often that the foods we often go out to buy ourselves at a local restaurant are so easily made within their own households. Dominican food is flavorful, tasty and a constant reminder of the influences of other cultures as told by the textures, herbs, and sauces so intentionally applied into each dish.
Spanish Influences on Dominican Cuisine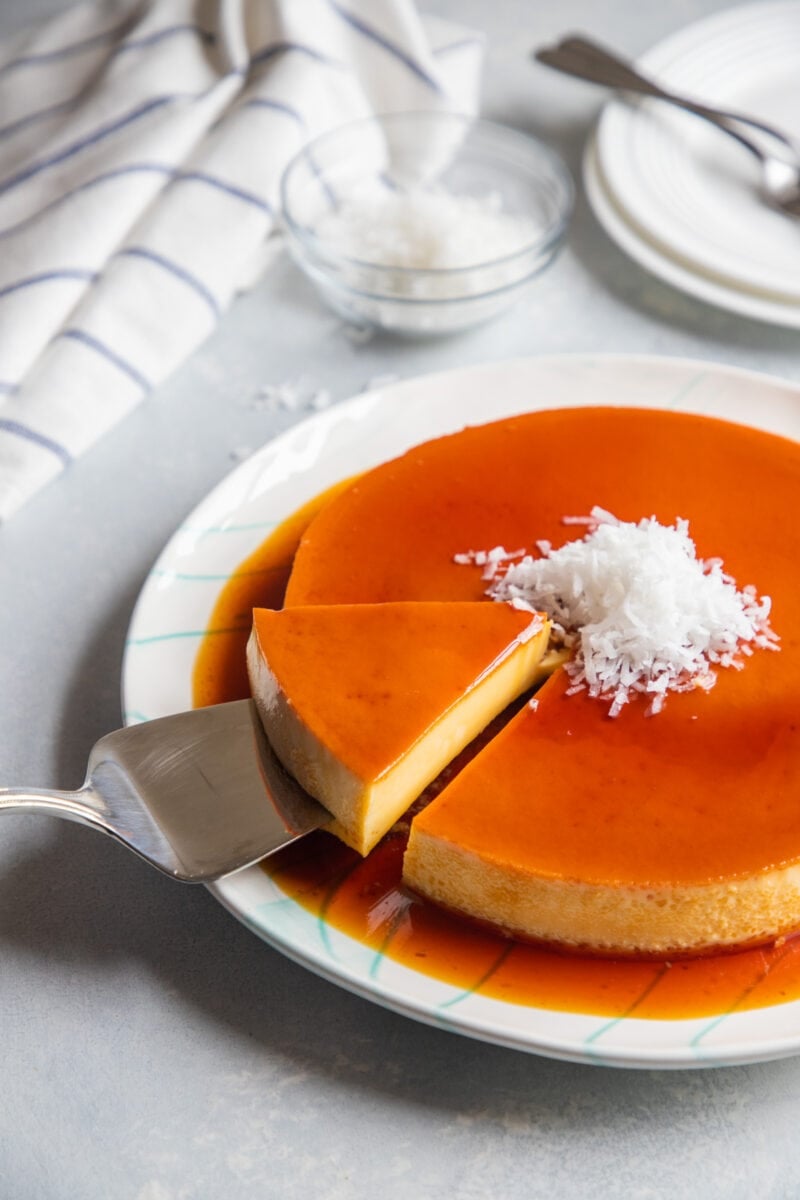 It's no question that Latin American countries were once occupied under Spanish rule. For the Dominican Republic, this occurred from 1492-1821, with a brief interval of French rule from 1795-1809 and then jointly with Haiti until 1844. This continued further as the Dominican Independence was briefly interrupted by the Spanish from 1861 to 1865, and America from 1916-1924.
Inevitably, the long years under Spanish rule not only influenced Dominican cuisine but also made it possible as they introduced new animal species, fruits, vegetables, and grains to Hispaniola at the time. Including two of its most popular dishes, sancocho and La Bandera Dominicana, which consist of pollo guisado, white rice and stewed beans.
Presales are open!
The Dominican Kitchen is a collection of 80+ authentic recipes created with easy-to-find ingredients and featuring comforting traditional Dominican flavors. As a thank you to anyone who pre-orders a copy, we are giving out a FREE preorder bundle. Check out our cookbook page for more details.
BUY NOW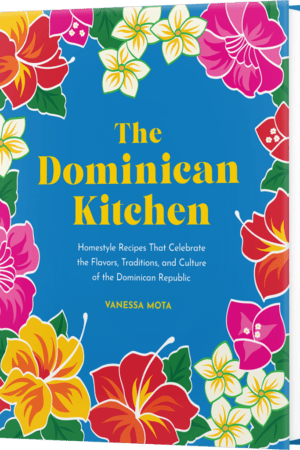 Other Spanish-influenced dishes that are still widely enjoyed today among Dominicans are:
Arroz con leche, a rice pudding made of rice, milk, sugar, and raisins.
Flan, a Dominican custard made from egg yolks, vanilla, evaporated milk, and condensed milk.
Quesillo, similar to the traditional flan but a bit denser in texture.
Middle Eastern Influences on Dominican Cuisine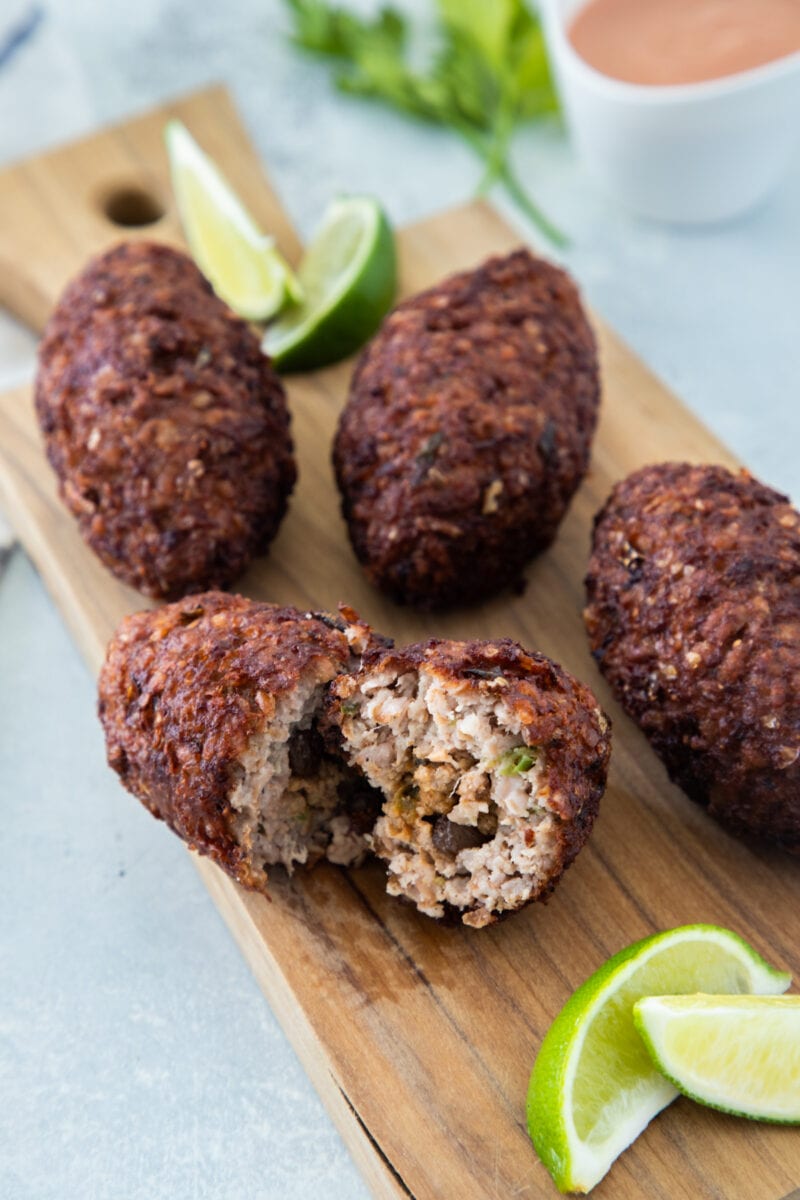 Dominican food is mostly recognized for its Spanish, Taino and African influences. But one cultural influence that often goes unnoticed is Middle Eastern culture, which was ultimately brought by the Spanish during the Moorish Invasion, and led to the Arab migration in the Dominican Republic.
Most commonly, one of the foods influenced by Arabic culture is the kipe, or quipes, which is the Dominican version of the Lebanese "kippeh," pronounced the same way. It is a deep-fried bulgur roll dish, usually filled with meat. Unlike the Lebanese kibbeh, Dominicans substitute the lamb meat for beef and refrain from using mint and spices as the seasoning as middle easterns traditionally do.
Other dishes include, arroz con fideos, or rice with fried noodles and niño envuelto (beef cabbage rolls).
Taino Influences on Dominican Cuisine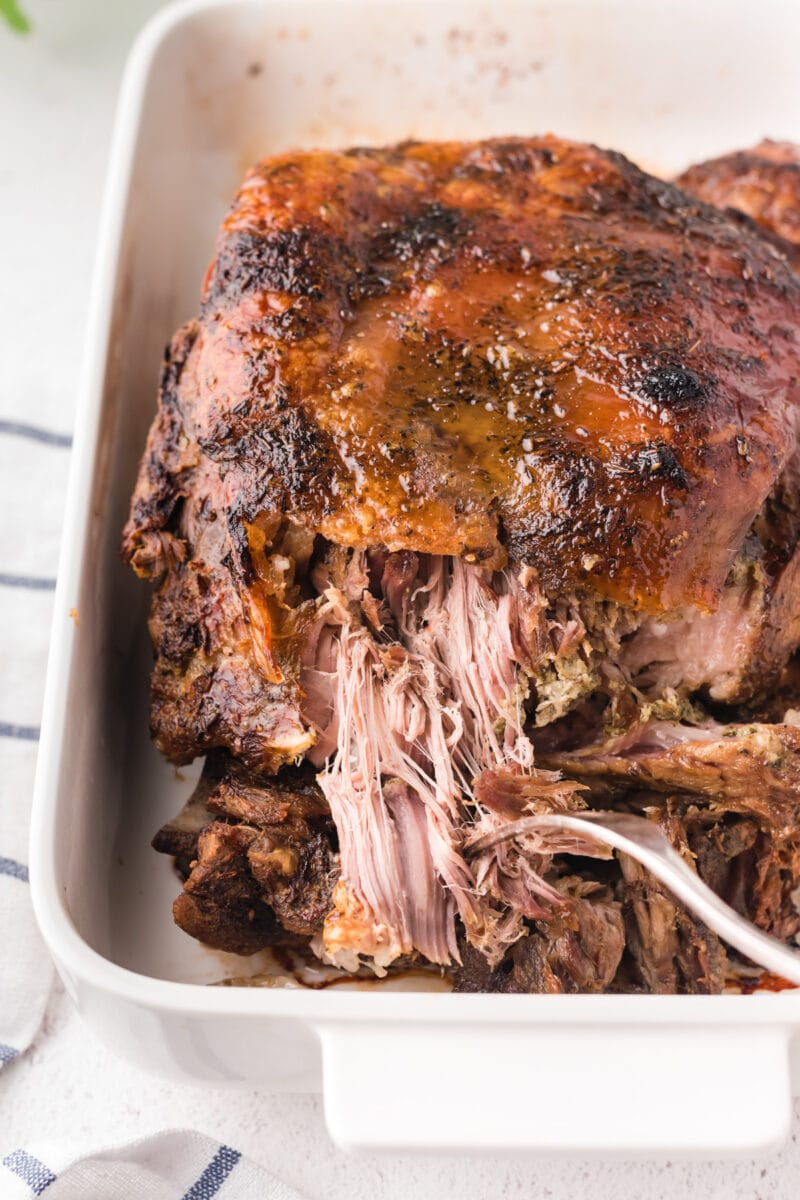 As we continue to dive into history, we must not forget about our Indigenous ancestors, who are known as the Tainos for Dominican people. Before Columbus discovered Hispaniola (La Isla Española), the Tainos named their land 'Ayiti' ('land of high mountains'), which later evolved as Haiti. Of course, this leads to the controversial history of Christopher Colombus supposedly discovering America, as mistakenly taught in history lessons.
Instead, it is more commonly understood now that Columbus wiped out about 90% of the Taino population, in part with the deadly smallpox epidemic in 1518-1519. While it's believed that the Taino population had become completely extinct, it turns out that some actually escaped to form inland communities with other escaped slaves or married or intermarried with the Spanish population. Many Dominicans today would be able to find Taino ancestry in their DNA.
Presales are open!
The Dominican Kitchen is a collection of 80+ authentic recipes created with easy-to-find ingredients and featuring comforting traditional Dominican flavors. As a thank you to anyone who pre-orders a copy, we are giving out a FREE preorder bundle. Check out our cookbook page for more details.
BUY NOW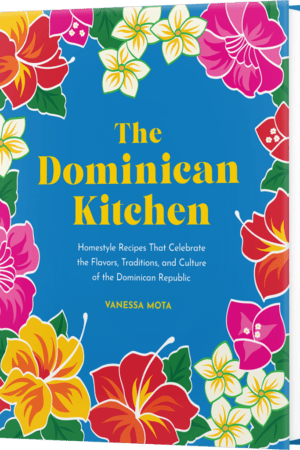 But besides the history of Tainos that is embedded in our culture, food has also made its influence in some of Dominicans' favorites today:
Casabe is a thin unleavened cassava or yuca flatbread that Dominicans are often seen dipping into their soups, similar to crackers or spread on with peanut butter to enjoy as a savory snack known as bon-bon.
Puerco Asado (Roast Pork) or most commonly known as pernil, is often enjoyed during every Christmas or Thanksgiving dinner. This would often be eaten along with moro de habichuelas (Rice with Beans) or Arroz con Gandules (Rice with Pigeon Peas), salad, or any other prepped side meal. Dominicans also enjoy this with some casabe, especially on the day after as a leftover meal.
African Influences on Dominican Cuisine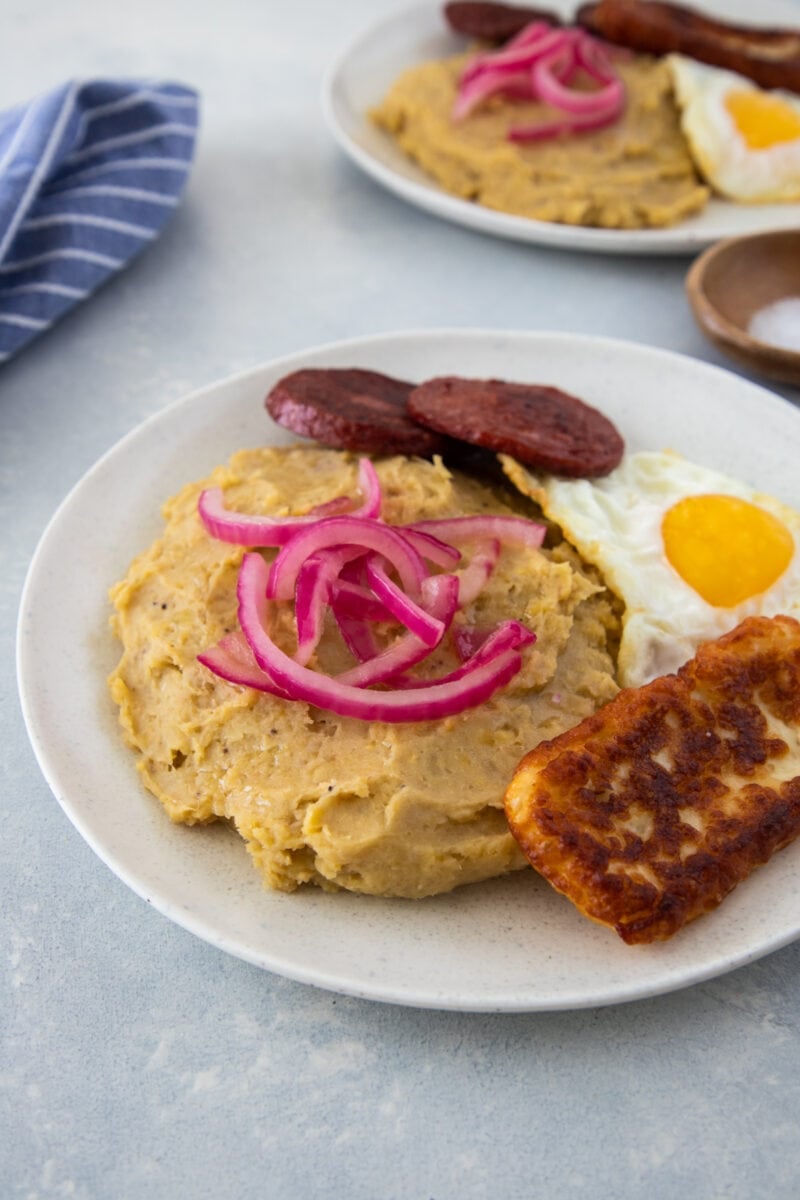 Going back to plantains and the signature Dominican dish that is mangú, its biggest influence is that of African cuisine as it comes from Africa's Congo Region which was brought to the island during the slavery trade. Mangú is traditionally made by mashing boiled green plantains with a mix of its water, oil, and/or butter.
The story that goes around about the origin of its name, which is based on American soldiers who tried mangú during *one of the* American occupations of the Dominican Republic reacting that it's "man, good" or "mad good," there's no actual proof that this is how the dish got its name but rather a great tale spread between the Dominican, New York diaspora.
The word mangú actually comes from the West African word akin to "mangusi," which refers to any mashed vegetable from the earth. The dish also goes back to two centuries ago with the Cuban dish of "fu-fu," which is the closest dish to mangú.
While plantains had first arrived in Santo Domingo from the Canary Islands in the early 1500s, it was already an established crop in West Africa.
Chinese Influence on Dominican Cuisine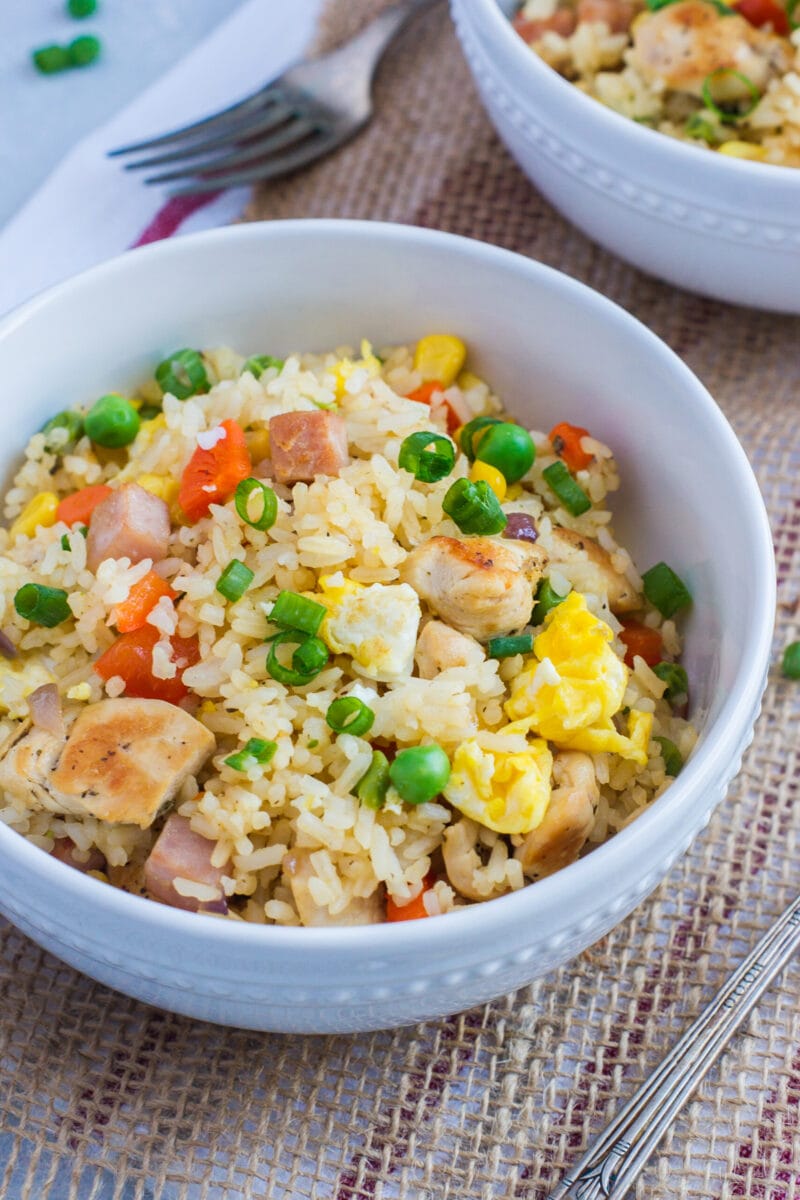 One of the dishes that is heavily influenced by Chinese cuisine, is known as chofan (Dominican chow fan), made of fried rice and chicken.
With Chinese immigrants populating the Dominican Republic, it's no question that they'd bring some of their traditions to the island. One of the first records of a Chinese person in the DR is that of a man in 1864 named "Pancho el Chino," who fought in the Dominican Restoration War.
After early immigrants were brought to work as laborers in the sugar plantations in the English colonies, others who followed often started their own businesses. Including that of restaurants, such as "Pica Pollo," which is very popular around the country for selling fried chicken and blending Dominican and Chinese food together.
About 15,000 people of Chinese origin are estimated to currently live in the Dominican Republic.
In Santo Domingo, there's a Chinatown that was conceived in the early 1990's but officially inaugurated in 2006.
What is the national dish of the Dominican Republic?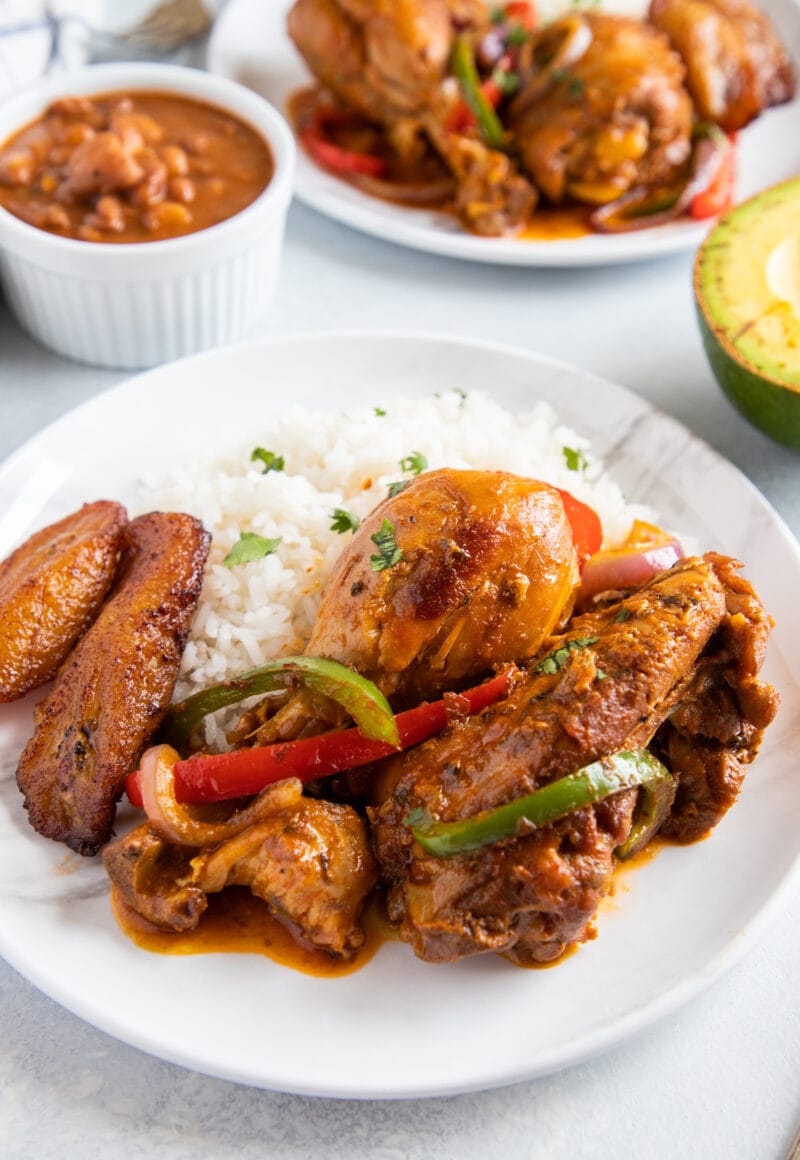 The national Dominican dish happens to be known as "The Dominican Flag" or La Bandera Dominicana. It is the national standard lunchtime dish that consists of rice, beans, and meat that is open to substitutions but consistent with its emphasis on the tricolor significance that the Dominican flag consists of and the three main delicacies composed of in this special meal.
Most commonly, people will have this meal with the option of beans — red kidney beans, pinto beans, black, white beans, or gandules (pigeon peas).
Although this meal is also incomplete if it wasn't for the additional sides that add to the texture and flavor of the three bases. When I mentioned the healthy elements before, something to note is that Dominicans will often, if not always include a salad with iceberg lettuce, tomatoes, cucumber with olive oil, salt and vinegar as the dressing, topped with a slice of avocado.
And as multiple mentions show, plantains are most certainly not forgotten, and will usually consist of perhaps a third side of tostones, if not, maduros for a sweeter taste.
10 Most Popular Traditional Dominican Dishes