Fried Sweet Plantain Slices (Platanos Maduros Fritos) ~ Scrumptious sweet, ripe plantains fried to perfection. Simple and easy, this is the best appetizer or side dish for any meal.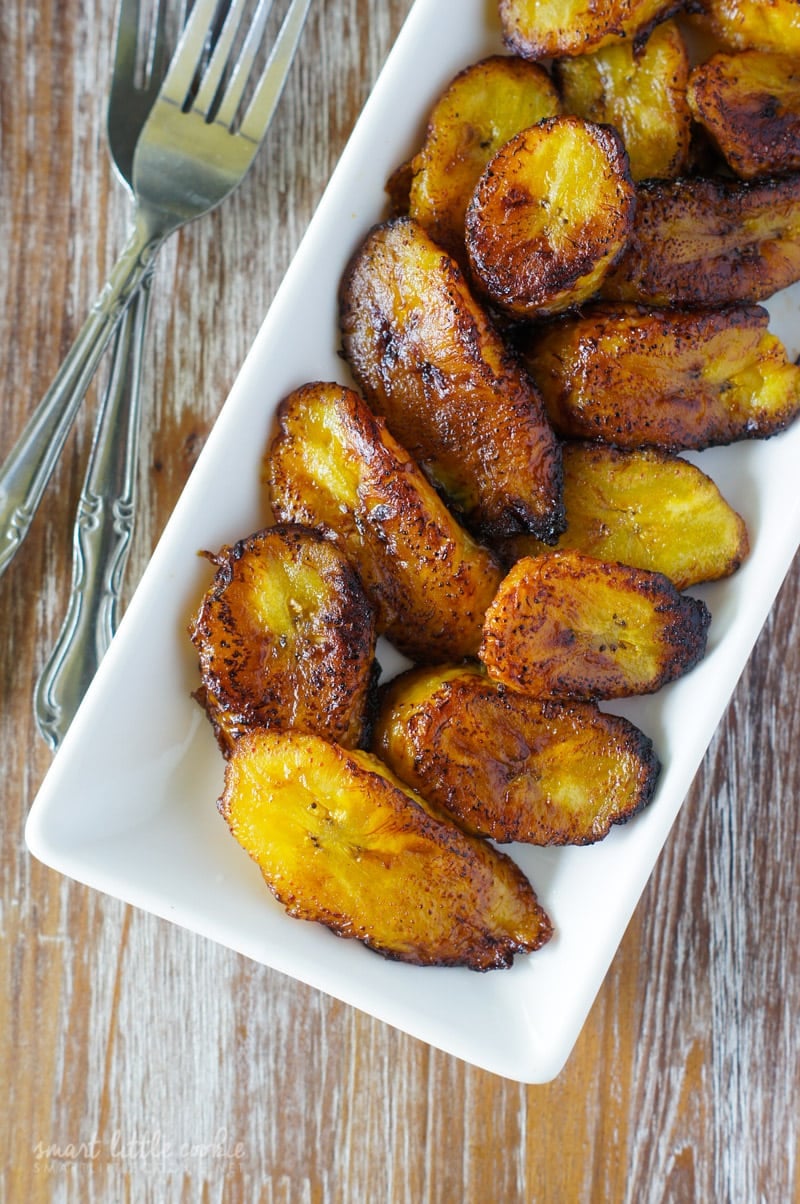 When I was a young child, I was a picky eater. This is something my mom likes to remind me every time I complain about my daughter's difficult eating habits.
The truth is that I do not need my mother's constant reminder of how picky I was. I remember it clearly. I remember that for many years, there were only a handful of meals I would eat. The number one being these Sweet Fried Plantains accompanied by scrambled eggs. That was my meal of choice. The second was this Sweet Plantains and Picadillo Casserole because I just loved sweet plantains in every way.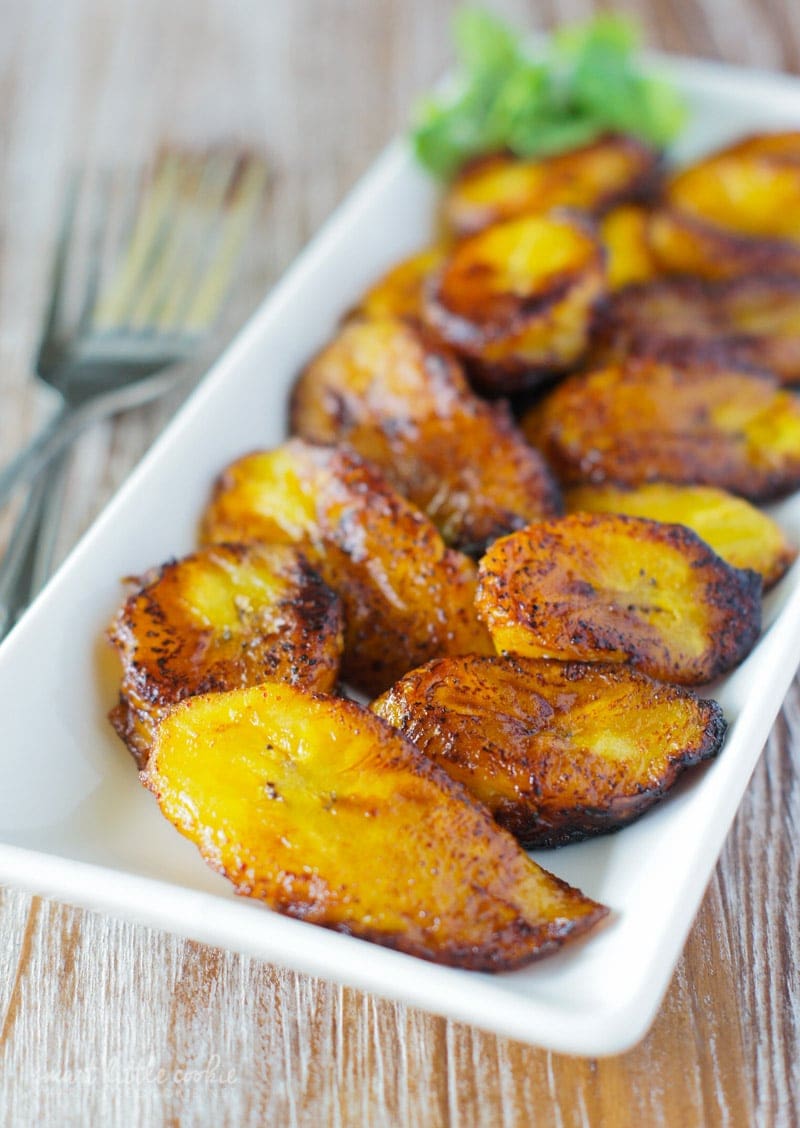 I loved these dishes so much that at some point, I refused to eat anything else. Naturally, in real Dominican mom form, my mother began making it for me every day, three times a day (breakfast, lunch, and dinner), until I did not want to eat it anymore. Not because I stopped liking them, but because I had just eaten way too much of it and started craving something else.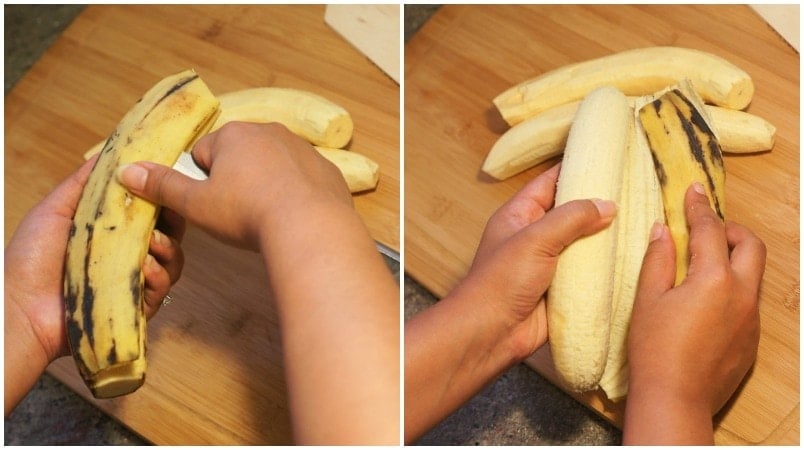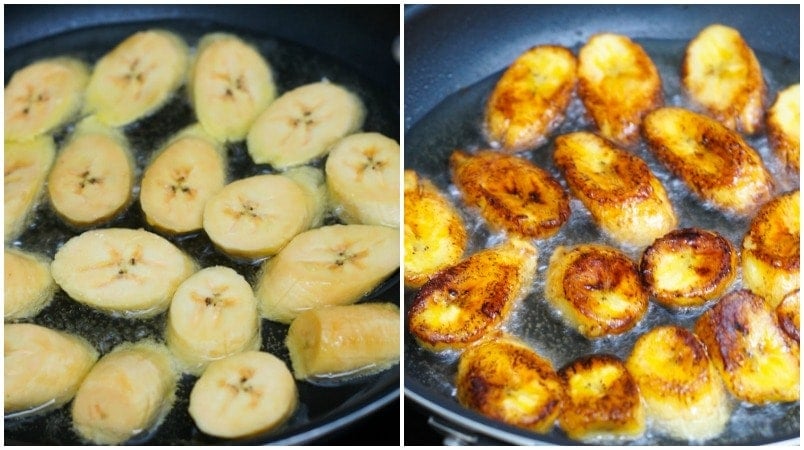 What are Maduros?
Maduros or plátano maduro are simply ripened plantains. When ripe, plantains become sweet and the skin starts turning yellow. As it continues to ripen, the skin starts turning black and the more black the skin is the sweeter the plantain.
Presales are open!
The Dominican Kitchen is a collection of 80+ authentic recipes created with easy-to-find ingredients and featuring comforting traditional Dominican flavors. As a thank you to anyone who pre-orders a copy, we are giving out a FREE preorder bundle. Check out our cookbook page for more details.
BUY NOW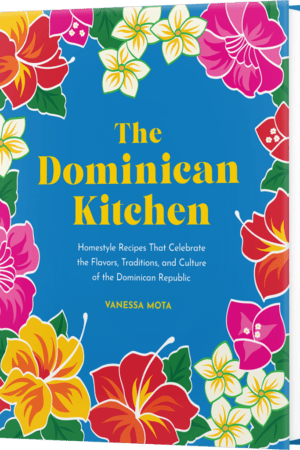 Maduros can be cooked fried, boiled and baked. It is certainly way simpler to cook sweet plantains than green plantains, but both are just as tasty in different ways.
Check out my post on how to make tostones, to learn how to cook fried green plantains.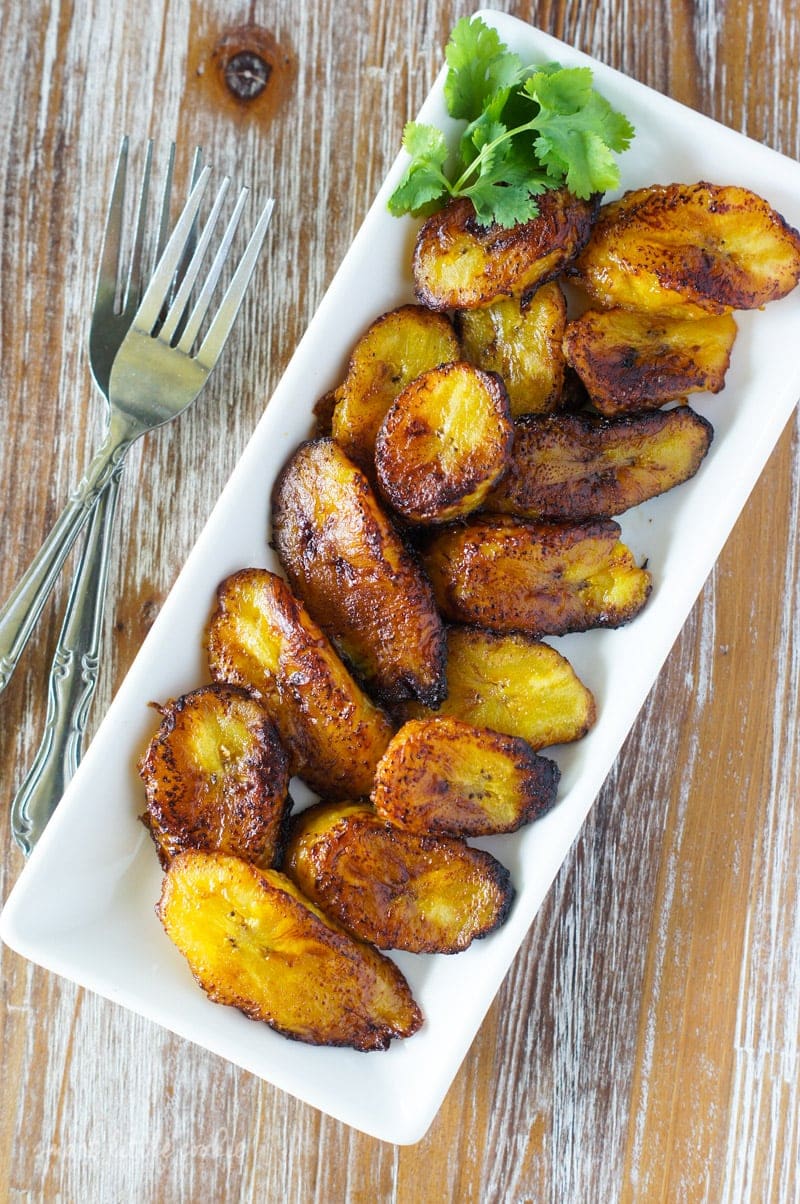 How to Make Maduros?
To cook Maduros or sweet fried plantains, simply peel and slice the ripe plantains. Fry them in vegetable oil until cooked through and golden on both sides.
The secret to very sweet and tender fried sweet plantains is to get very ripe plantains. That is if you like them really sweet. If not, you can get the ripe plantains that have not yet turned dark on the outside. These will still be great too, only slightly less sweet and a bit starchy.
Serve it with eggs, meat, cheese. It goes well with anything, really.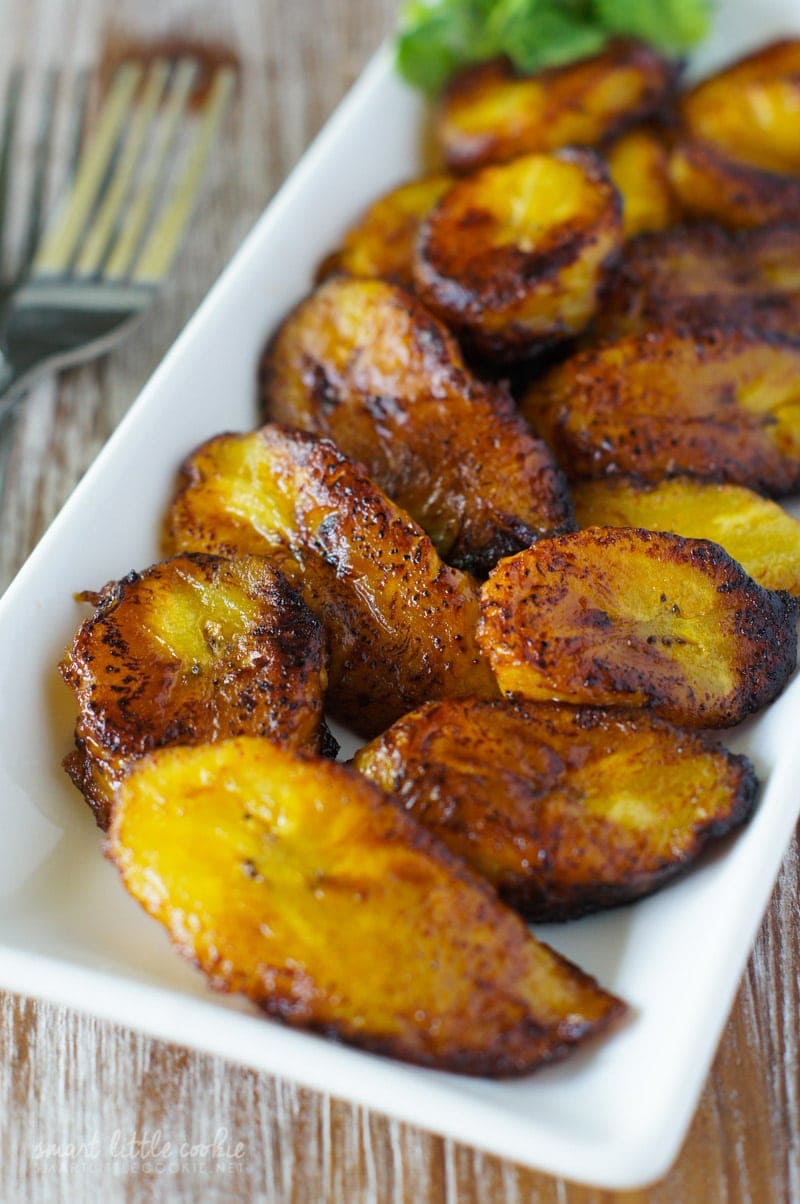 Other Plantain Recipes you'd Like: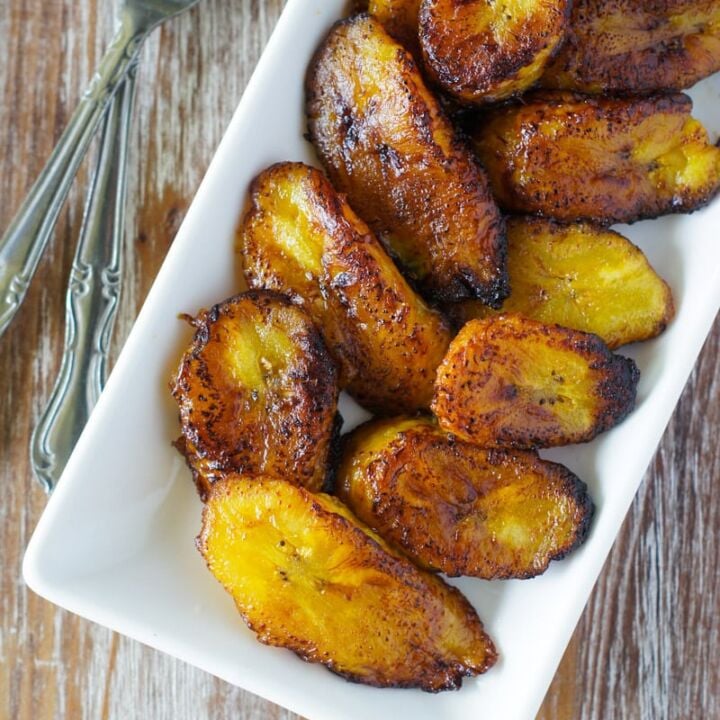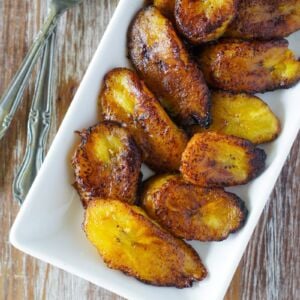 Sweet Fried Plantains (Platanos Maduros Fritos)
Author:
Scrumptious sweet, ripe plantains fried to perfection. Simple and easy, this is the best appetizer or side dish for any meal.
Ingredients
2 very ripe, sweet plantains
1 cup vegetable oil for frying
salt (optional)
Instructions
In a frying pan, heat oil over medium heat.

Peel plantains and cut into 1/2 inch thick slices. Add to the frying pan.

Cook on each side until golden brown, about 2-3 minutes. Remove from the oil into a plate covered with a paper towel to remove excess grease. Sprinkle with a little salt, if desired.

Serve warm as a side dish or appetizer.
Nutrition
Calories: 312kcalCarbohydrates: 57gProtein: 2gFat: 12gSaturated Fat: 9gSodium: 7mgPotassium: 893mgFiber: 4gSugar: 27gVitamin A: 2017IUVitamin C: 33mgCalcium: 5mgIron: 1mg
The nutritional information of this recipe and all recipes on mydominicankitchen.com is only an estimate. The accuracy of any recipe on this site is not guaranteed.
This recipe was originally posted on July 26, 2016, and has been updated with new information.