Stuffed Plantain Cups, also known as Tostones Rellenos are cute little cups of scrumptiousness, filled with shredded beef and topped with mayo and ketchup. Easy to prep, they are such a fun and delicious appetizer to serve to friends and family.
This wonderful recipe I'm sharing with you today was actually inspired by an appetizer on the menu of one of my favorite restaurants.
There is this wonderful little Cuban restaurant in Queens named Cabana that is always packed. The ambiance is laid back and cozy, and the food is absolutely amazing.
Everything in their menu is a must have, but the one thing I have to get every single time is their Tostones Rellenos. On the plate, they serve three plantain cups, each stuffed with a different filling: shrimp, picadillo and their staple dish, ropa vieja.
Plantains are one of my favorite ingredients to use, if you are new to them, be sure to check out my guides on how to peel plantains and plantains versus bananas.
Tostones Rellenos Ingredients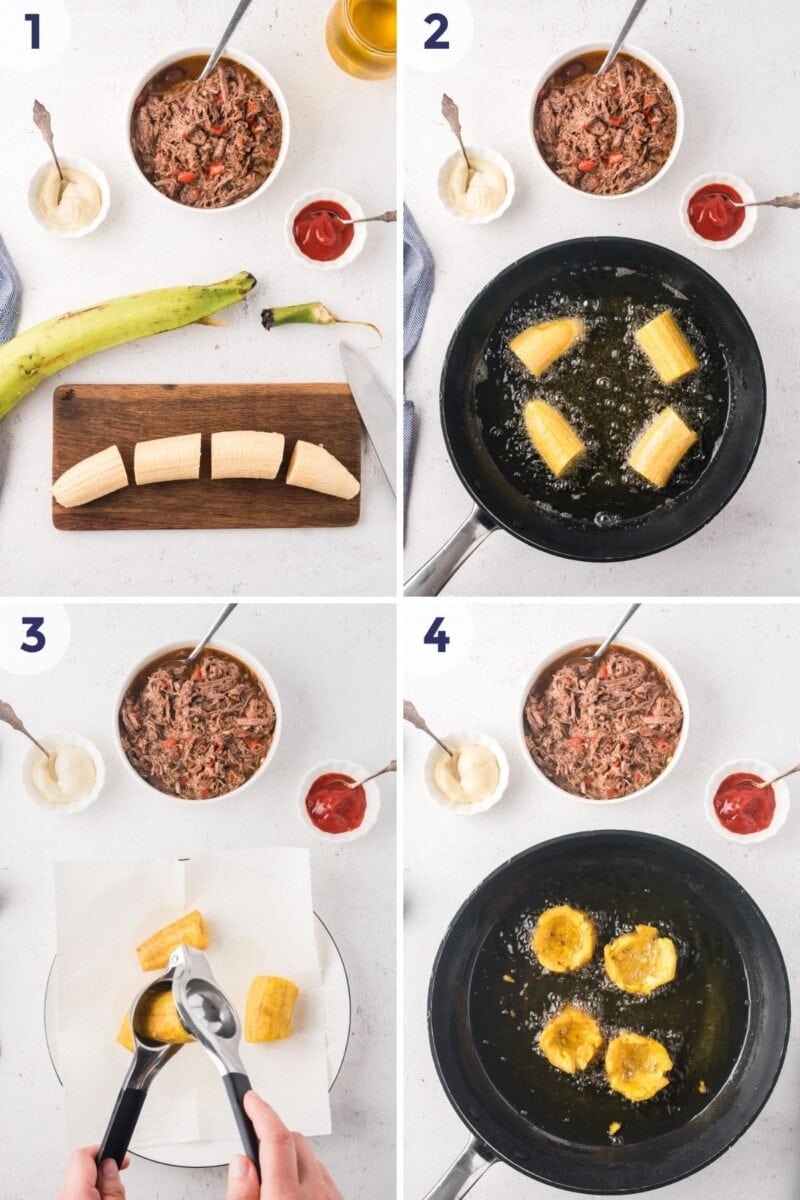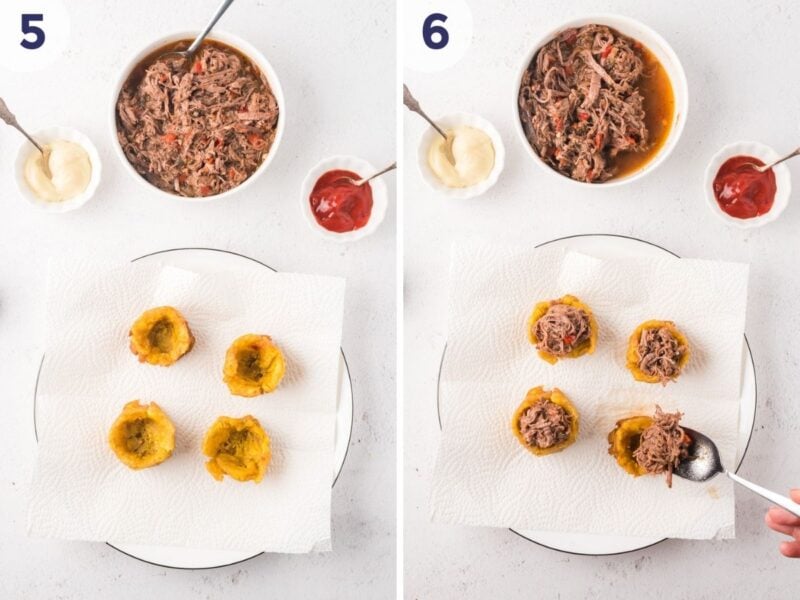 How To Make Tostones Rellenos
I can't begin to tell you just how good these are. I made the tostones just as you would regular tostones. If you don't yet know how that goes, check out my tostones recipe.
To make the cups, I used a tostonera that literally presses the plantains into cups. If you don't own this type of tostonera, you can press the plantains using a lemon squeezer or with a regular tostonera, or a dish plate, or a bottle, into a disk and simply form the disk into a cup using your hands.
Then, you fry the plantain cup for a second time, until golden brown and crispy.
Finally, stuff the cups with your favorite filling. For this recipe, I stuffed my plantain cups with this delicious Slow Cooker Shredded Beef I had leftover from the previous night. I love it when I can recreate meals from one dish. Don't you?
You can also use shredded chicken to make tostones rellenos de pollo.
Can you make them ahead of time?
Yes, if you are planning to serve these to a crowd, you can easily make the filling ahead of time for ease. I like to make the filling and keep that covered in the fridge for up to 3 days. It's best to fry the cups just before serving so they are perfectly crispy.
Can you use yellow plantains for stuffed plantain cups?
I prefer to use green plantains for this recipe, but you can use yellow if that's what you have. Yellow plantains are more ripe than green plantains.
I avoid using plantains that are starting to show dark spots as they contain more sugar. When fried, they will burn rather than crisp.
Easy Plantain Appetizer Recipe
I just adore how these tostones rellenos look on the plate. If you are serving them to guests that are new to Caribbean cooking, this will be the perfect introduction for them! So delicious and the textures are out of this world!
Now, go ahead and try it. Please do come back and tell me how you like it. I'd love to hear what you think. Enjoy!
Recipe Notes and Tips
Green plantains are best to use for this recipe, you can use yellow if you are in a pinch, but avoid ones with dark spots.
Mix up your fillings! These shredded beef ones are great, but try chicken, seafood and anything else you fancy!
More Easy Plantain Recipes