This post is also available in: Español
Perfectly seasoned and entirely delicious, this crispy roasted pork shoulder is perfect to eat with everything: rice, potatoes, tostones, on a sandwich and tortillas for awesome tacos. Easy to make, this pernil is slow cooked in a crockpot before roasting for the most tender, tasty and effortless shredded pork.
Growing up, we always had pernil on Christmas Eve. Back in my country, we would roast an entire pork on a open fire. The entire process of killing the animal, cleaning, seasoning and cooking it took days. That is the reason it was usually a dish reserved for special occasions.
Now, roasting pork has become so easy that I do not wait for special occasions to come around so that we can have it. Yes, I still cook pernil asado for Christmas Eve, mostly. However when we feel like eating carnitas, I don't have to think twice to make a delicious roast pork, especially after my friend Alicia told me about an easier way to cook it.
Serve this pork up with tostones and rice or pile it into tacos!
Roasted Pork Ingredients
You only need a handful of simple ingredients to make this delicious slow cooked pork recipe.
Pork Shoulder
Cilantro
Garlic
Dried Oregano
Dried Cumin
Salt and Pepper
Apple Cider Vinegar
Lime Juice
How To Make Slow Cooker Roasted Pork Shoulder (Pernil)
In a food processor, pulse together cilantro, garlic, oregano, cumin, salt, pepper, vinegar and lime juice.
Using a pointy knife, poke holes into the pork shoulder.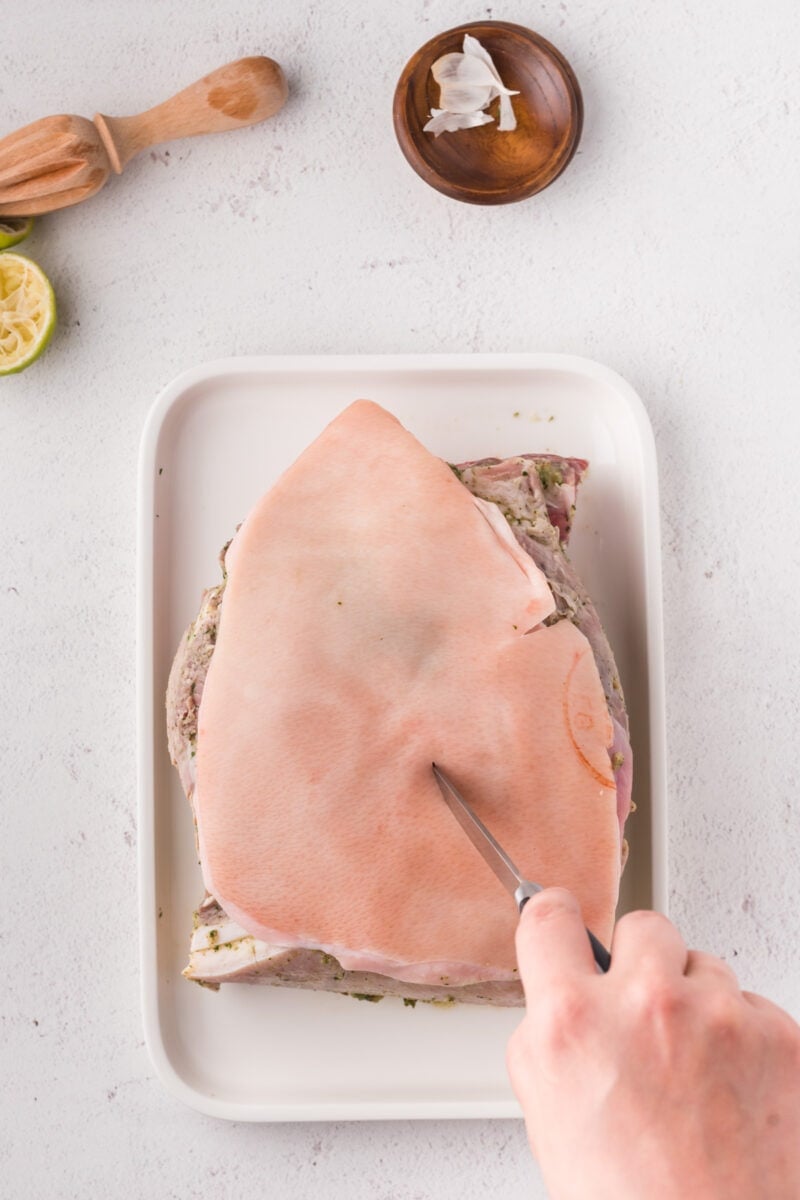 Rub the seasoning mixture all over the meat pushing some of the seasoning into the small holes.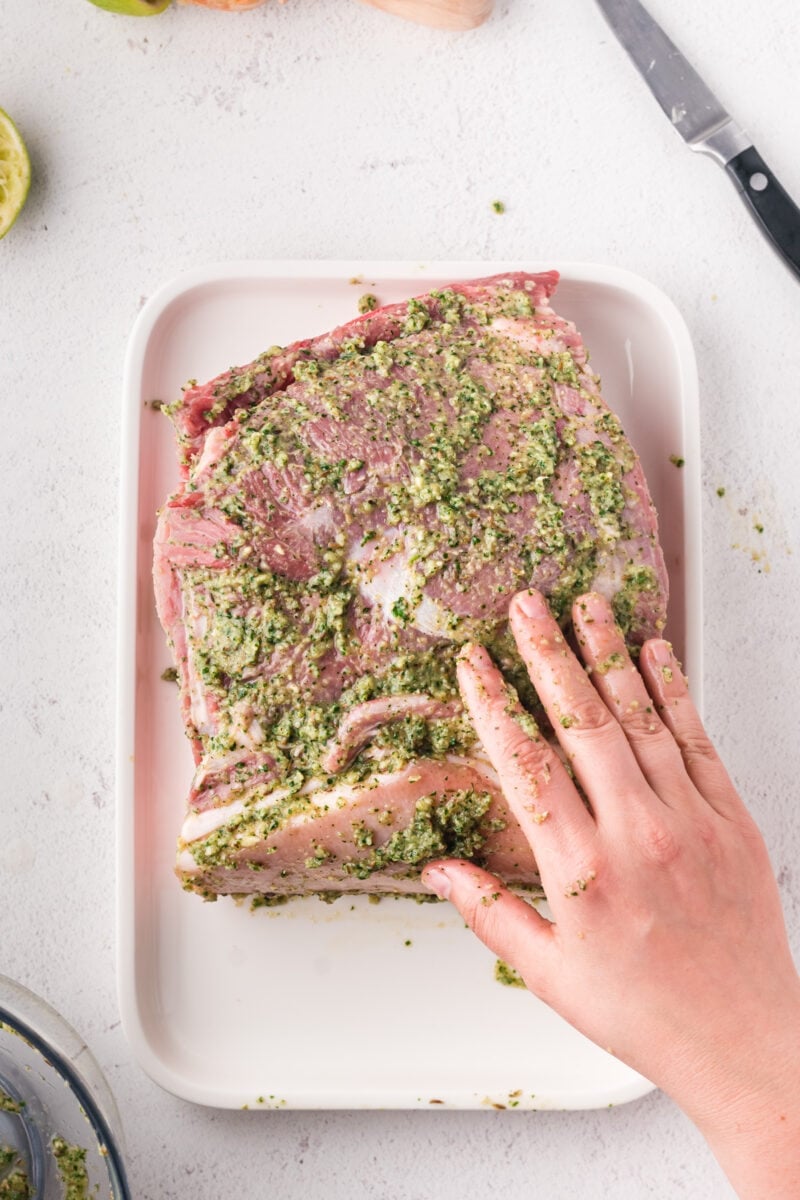 Cover and place in the refrigerator. Let marinate overnight.
The next day, place the pork shoulder on the slow cooker and cover with water. Add enough water to cover at least ¾ of the meat inside the slow cooker. Cook on low for about 8 hours.
Once the meat is tender, carefully transfer it to a roasting pan.
Roast in the oven at 450 degrees until brown and crispy, about 1 hour. Take out of the oven and let rest for 15 minutes. Shred the meat using two forks.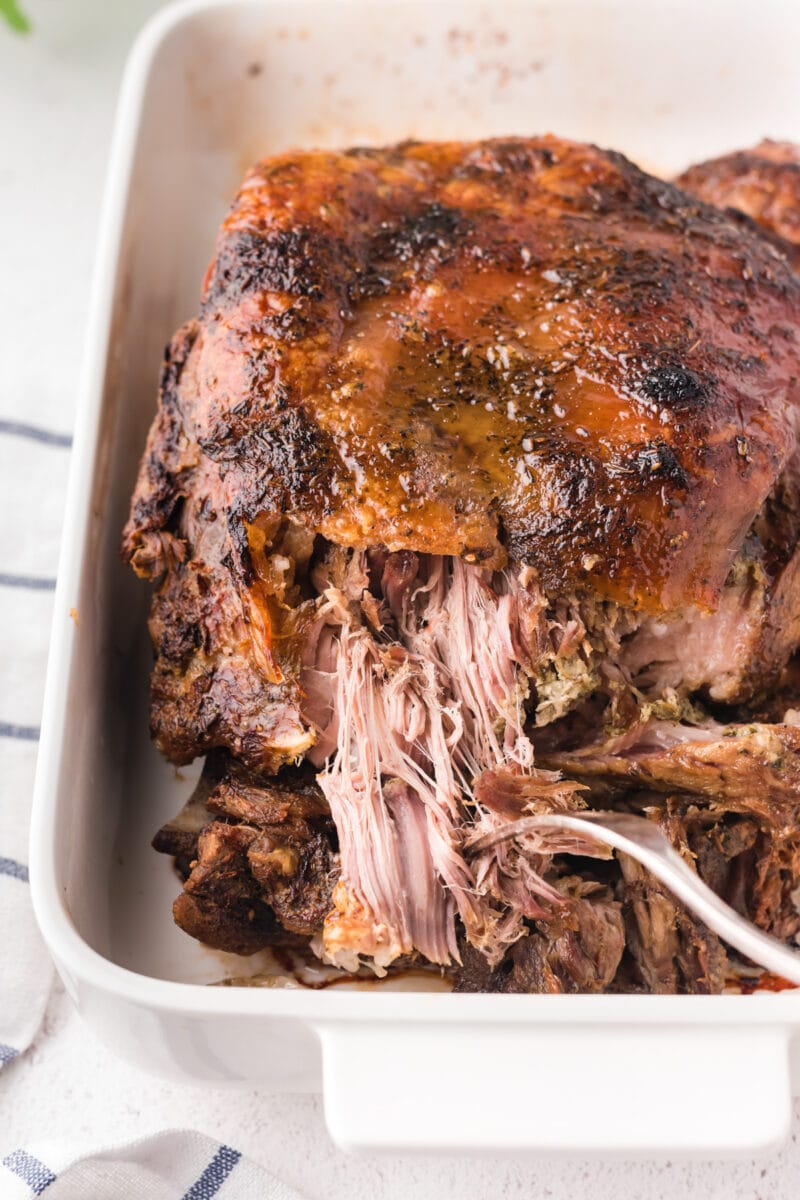 Easy Slow Cooker Pernil Recipe
Before, I used to season the meat, let it marinate overnight and then put it in the oven to cook at a low temperature for a very long time, usually an entire day. This process was rather annoying because it meant I had to be in the home all day tending to the oven to avoid having the meat burn or overcook. I mean really, who has time to spend a day watching an oven?
One day (many years ago), a close friend suggested I cook the pernil on the slow cooker before I crisp the skin in the oven and my life was forever changed.
I love my slow cooker! It makes cooking and life so much easier.
Marinated Pork Shoulder
I still season the pork shoulder and let it marinate for at least 2-3 hours, preferably overnight. I feel the meat tastes better when it has marinated for a long time.
How Long Does It Keep?
If you have any leftovers, they will keep well in the fridge for up to 4 days. Either place it in an airtight container or wrap it tightly with foil or plastic wrap.
You can serve the pork cold or reheat it. When you reheat it, you want to be careful not to dry the meat out. Reheat it in an oven-safe dish and pour about ⅛ cup of liquid, either water or broth, into the bottom. Cover with foil and reheat at 300F until warmed through.
The Most Perfect Pulled Pork
Slow cooking the pork and then roasting it keeps the meat wonderfully juicy and you still get those perfect crispy bits that are loaded with flavor.
I eat roast pork with almost anything: rice, bread, tostones and on tortillas to make tasty tacos. And you, my friend, can have it anyway you'd like.
Recipe Notes and Tips
Use a pork shoulder that has it's bone in and the skin on. The bone will keep it juicy and flavorful and the skin will crisp up wonderfully.
Marinate the pernil for at least 2 hours, preferably overnight if you can.
To roast the pork, be sure that your oven is preheated. This will help to get the skin crispy.
More Easy Slow Cooker Recipes