Crunchy on the outside, soft and cheese on the inside, these Cheese Stuffed Fried Yuca Balls are a simple and scrumptious appetizer that can only be made better with a tangy and perfectly delicious cilantro dressing. Easy to make they are ready to serve in 20 minutes.
Yuca or Cassava is one of my favorite ingredients in the whole wide world. It is so versatile and absolutely delicious anyway you cook it.
This is an ingredient I cook with very often. I have perfected the Yuca Fritters recipe which you should check out!
But today, I am sharing this Yuca Balls Stuffed with Cheese which is a delicious appetizer when served with this creamy cilantro dressing.
Ingredients
For the fried yuca balls
Vegetable oil
Yuca
Butter
Egg
Anise seed
Salt
Sugar
Cheese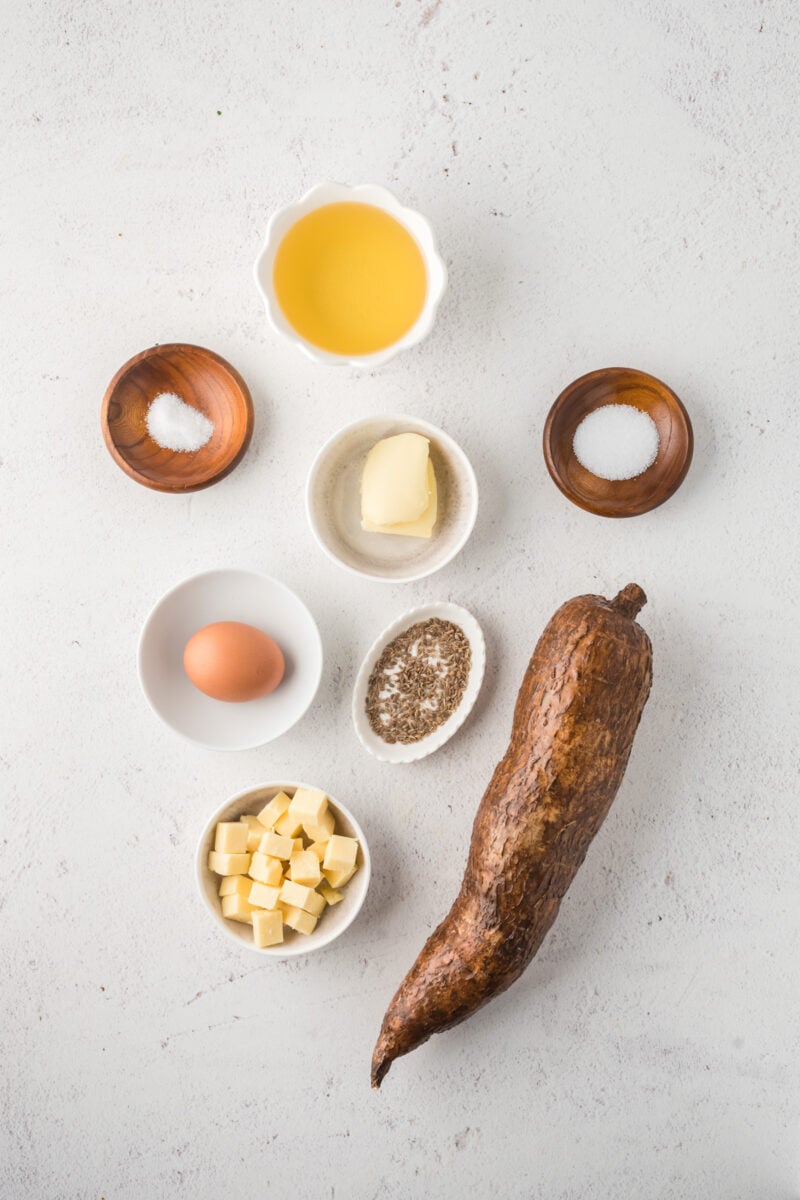 For the dressing
Cilantro
Mayonnaise
Garlic
Lime juice
Olive oil
Apple cider vinegar
Salt
How to make stuffed fried yuca balls
Grate the yuca using the smallest size of the grater.
In a medium bowl, combined the yuca, butter, egg, anise seed, salt and sugar. Using a wooden spoon, mix together until well combined.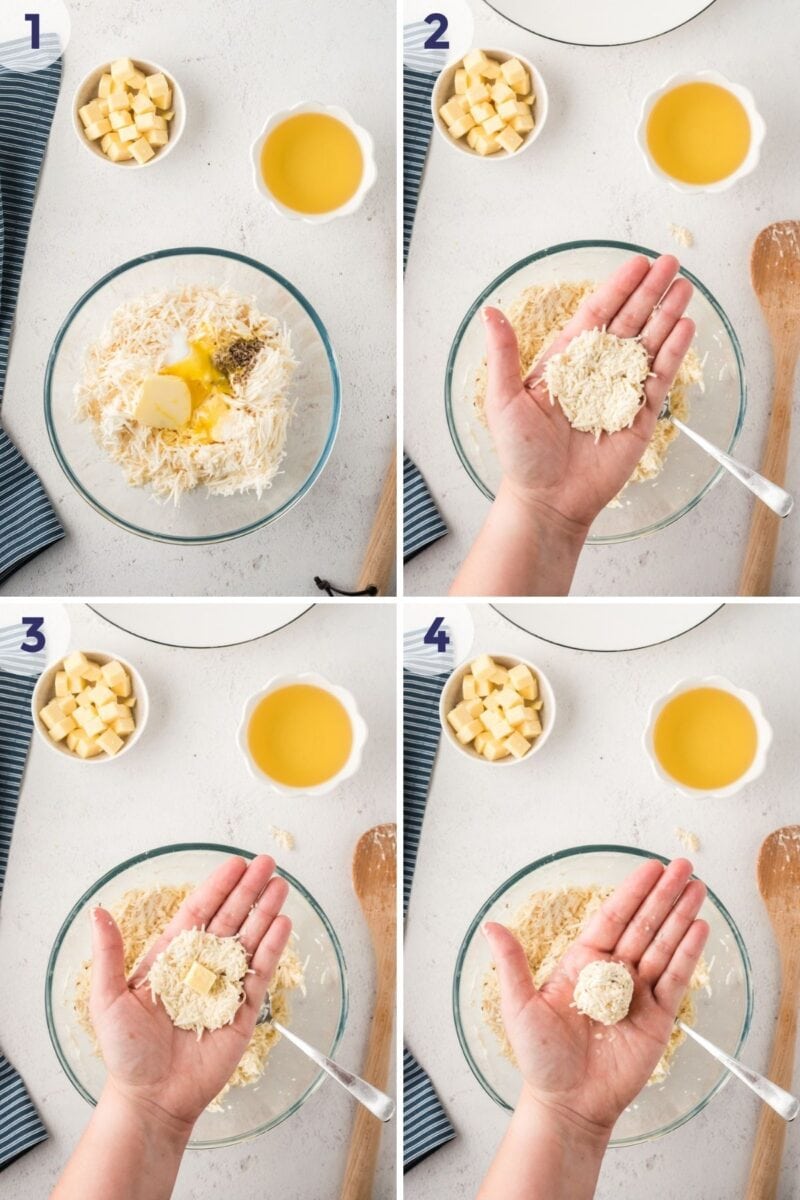 Take 1 tablespoon of the yuca mixture in the palm of your hand and flatten it. Place 1 piece of cheese in the center and form a ball to cover the cheese.
Using a frying pan, fry the yuca balls in vegetable oil over medium heat for about 2-3 minutes on each side. Remove from the pan and place on a plate lined with a paper towel to remove excess grease.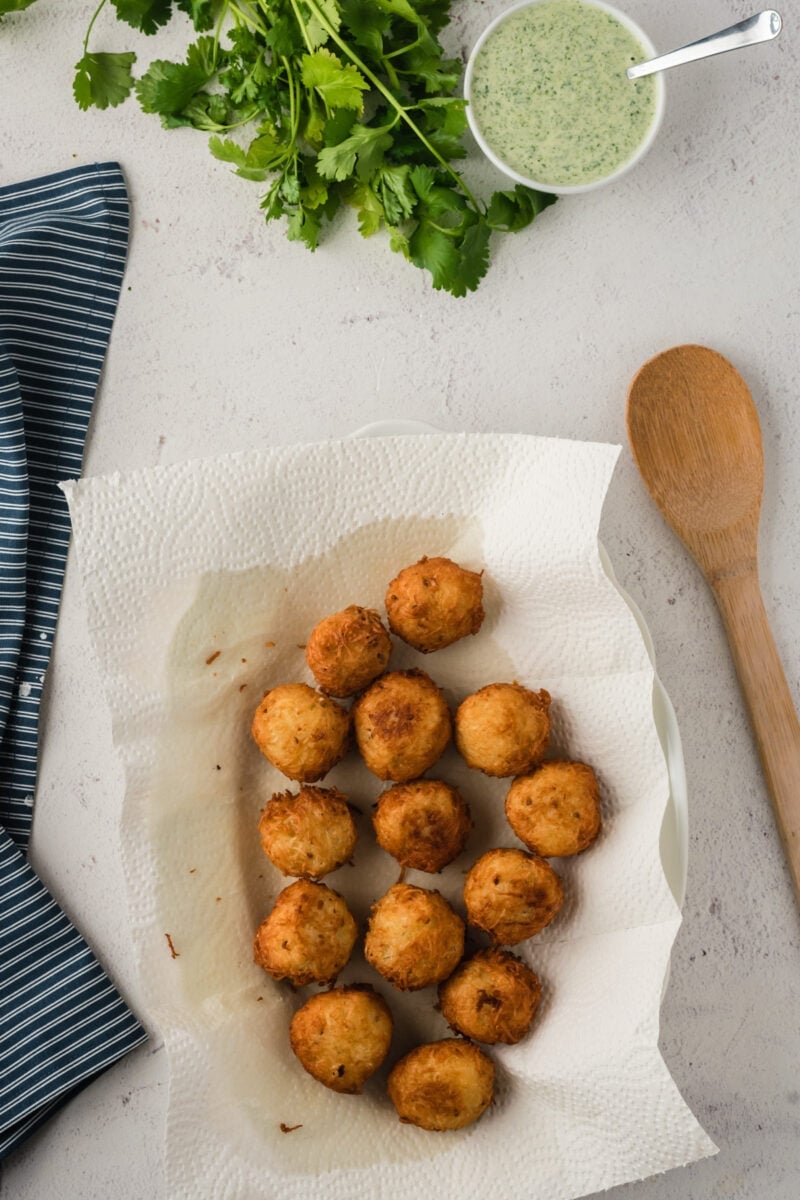 How to make cilantro sauce
Combine cilantro, mayonnaise, garlic, lime juice, olive oil, vinegar and salt in a food processor or blend until smooth. Serve on the side for dipping.
What is yuca?
Yuca, also known as Cassava, is a root vegetable. The plant is cultivated in tropical regions and its root is rich in starch and contains great amount calcium, phosphorus and vitamin C.
How else can you cook yuca?
The Yuca can be prepared fried or boiled. It can be made mashed, as a casserole ingredient or added into stews such as Sancocho. It can be used as dough for empanadas or even made into a flour used for breads, cookies and cakes. It goes well with any type of meat, eggs and even cheese.
What do they taste like?
These fried yuca balls have a mild, savory and slightly nutty flavor. Because yuca is quite starchy it can be fairly dry, but the cheese-stuffed middle makes them perfectly moist and gooey.
Recipe Notes and Tips
Make sure to cover the cheese well with the yuca so that it doesn't ooze out when the balls are fried.
The oil should be hot when you fry the balls. You can drop a little of the mix in to check that it is hot enough.
Serve immediately.
More Easy Appetizer Recipes