A simple guide to yuca root, a delicious root vegetable or tuber that is very popular in Latin and Dominican cooking. Learn what is it, where to find it, how it's cooked. Plus lots of delicious yuca recipes!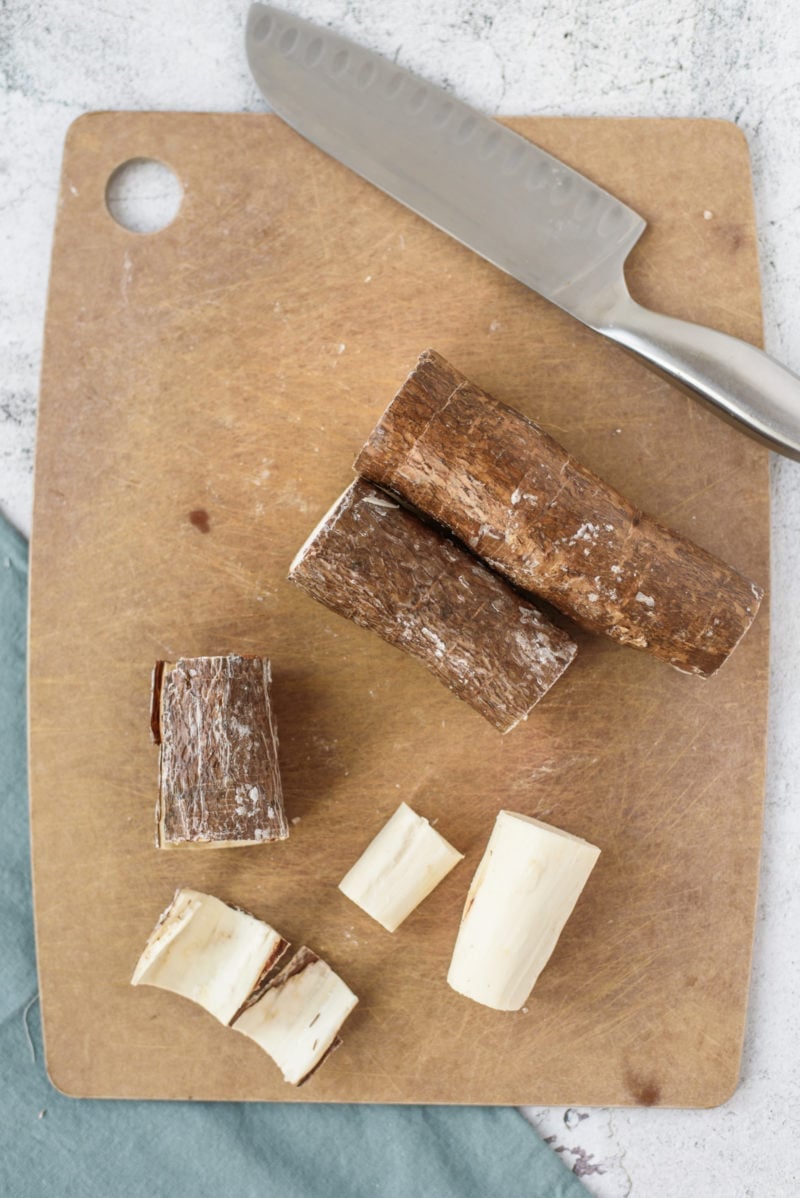 Yuca, cassava, mandioca are some of the names of this delicious edible root. We Latinos love yuca. It's full of fiber and its neutral flavor makes this tuber perfect to make gluten-free flour. We enjoy it in many different ways… but before talking about recipes and cooking methods, let's talk about some of its facts.
What is Yuca?
Yuca is the most used word in Spanish to name the starchy, fibrous, edible root of the cassava plant. The scientific name of the cassava plant is Manihot Esculenta, a native of South America, specifically Brazil where it's called mandioca. While in Brazil yuca is named mandioca, in the US, a similar name "tapioca" refers to the starch or flour made with dried cassava (tapioca flour).
The yuca root shouldn't be confused with yucca, a dessert non-edible plant from the Asparagaceae family.
Cultivated as an annual crop in tropical and subtropical climates, this root vegetable is a main source of carbohydrates. In fact, after rice and corn, cassava is the largest source of carbs in the tropics, where it is very popular.
Cassava flour
If you follow a gluten-free diet, it is likely that you have heard of
cassava flour. Cassava flour is made from yuca root, it is peeled and dried
before being ground into flour. It is extremely close to wheat flour in texture and flavor, and makes the best tortillas!
Nutritional Info
Besides carbs, yuca is a good source of manganese, vitamin C and it's very low in sodium, cholesterol and saturated fats. However, cassava is not an important source of protein.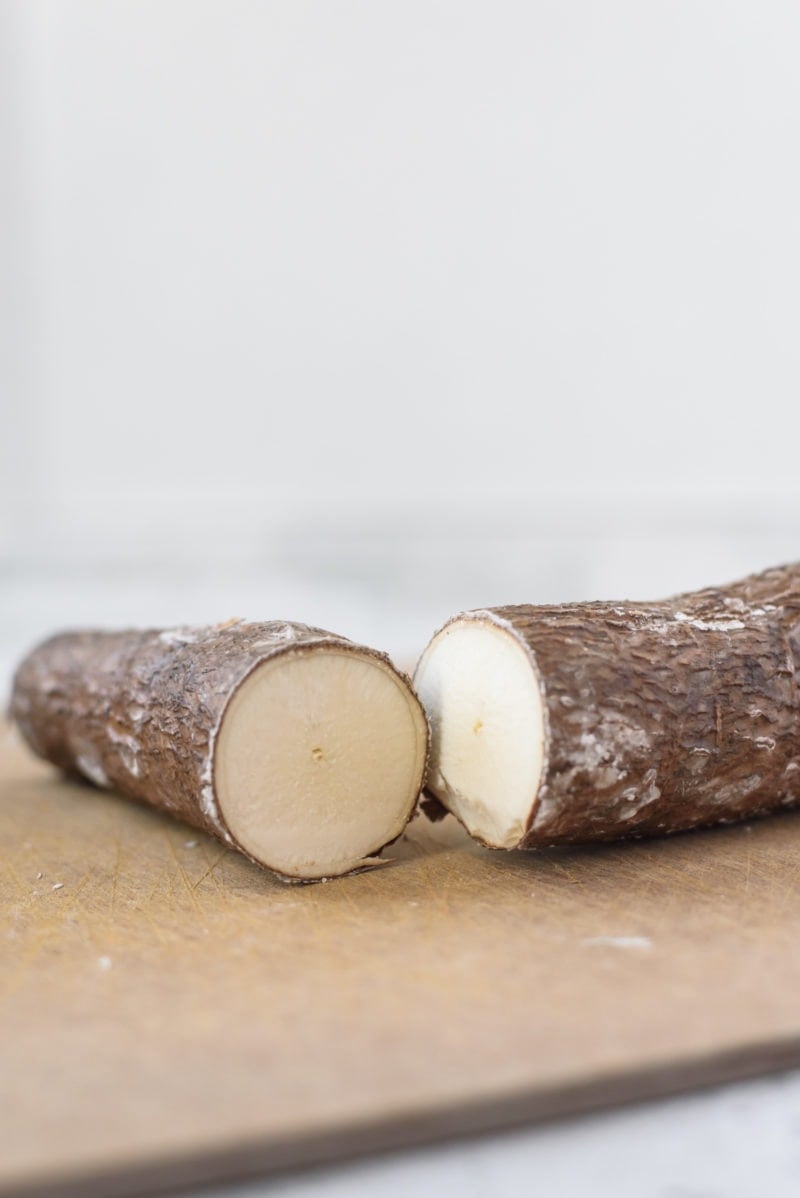 Where Do I Find Yuca?
In the US, it can be found in the produce section of the grocery stores, where the long brown roots are sold covered with wax.
A really good idea is to buy it frozen, already peeled and cut into chunks. You can find it in the supermarket freezer aisle under "ethnic foods".
In Latin America, it's customary to cut it in pieces before buying it or remove the tip. The reason we do this is to make sure the flesh is white and we are getting a good one. Like other tubers, this one contains some toxins that can make it bitter and we believe that the whiter the flesh, the better.
How to Cook Yuca?
Before cooking it, the rough skin must be peeled. The tuber can be eaten boiled, fried or baked. Due to its starchy nature, it is always a good idea to serve it paired with a sauce, mojo or aioli.
In the Caribbean basin, the pre-Columbus bread was the casabe, made out of finely shredded fresh yuca, cook as a huge pancake. This bread is more like a cracker, very appreciated because of its neutral flavor and because it's gluten-free.
The root vegetable is a mandatory ingredient in hervidos and sancochos in the Caribbean and some South American countries like Venezuela and Colombia.
In Venezuela boiling it is customary to serve as a side dish with guasacaca or mojo, when having a parrillada (grilled beef cuts and chorizo).
Brazilians are well known for their delicious recipes including bobó de camarão (shrimp in creamy yuca sauce), pao de queijo and bolo de mandioca.
In the Dominican Republic, we often cook it boiled and topped with sauteed pickled onions or made into Arepitas (Fritters).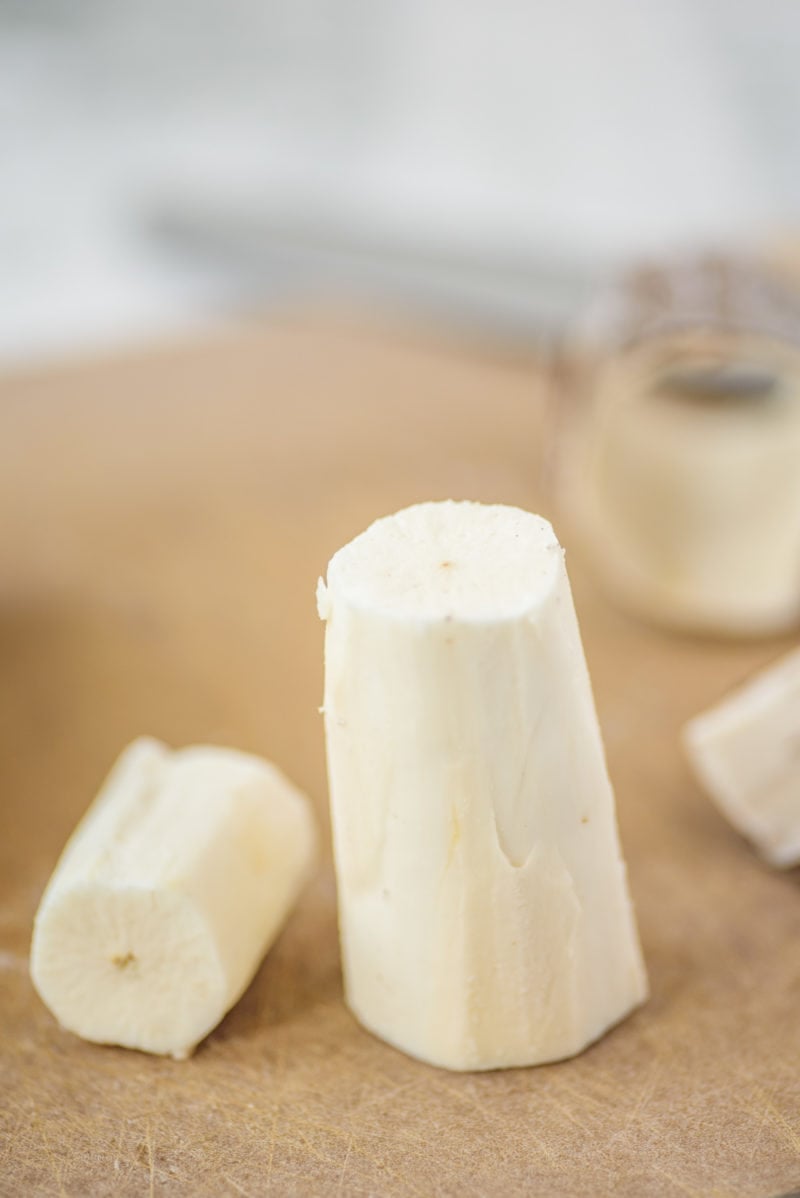 What does yuca taste like?
Yuca has a meaty flesh with a slightly grainy texture, similar to potatoes. It has a mild flavor which is a little sweet and a bit nutty.
Yuca Recipes