Yuca Fritters (Arepitas de Yuca) ~ A delicious and simple recipe that makes a great snack, appetizer or a side dish for any meal!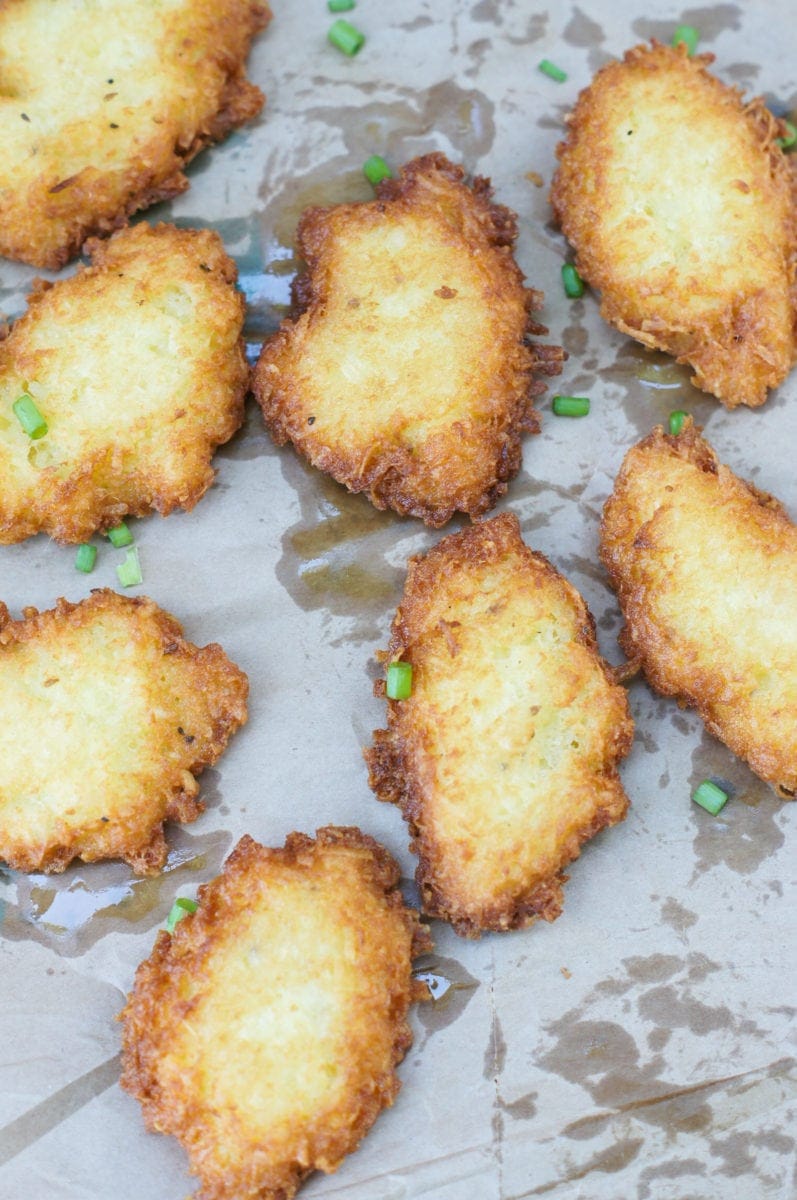 Let me tell you a little secret. I'm obsessed with yuca. I cook with it a lot and buy it in every single one of my grocery trips.
Yuca fritters are my absolute favorite recipe made with yuca. It's my appetizer of choice every single time and this recipe is one I have mastered over the years. It's so good you won't believe yourselves once you've tried them.
I have perfected this recipe to the point where I can almost make it with my eyes closed. I make them as a snack, an appetizer or a second side dish for any meal. That's how much I love them, so do my family and all of my friends. It is a highly requested side dish whenever I'm to bring a dish to any gathering. I'm sure you and everyone in your family will love them too!
A little about Yuca
The Cassava plant is cultivated in tropical regions and its root is rich in starch and contains a great amount calcium, phosphorus, and vitamin C. The Yuca can be prepared fried or boiled. It can be made into purees, as a casserole ingredient or added into stews such as this awesome Sancocho (Caribbean Meats and Vegetables Stew). It can be used as dough for empanadas or even made into a flour used for bread, cookies, and cakes. It goes well with any type of meat, eggs and even cheese like in these Cheese-Stuffed Yuca Balls.
Cooking with Yuca can be a little tricky, though. Sometimes, if the Yuca is not fresh it can taste sour after cooking. But today, I will share a trick with you that will ensure your fritters always taste great even if the Yuca is not very fresh. 😉
To prepare the masa for the fritters, grate the Yuca using the smallest side of the grater. Then, add salt, anise seeds, butter and an egg to the grated Yuca and mix until well combined. Now, here is my trick. I add a little sugar to the mixture. Yes! Sugar.
Are the fritters supposed to be sweet? No. Don't add that much sugar. Just a pinch will do, about ½ teaspoon or so. That is enough to make your fritters perfect every time.
After everything is well combined, drop spoonfuls of the mixture into hot oil. Fry on each side until the fritters are golden brown, about 2-3 minutes on each side. Remove from the oil into a paper towel, let it rest for about 5 minutes and serve.
Pin Recipe
Yuca Fritters
Servings:
10
-12 fritters
Print Recipe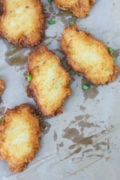 A delicious and simple recipe that makes a great snack, appetizer or a second side dish for any meal!
INGREDIENTS
1

cup

vegetable oil for frying

1

pound

yuca

grated

1

tablespoon

butter

softened

1

beaten egg

1

teaspoon

anise seed

1

teaspoon

salt

½

teaspoon

sugar
INSTRUCTIONS
Grate the yuca using the smallest size of the grater.

In a medium bowl, combine the yuca, butter, egg, anise seed, salt, and sugar. Using a wooden spoon, mix together until well combined.

In a frying pan, heat up vegetable oil over medium heat. Place about 1 tablespoon of the mixture in the oil, separately. Cook until the fitter has turned golden brown, for about 2-3 minutes on each side. Remove from the pan and place on a plate lined with a paper towel to remove excess grease.

Serve immediately.
Nutrition
Calories:
109
kcal
|
Carbohydrates:
18
g
|
Protein:
1
g
|
Fat:
4
g
|
Saturated Fat:
3
g
|
Cholesterol:
19
mg
|
Sodium:
255
mg
|
Potassium:
129
mg
|
Fiber:
1
g
|
Sugar:
1
g
|
Vitamin A:
65
IU
|
Vitamin C:
9
mg
|
Calcium:
11
mg
|
Iron:
1
mg
If you enjoyed this recipe, Subscribe to Smart Little Cookie today and receive new posts and recipes directly to your inbox. Connect with us even more on Instagram, Facebook, and Pinterest!
Did you make this recipe? We'd love to see! Tag @Smart_LilCookie on Instagram and use the hashtag #SmartLittleCookieEats.
*This post contains affiliate links. We earn a small fee from any Amazon purchases made through the links in this post at no additional cost to you.