This shop has been compensated by Collective Bias, Inc. and its advertiser. All opinions are mine alone. #EffortlessMeals #CollectiveBias
Spanish Style Tortilla with Chicken ~ Chicken, potatoes and eggs married together in perfect harmony to make an effortless meal for busy families.
This going back-to-school stuff is coming at me fast and hard. Yesterday, we received the letters from school announcing the kids' new teachers with supplies list attached. (Did I mentioned I haven't yet bought any school supplies? Well, yeah, I haven't). These letters brought with them a crude awakening. I'm afraid is caught me completely unprepared and now, I'm scrambling to get things ready. Not to mention that I'm also kind of sad because up here in the Northeast, back-to-school usually  means that summer is over and soon we will be navigating our way through mountains of snow again. *insert screaming emoji here*
My kids and I work best when we have a set routine. On that end, maybe back-to-school is about to make things a little bit better. However, starting up a new routine and finding ways to have the house stuff run smoother with our very busy schedules, can be a great challenge. Because of that, I've started brainstorming new recipes that will allow me to quickly and effortlessly have dinner on the table leaving me with extra time to enjoy with my babies.
Enter this awesome Spanish Style Tortilla with Chicken!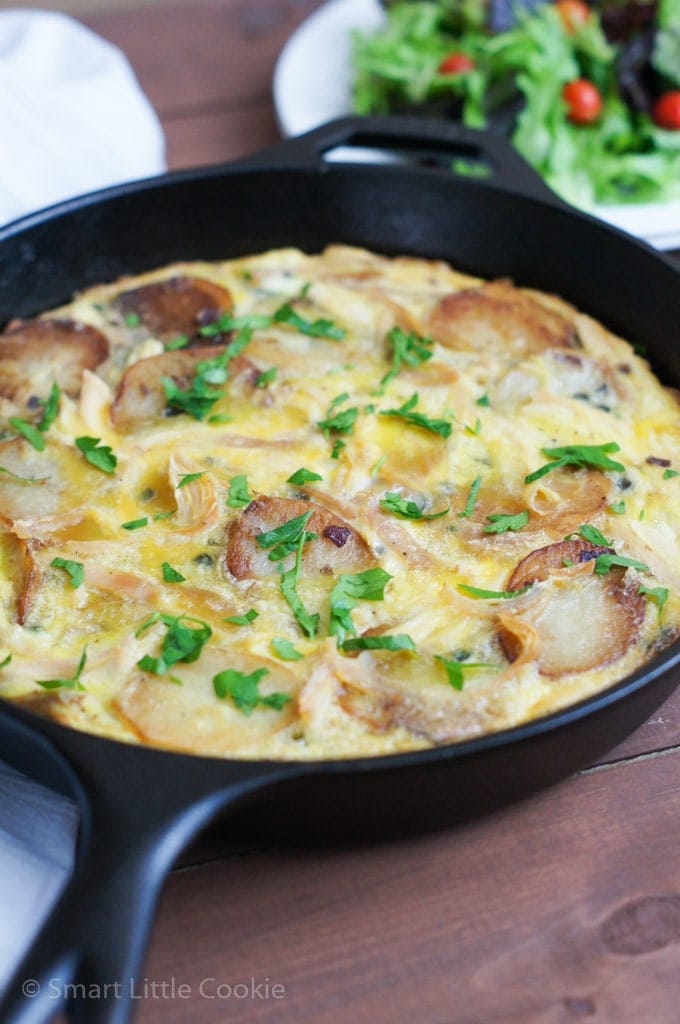 Last week, I was doing some shopping at my local Walmart, as usual. The amount of things you can get at that store that help simplify your life is amazing! You can easily pick up a fully cooked meal that includes a rotisserie chicken, a side salad (I chose the macaroni salad, which is not pictured because my kids ate it all) and a 2 Liter Coke. These cooked options allow you to create a meal around it quickly, especially for busy parents on-the-go. If you are not feeling chicken that day, you can also easily pick up the Marketside pizzas and grill or bake them as you are getting back into the back-to-school routine.
This time, I chose to use the rotisserie chicken to simplify the cooking process for this recipe. Having the chicken already cooked, cut my cooking time by half and I was able to have a full effortless meal on the table in no time.
Preparing this Spanish Style Tortilla with Chicken is so easy, and it can also be so much fun if you ask the kids to help you. Well, I did just that.
While I prepared the potatoes, I asked my daughter to shred the rotisserie chicken we bought at Walmart. She is always happy to help me in the kitchen. So, while she shredded the chicken, I peeled the potatoes and cut them into thin slices. Then, I heat up the oil in a cast iron skillet and added the potatoes. I let the potatoes cook until they were tender, about ten minutes, while turning them often to avoid them from burning or getting too crispy. After the potatoes had cooked through, I removed them form the heat and set them aside. Then, I added the onion and garlic to the oil to slightly cook as well. When the onions looked a bit transparent I removed them from the oil and reserved with the potatoes.
By then, my daughter was done shredding the chicken. Perfect timing! She cracked 8 eggs and beat them with fork. Then, we mixed together the eggs, potatoes, onion, garlic and chicken. We added salt and pepper, and pour the mixture into the skillet. I let the egg mixture cook slightly until the edges had started to set at which point, I removed the skillet from the heat and placed it in the oven at 350 degrees until the center was set, about 15 minutes. Finally, remove from the oven. Voila! Now, it was ready to serve. Pair it with a nice salad and some cold Coca Cola for the perfect dinner.
Print Recipe
Chicken, potatoes and eggs married together in perfect harmony to make an effortless meal for busy families.
INGREDIENTS
2

tablespoons

vegetable oil

3

large potatoes

, peeled and thinly sliced

1

garlic clove

, minced

1

small onion

, chopped

1

cup

shredded rotisserie chicken

8

eggs

Salt and pepper

1

teaspoon

parsley

, chopped (for garnish)
INSTRUCTIONS
Heat up the oil in a 12 inch cast iron skillet. Add the potato slices to the skillet and cook over medium heat, turning once in a while until the potatoes are tender and slightly golden, about 10 minutes. Remove potatoes from the skillet and set aside.

Add the onion and garlic to the skillet and cook, stirring occasionally until the onions have become transparent. Remove from skillet and spread over the potatoes. Add about ¼ teaspoon of salt to the potatoes.

In a large bowl, mix together potatoes, onion, garlic, shredded chicken and eggs. Add about ½ teaspoons of salt and pepper.

Add the mixture to the skillet and let cook until the edges have started to set.

Place skillet in the oven at 350 degrees for about 15-20 minutes or until the center has set.

Carefully, remove from the oven and top with chopped parsley.

Serve immediately.
Nutrition
Calories:
154
kcal
|
Carbohydrates:
8
g
|
Protein:
11
g
|
Fat:
9
g
|
Saturated Fat:
5
g
|
Cholesterol:
177
mg
|
Sodium:
190
mg
|
Potassium:
333
mg
|
Fiber:
1
g
|
Sugar:
1
g
|
Vitamin A:
238
IU
|
Vitamin C:
7
mg
|
Calcium:
45
mg
|
Iron:
3
mg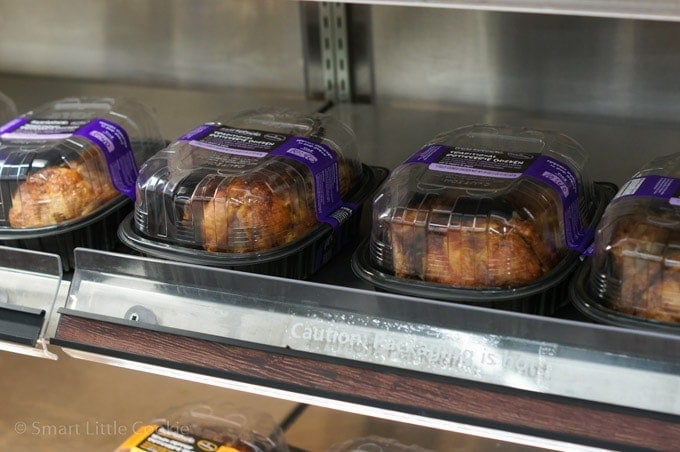 Be sure to check out more delicious effortless meal inspiration. How would you pair Marketside products with Coca-Cola?