Nutty, crunchy and super delicious. these hazelnut butter cookies are a great snack for anyone anytime.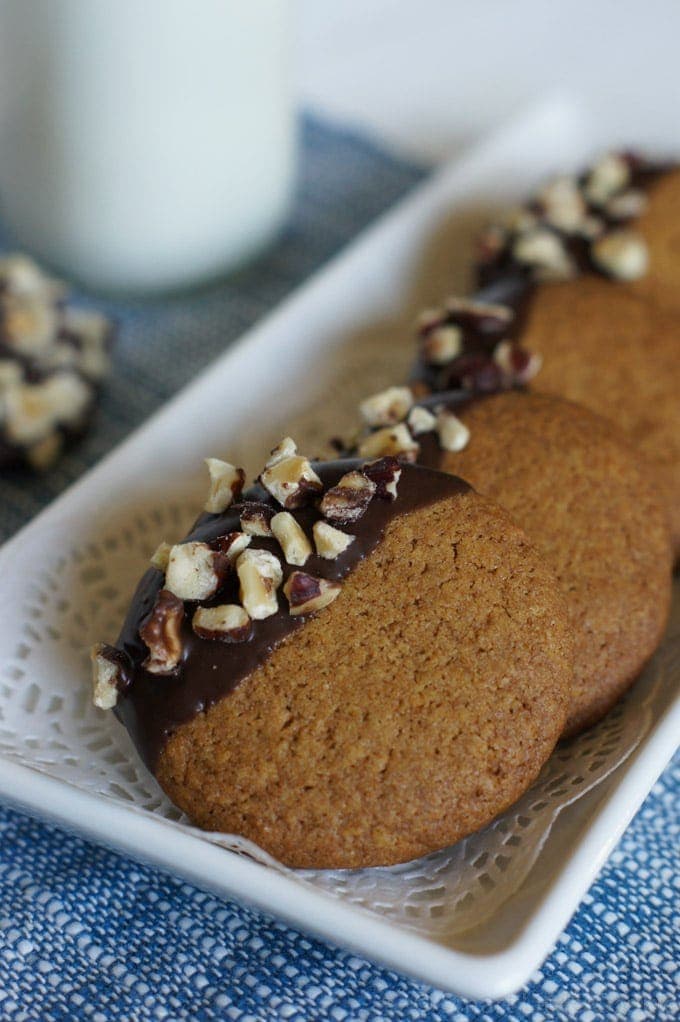 Well, hello you there my crunchy, crumbly, nutty, chocolaty cookie. <~ This is me loving on the deliciousness of these cookies because I was completely happy and in awe that I could make such a yummy thing. Well, not really that surprised. But considering that it is a cookie, then yes. I am not the best at making cookies. It usually takes me about 4-5 trials before I could come up with a cookie that would satisfy my picky palate.
What does have me in awe is the fact that in the past two weeks I have been able to create two different types of cookies that have come out perfect and delicious on the first try. The first were these mouth watering cranberry and white chocolate biscotti and the second are the ones on this post. I am on a roll people!
I really enjoy baking. I love the way my house smells when baked goodies are in the oven getting yummy. Although, I'm usually the cupcake baking type of gal, this holiday season has me practicing and enjoy the cookie making mania.
To me, no other cookie screams Christmas like this one and it's all due to the hazelnut. 
Hazelnuts are my favorite type of nut. Some of the best desserts I have tried are made with hazelnut. Once, my husband and I ate dinner at a Spanish restaurant in the village in New York City and I wasn't crazy about the food, surprising since I love Spanish food. But then, I had a dessert that involved some type of french toast and hazelnut ice cream. I swear to you that when that ice cream hit my mouth I felt like I went to heaven and back in a matter of seconds. No lie. Sometimes, I still dream about going back just for dessert.
…AND! Let's not forget about Nutella, another reason I love hazelnuts so much. This household does not go one day without the delicious spread.
Hazelnuts also bring sweet childhood memories of my cousins and I sitting by my grandmother's house front door step on Christmas Eve using big stones to crack the shell and eat the nut of Coquitos (this is what we as kids used to call hazelnuts in DR because of it's resemblance to a coconut).
We didn't have nutcrackers then. Actually, I didn't learn what a nutcracker was until the age of 14. Crazy right! We either used stones or the hand of a Pilón (pestle) to crack the nuts open. Oh, the bliss of simple living.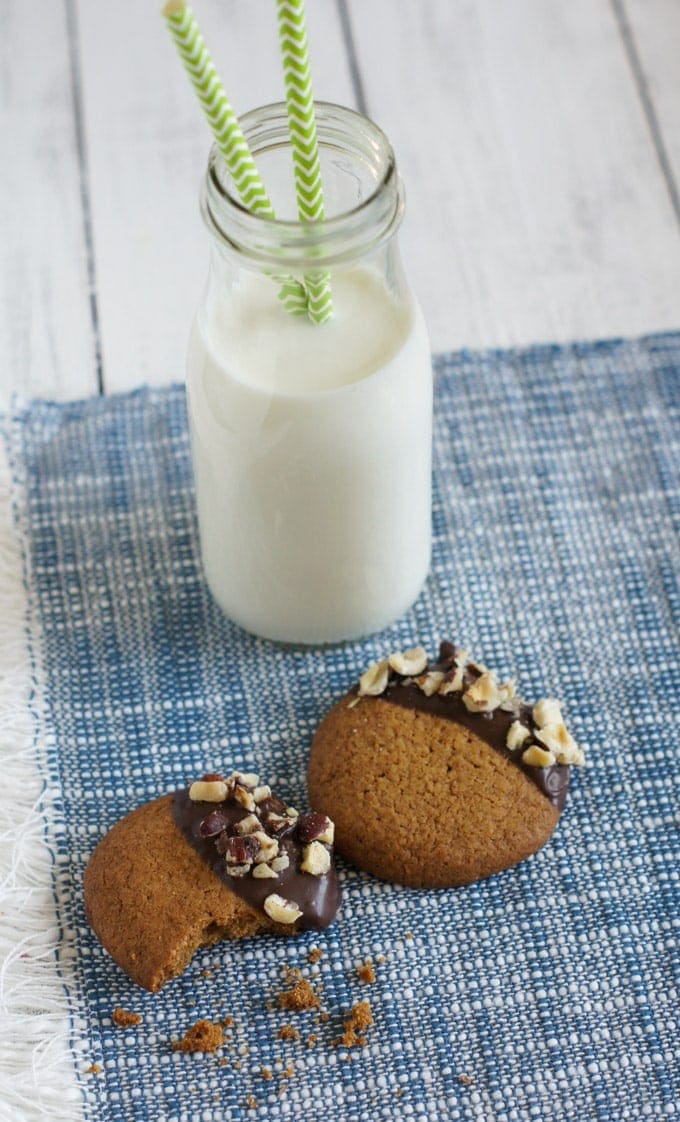 Anyways, back to the cookies. This recipe is very simple. Just place the ingredients in a food processor and pulse until the dough starts to form small lumps, refrigerate for 15 minutes and then bake in a baking sheet for about 18-20 minutes. After letting them cool down completely, melt some chocolate for a simple chocolate sauce and dip them in that goodness. Sprinkle with some chopped hazelnuts and voila! Cookies are ready. It cannot get any easier than that.
Share them with your neighbors. Wrap a few cookies in clear goodie bags and tie with a nice ribbon for a pretty and yummy little Christmas present. Oh, and don't forget to leave some by the Christmas tree for Sir St. Nick.
Enjoy!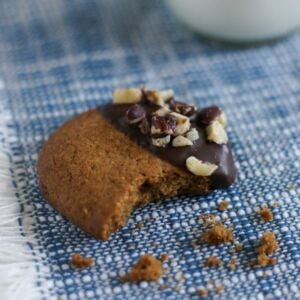 Hazelnut Butter Cookies Dipped in Chocolate
Author:
Delicious and easy to make cookies that are perfect for snacking
Ingredients
2 cups of all purpose flour
1 teaspoon of baking soda
1 teaspoon of hazelnut extract
1 egg
3/4 cup of butter (1 and 1/2 stick)
3/4 cup of brown sugar
1/4 teaspoon of salt
1 and 1/2 cups of dark chocolate chips
1 tablespoon vegetable shortening
3/4 cup of chopped hazelnuts
Instructions
Preheat oven to 375 degrees F. Line a baking sheet with parchment paper.

In a food processor, combine flour, baking soda, hazelnut extract, egg, butter, sugar and salt. Pulse until the mixture starts to form into small lumps.

Cover the dough with plastic wrap and refrigerate for 15 minutes.

Using a cookie scoop, form small balls with the dough and place in the baking sheet about two inches apart form each other. Press down slightly to flatten a little bit.

Bake for about 18-20 minutes or until golden brown. Remove from the oven and cool on a rack for about 30 minutes.
For the Chocolate Sauce

Place chocolate in a microwave save bowl. Melt the chocolate in the microwave 30 seconds at a time to avoid burning it. Once melted, add the vegetable shortening and combine well.

Dip cookies half way into the chocolate, sprinkle with chopped hazelnut and lay them back on the cookie sheet.

Refrigerate until the chocolate hardens.
Nutrition
Calories: 276kcalCarbohydrates: 29gProtein: 4gFat: 16gSaturated Fat: 10gCholesterol: 30mgSodium: 183mgPotassium: 162mgFiber: 1gSugar: 14gVitamin A: 250IUVitamin C: 1mgCalcium: 64mgIron: 1mg
The nutritional information of this recipe and all recipes on mydominicankitchen.com is only an estimate. The accuracy of any recipe on this site is not guaranteed.