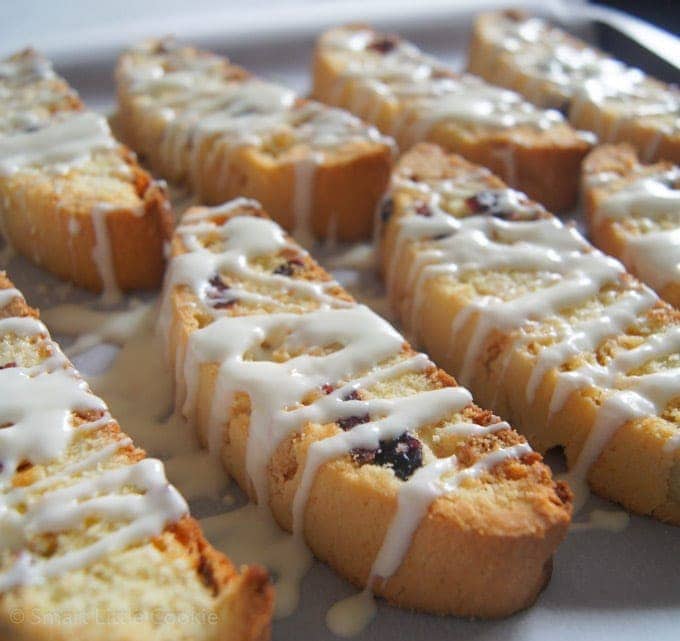 The Christmas holidays are approaching, which means it's cookie season. I  must confess, I not so much of a cookie type of girl. I know, it's a bit ironic since the name of this blog is Smart Little Cookie.
Don't get me wrong. I like cookies. I really do. I just enjoy cake and cupcakes a lot more. However, that does not, by any means, mean that I can't enjoy my occasional cookie. And you can rest assure that I will pick my favorite cookies and share them with you all every time I can.
In proximity of my favorite holiday of the year, I have followed in with the cookie making traditions. Hence, this awesome biscotti recipe!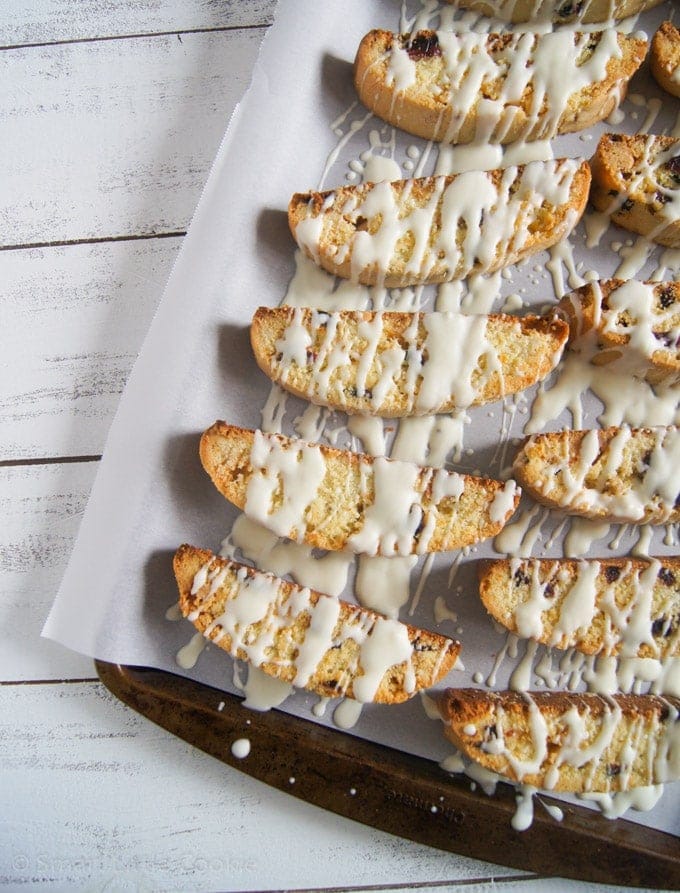 Biscotti are a twice-baked biscuit cookie that originates from Italy. The cookies have a long oval shape and are made dry and crunchy from cutting the loaf while still warm and baking it again. The word biscotti actually means twice-baked, which defines the preparation method of the cookie.
The first biscotti I ever tried was from a Starbucks. I was getting my usual Caramel Macchiato and decided to grab one of the almond and chocolate biscotti they had purposely placed on the counter (I always fall for that trick). They were crunchy and delicious. The perfect complement to my macchiato.
However, it wasn't until now that I thought of making one of my own. I was thinking of ideas for some nice holiday treats and came up with a few. This cranberry and white chocolate biscotti recipe is the first of them. So, keep an eye out for more to come.
The cranberry and white chocolate are the perfect combination to make these biscotti an awesome holiday cookie. Sweet and crunchy, with the tangyness of the cranberry and a hint of orange citrus, these biscotti are sure to make anyone drool.  I bet Santa would be incredibly happy if you decided to leave a few of these under the Christmas tree for him.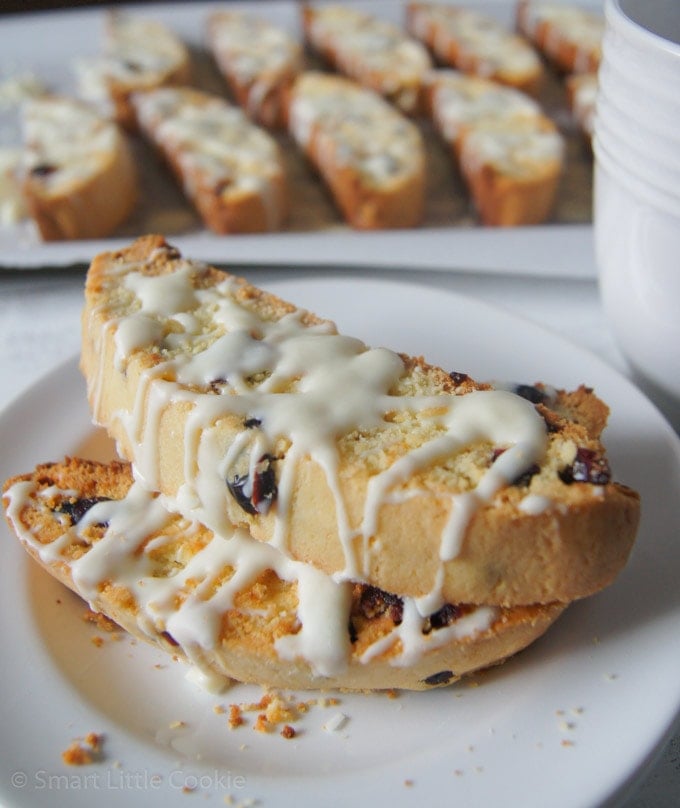 These cookies have definitely earned their spot on my list of favorites.
What about you? Do you have a favorite holiday cookie?
Pin Recipe
Cranberry and White Chocolate Biscotti
Servings:
14
-16 biscottis
Print Recipe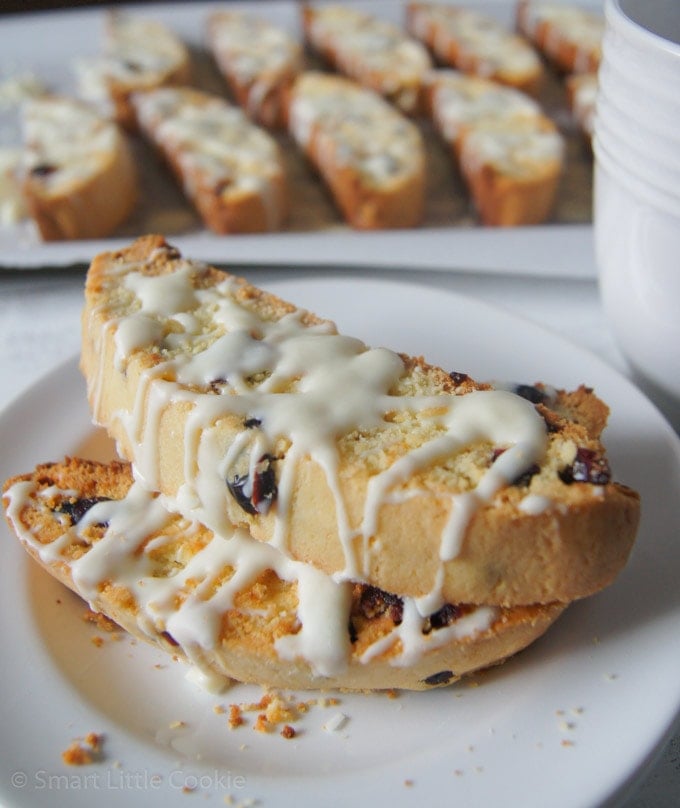 This biscotti is perfect for the holidays!
INGREDIENTS
2

cups

of all purpose flour

1

teaspoon

baking powder

½

cup

(1 stick) unsalted butter

¾

cups

of sugar

1

teaspoons

orange zest

2

eggs

½

cups

dried cranberries

1

and ½ cup white chocolate chips

1

teaspoon

vegetable shortening
INSTRUCTIONS
Preheat oven to 350 degrees F. Line baking sheet with parchment paper.

In a small bowl, combine flour and baking powder.

In a mixing bowl, mix butter, sugar and orange zest until light and creamy.

Add eggs one at a time. Once the eggs are fully combined, stir in the flour.

Mix in the dried cranberries and ½ cup of white chocolate chips.

Separate the dough in half, place on the baking sheet side by side forming it into two logs measuring about 2 ½ X 8 inches.

Bake for 30 minutes or until slightly golden. Take out and let cool for about 20 minutes.

With a serrated knife, cut width wise into ½-inch thick slices. Place the slices back into the baking sheet with the cut side down. Bake for an additional 15 minutes.

Place the biscotti on a rack for cooling.
For the drizzle
Melt 1 cup of white chocolate chips in the microwave for 30 seconds. Mix in vegetable shortening and combine well.

Using a fork, drizzle the biscotti generously with white chocolate sauce.

Place in the refrigerator until the chocolate becomes firm.
Nutrition
Calories:
294
kcal
|
Carbohydrates:
39
g
|
Protein:
4
g
|
Fat:
14
g
|
Saturated Fat:
8
g
|
Cholesterol:
45
mg
|
Sodium:
58
mg
|
Potassium:
83
mg
|
Fiber:
1
g
|
Sugar:
25
g
|
Vitamin A:
242
IU
|
Vitamin C:
1
mg
|
Calcium:
63
mg
|
Iron:
1
mg