This baked ham and cheese empanadas recipe is an easy way to use up the leftover baked ham after the holidays or to make ahead for easy weekday get-togethers.
*This Glazed Ham and Pineapple Empanadas recipe is part of a sponsored partnership in collaboration with DOLE and #WeAllGrow Latina Network. As always, all opinions are my own.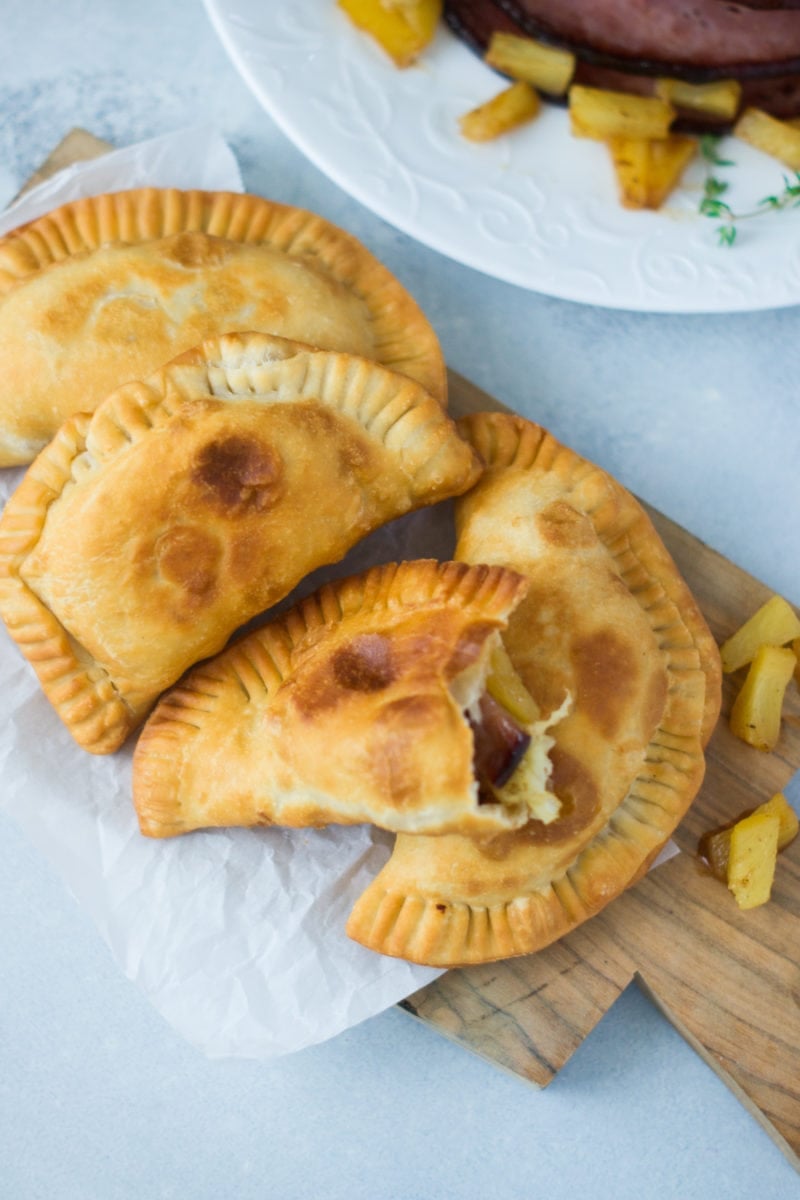 Is there anything better than creating a new dish with leftovers? This Leftover Baked Ham and Cheese Empanadas recipe is amazing! If you know anything about empanadas, you can stuff anything into them and it makes for such a great meal.
There is a lot of joy found in cooking big meals for families, but there is also a lot of satisfaction in creating meals that are easy. After you've spent a whole day cooking on your feet, it's nice to make something quick and easy for the family.
This dish is great on so many levels! You get that same great taste of the ham, but this time you get to enjoy it empanada style.
Be sure to check out my Chicken Parmesan Empanadas and Pizza Empanadas too!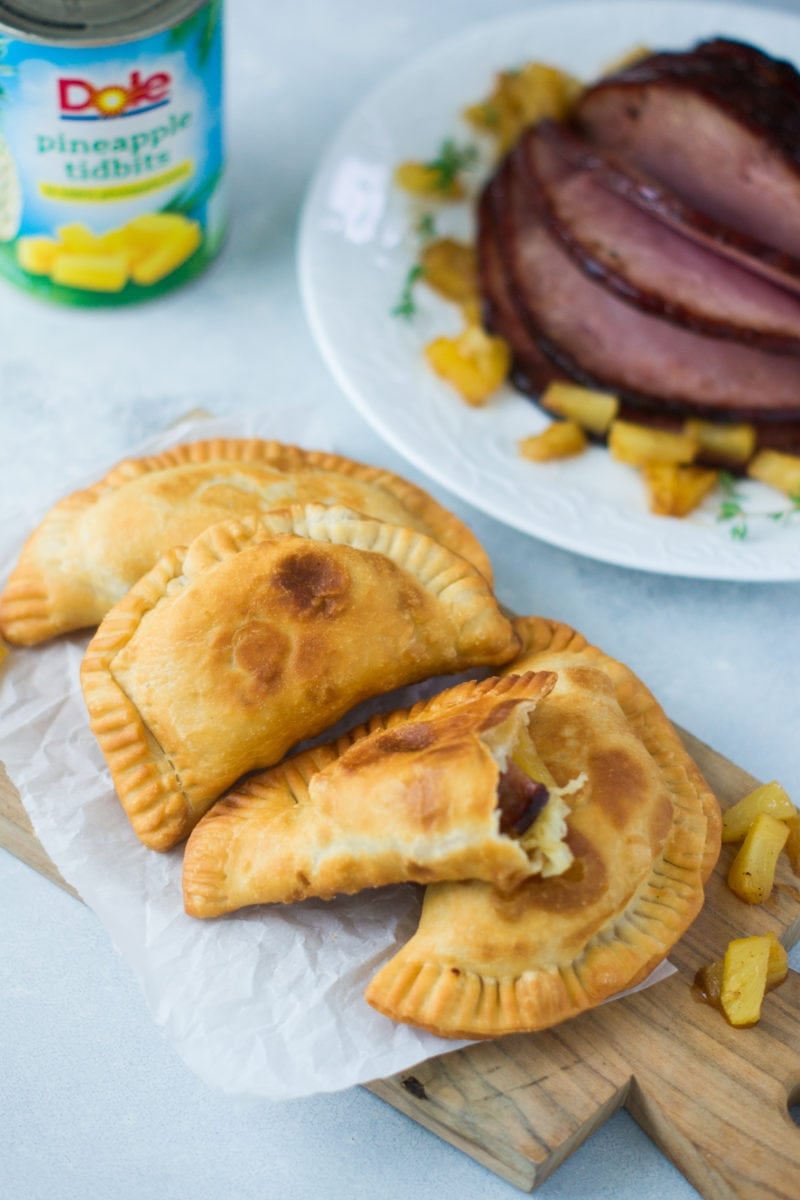 Ingredients
Dole Pineapple Tidbits with 100% Pineapple Juice – You are going to use this ingredient to help add lots of flavor to the empanadas. I love keeping this ingredient in my pantry because there is literally so much you can do with it.
Brown sugar – Remember that these are a different type of empanada. You are going to get some fun new flavors in this mixture.
Ground cloves – You can make some delicious dishes with ground cloves! Don't forget to add this seasoning to your dish.
Leftover glazed holiday ham – When folding all of these ingredients together, the ham is going to seal the flavors of everything together.
Mozzarella cheese – You cannot make an empanada without good cheese! Cheese empanadas are the best!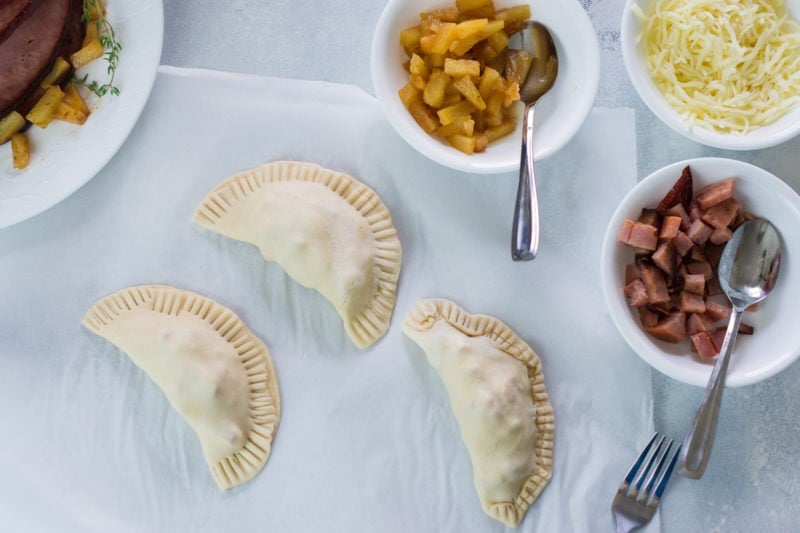 How To Make Leftover Baked Ham And Cheese Empanadas
Make sure you follow the instructions on the recipe card. This is just a brief outline of how to make the ham and cheese empanadas.
Take the pineapple tidbits, coat with brown sugar and spices. Heat in the sauce pan for about 5 minutes.
Lay the empanada discs out on parchment paper.
Add a little bit of the ham, cheese, and pineapple mixture onto the empanada. You can add onions if you'd like!
Go ahead and fold those discs and use a fork to press the empanadas together.
Fry the empanadas as directed, until golden brown!
Frequently Asked Questions
What type of dough do I use for the empanadas?
You can head to the store and buy premade empanada dough. Goya sells frozen discs in packs of ten! This is the easiest "pie crust" you can use to make this recipe.
What kind of cheese do you use for empanadas?
This Leftover Baked Ham and Cheese Empanadas recipe calls for mozzarella cheese to be used inside of the recipe. You can also use Mild Cheddar Cheese if that's what you have on hand.
How do you store and reheat empanadas?
Store the empanadas in an airtight container and place in the fridge. When you are ready to reheat them, you can place them on a baking sheet and place in the oven to reheat. The total time will differ based on your oven.
Can you freeze cooked empanadas?
Keep in mind that you can freeze empanadas, but they may lose some of their texture and flakiness. You can wrap each empanada in plastic wrap and place it in the freezer. Make sure each empanada is cooled down BEFORE you place it in the fridge.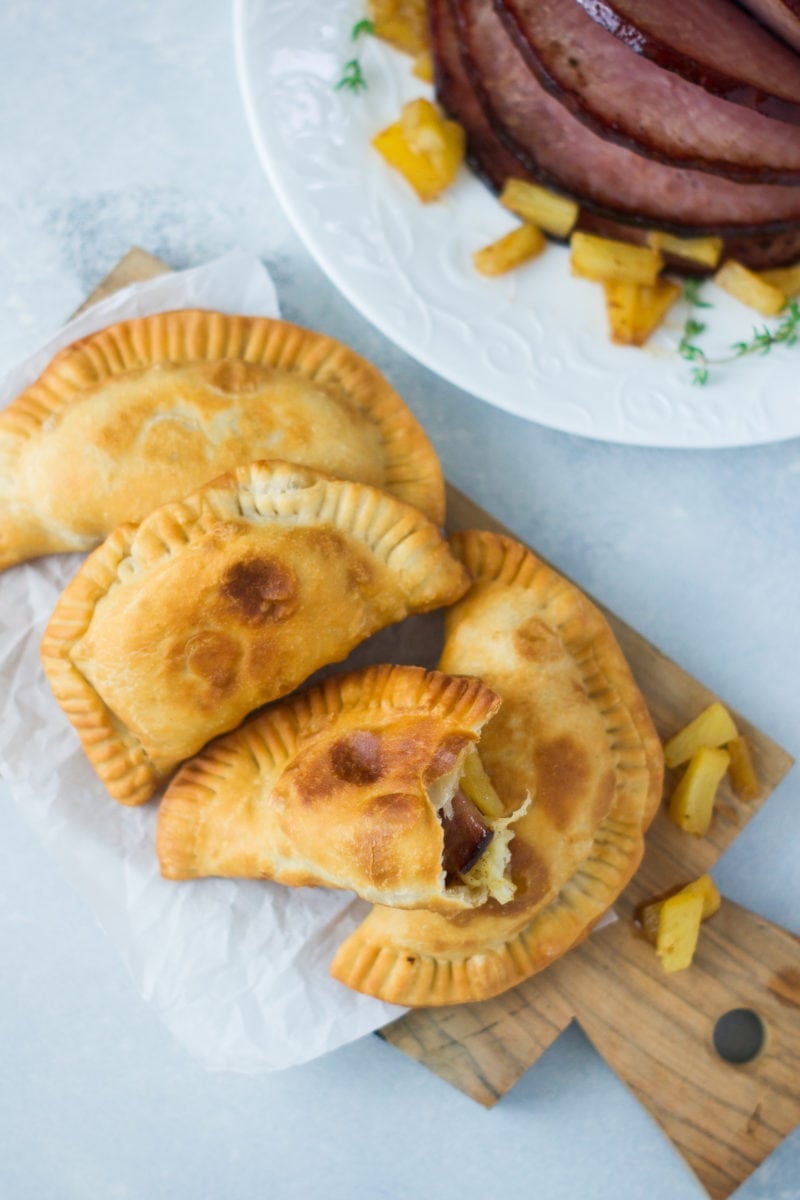 How to bake frozen empanadas?
You can place the frozen empanada on a baking sheet, just place it in the oven for 375 degrees F. You will need to bake it for 30-40 minutes since it's frozen.
How long should I bake my empanadas?
You can also bake your empanadas instead of frying them. To bake the empanadas, place them in the oven at 400 degrees F for 20 to 25 minutes. You can add egg wash on top of the empanadas to help make them a little crispier.
How do you keep empanadas crispy?
You can keep the empanadas crispy by throwing them in a pan with oil or by placing them in the oven for around 300 degrees F for 10 minutes. This applies to already cooked empanadas. Olive oil works wonderfully as an oil option. Just a tbsp will do!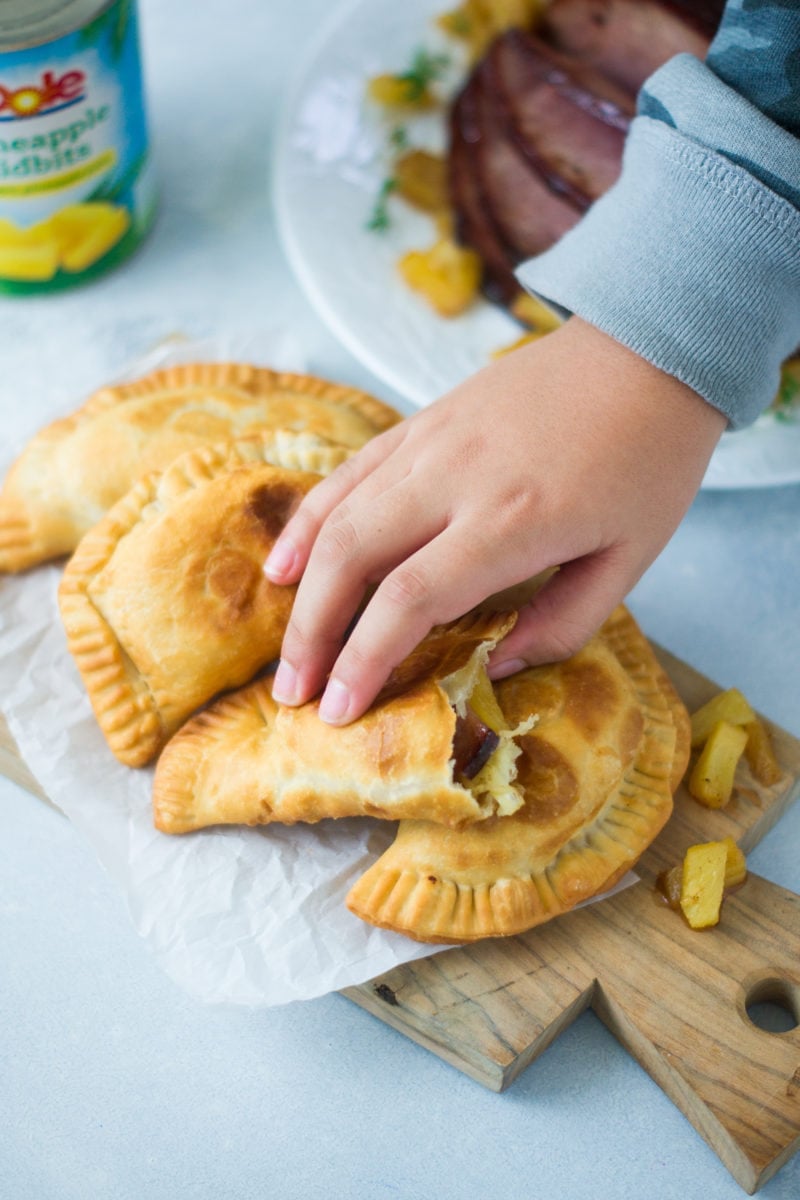 Recipe Tips and Notes
Change the protein. For this empanada recipe, you can change up the meat. Feel free to add ground beef as the meat option in future empanadas. The ham mixture works well, but change it up if you'd like!
Add veggies. If you'd like to add some veggies to the empanadas, then add spinach or kale.
Topping options. Salsa or a tsp of sour cream will work fantastic as a topping on this empanada recipe. I let the sour cream chill in the fridge until I'm ready to serve the empanadas. The coldness from the sour cream and the warmness from the empanadas makes an incredible melt in your mouth flavor.
Brush the top. If you don't want to use egg wash to brush the top of the empanadas while they bake then use a teaspoon of butter.
More Recipes You'll Love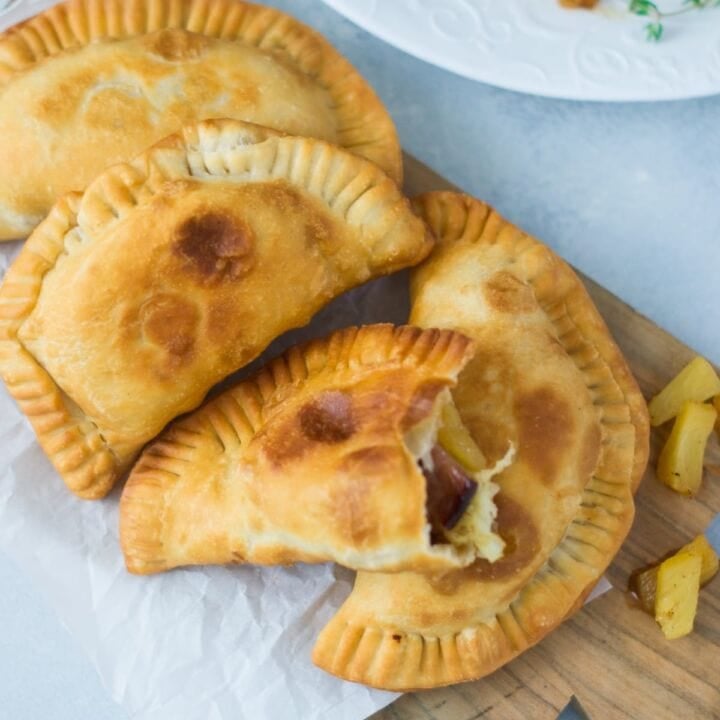 Leftover Baked Ham & Cheese Empanadas
Author:
A delicious appetizer or quick leftover dinner made with all the flavors of the holiday glazed ham.
Ingredients
1 can (20 oz) Dole Pineapple Tidbits with 100% Pineapple Juice
1 tablespoons brown sugar
½ teaspoon ground cloves or allspice
10 store-bought empanada discs
2 cups leftover glazed holiday ham cubed
2 cups mozzarella cheese shredded
Instructions
Coat pineapple tidbits with brown sugar and cloves or allspice and heat in a saucepan over medium heat for about 5 minutes. Remove and set aside.

Lay the empanada discs, a few at a time, on a flat surface over parchment paper.

Add about 1 1/2 tablespoons glazed ham to the center of each disc and layer with about 1 tablespoon mozzarella cheese and 1 tablespoon pineapple tidbits.

Carefully fold the discs and using a fork press firmly around the edges to seal.

In a medium pot or large pan, heat oil over medium heat. Fry the empanadas on both sides until golden brown, about 2-3 minutes each side.

Rest in a paper towel to drain excess oil.

Serve warm.
Nutrition
Calories: 607kcalCarbohydrates: 58gProtein: 33gFat: 28gSaturated Fat: 12gCholesterol: 88mgSodium: 1466mgPotassium: 419mgFiber: 3gSugar: 24gVitamin A: 449IUVitamin C: 13mgCalcium: 310mgIron: 4mg
The nutritional information of this recipe and all recipes on mydominicankitchen.com is only an estimate. The accuracy of any recipe on this site is not guaranteed.