This pineapple glazed ham recipe is easy to make and will be a hit with your family and friends! I add chipotle peppers to the glaze for great flavor and a spicy kick everyone will love.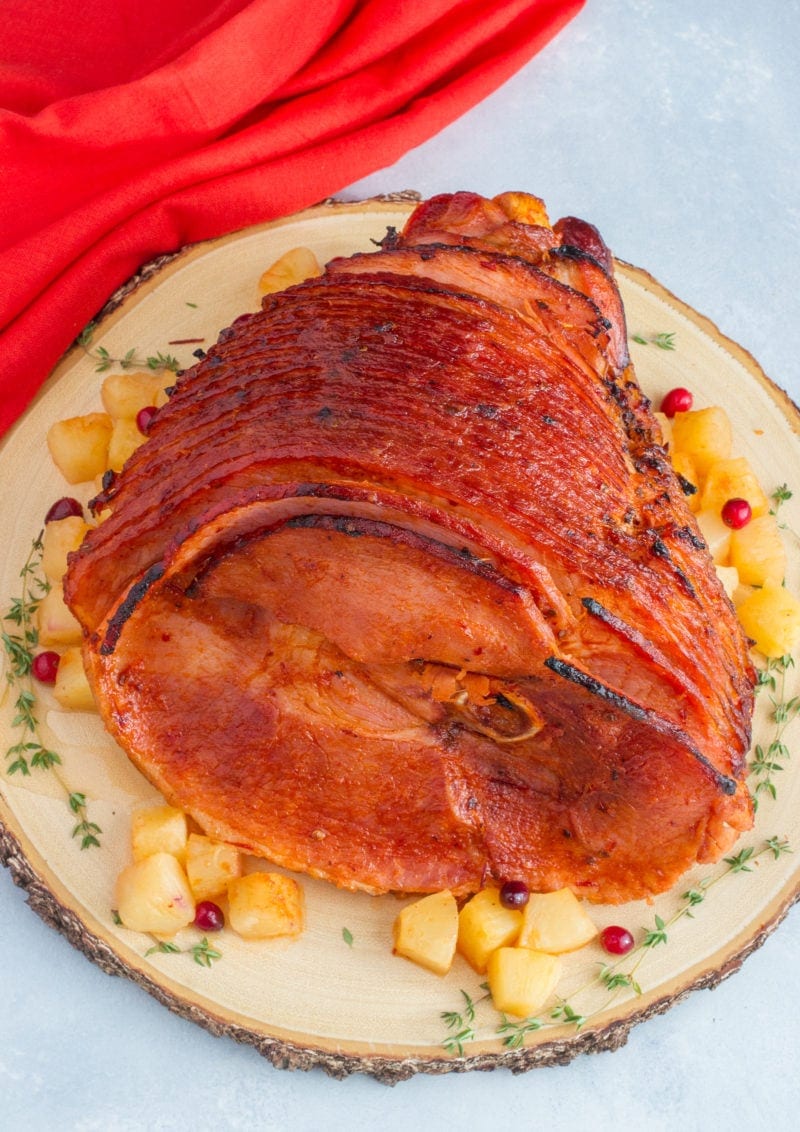 The holiday season is my favorite season of the year. Besides Summer that is. There are so many things I love about the holidays: the lights, the decoration, the holiday cheer, the time spent with family and friends, AND the food!
I find so much joy in cooking big, fabulous meals to share and enjoy with family and friends. Every year, I am searching for and thinking of new fun dishes to make that would make it a memorable holiday. This year, I'm adding this beautiful Pineapple Chipotle Glazed ham to my holiday menu.
Be sure to check out my Roasted Pork (Pernil) and arroz con gandules too!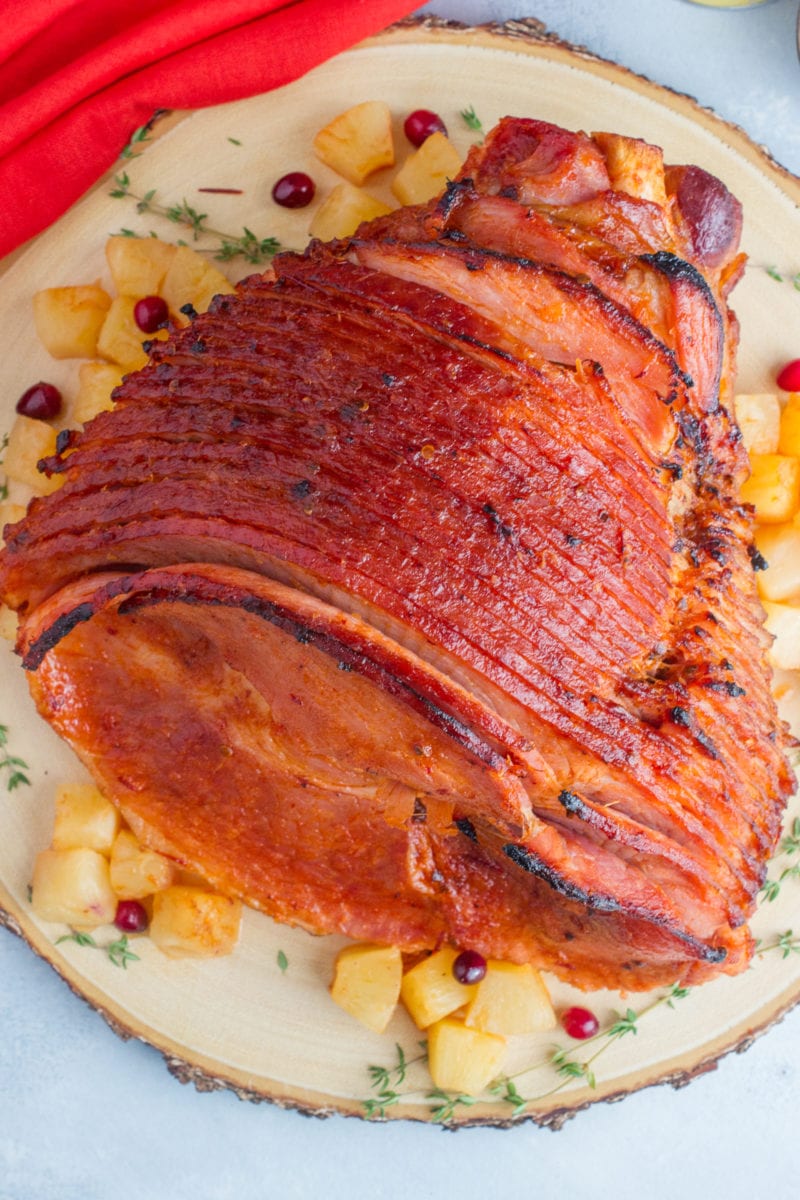 This dish is a great additional main dish option for your holiday table. Plus, it is the easiest holiday dish you'll ever make!
The smoked ham is already partially cooked. All you have to do is coat it with a delicious pineapple and chipotle glaze and bake it until fully cooked and caramelized.
The sweet pineapple flavor and spicy chipotle combination of the glaze pairs perfectly with the salty, smoky flavor of the ham. You really can't go wrong with this beautiful, delicious, and easy pineapple glazed ham recipe. Learning how to bake ham recipes like this is going to AMAZE your guests.
Ingredients
Bone-in Smoked ham – You can pick a bone-in smoked ham up at almost any store. This flavor should be available, too! 
Dole Pineapple Chunks – The star of the show is the pineapple chunks! The pineapple juice from the chunks makes everything so tasty! I really love Dole Packaged Foods fruit. It's one of my favorite ingredients to keep in my pantry. There really is no excuse to not include more fruit in our daily eating habits when you can have a can of pure fruit goodness in your pantry at all times. Plus, they can come in very handy at dinner time. Dole pineapple can be used in many ways in recipes to change up weekend events, as well as weekday meals and holiday dinners!
Ch​​ipotle peppers in adobo sauce – If you want a ham that tastes yummy, then you're going to need a little spice. You can remove this ingredient if you want, but you'll be glad you added it in my opinion. 
Honey – You'll want to make things a little sweet too. Honey is just what you need to make that leftover ham sweet and salty!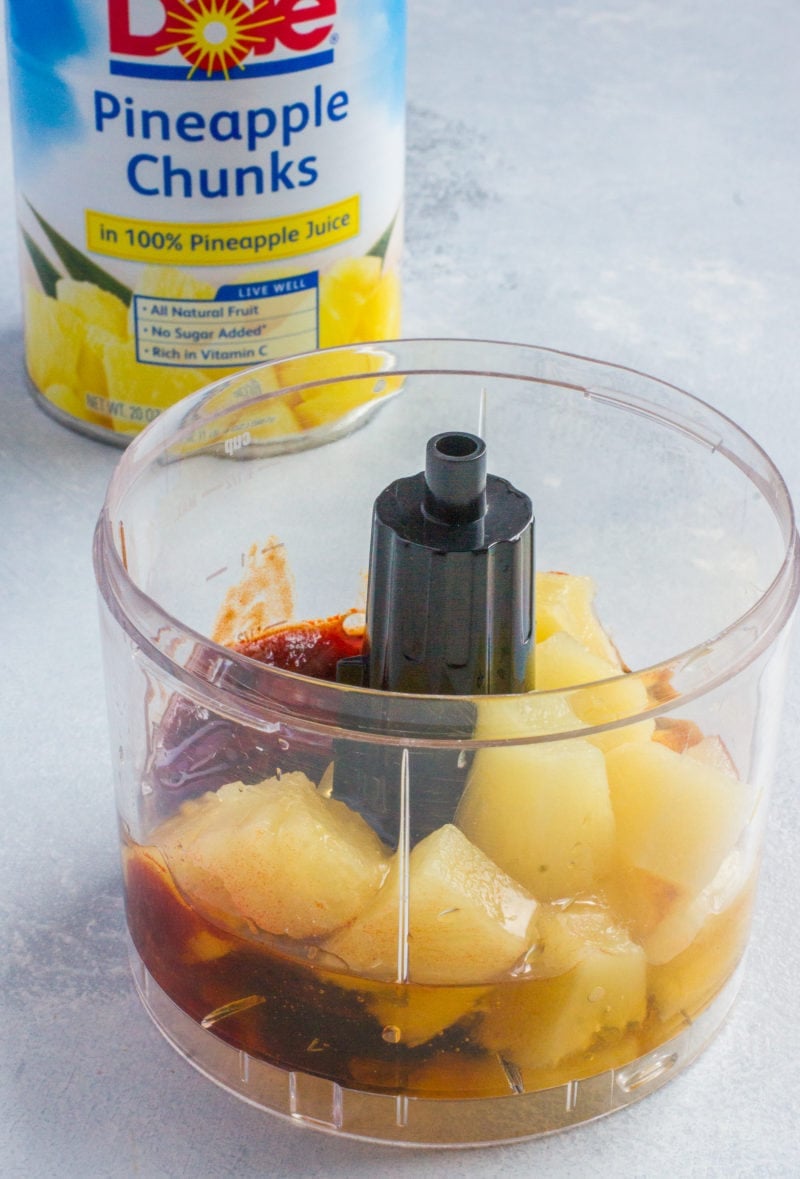 How to make Pineapple Glazed Ham:
If you're wondering how to make this spiral cut ham, you are in for a treat because it's so simple. If you've ever been intimidated by a recipe before, don't worry because this recipe has a step-by-step process!
*Please see the recipe card at the bottom of this post for the full instructions.
You are actually going to preheat the oven.
Blend all of the ingredients for the glaze together until smooth.
Prepare your pan and place the ham inside.
Bake the pineapple glazed ham as instructed. Be sure to coat the ham with some of the pineapple glaze before baking and then again within 15 minutes of cooking time remaining.
Once the ham is done, you can serve it warm with your favorite sides.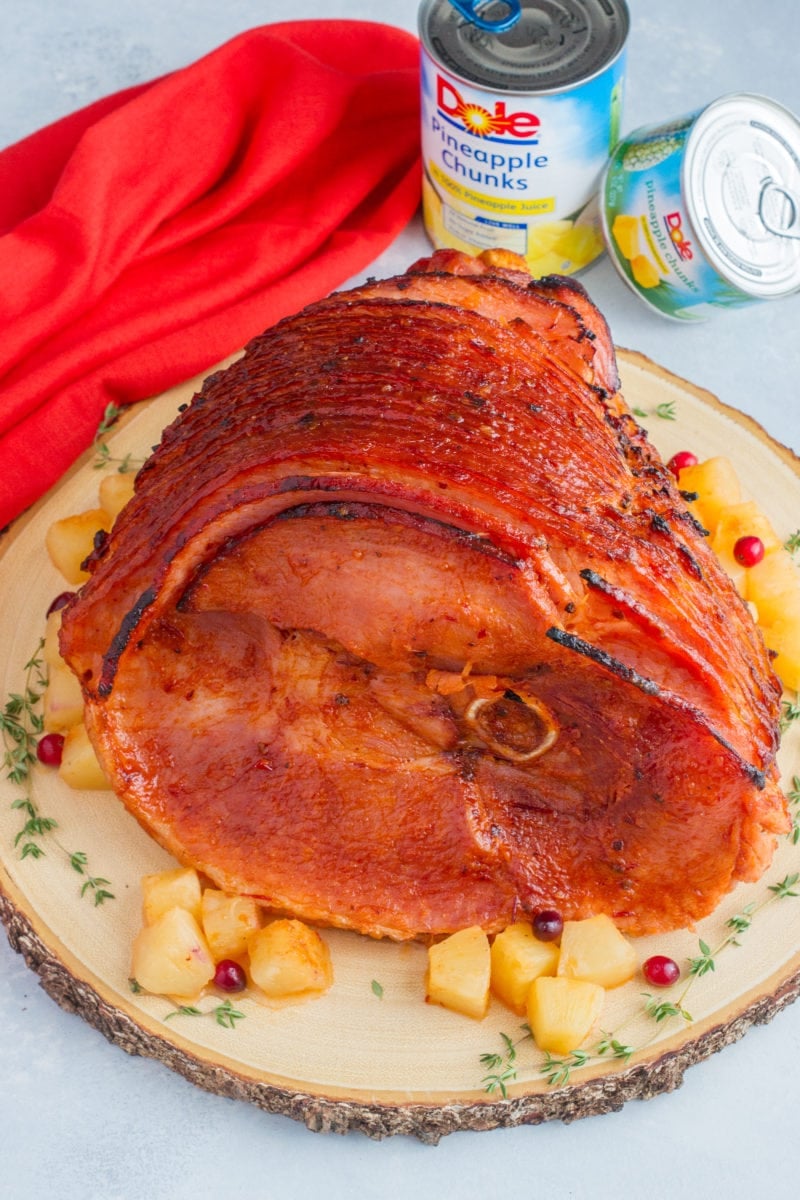 Frequently Asked Questions
Which Ham Is the Right Ham?
You may be wondering which ham is the right ham to use for this recipe. It calls for a bone-in smoked ham. You can find these hams on sale around the holidays, which is always fantastic. Whether it's Easter or Christmas, you cannot go wrong preparing this ham! Not to mention it makes fantastic sandwiches.
How Long and at What Temperature to Bake Ham
This specific ham needs to be cooked for 10-12 minutes per pound at 350 degrees or until it reaches an internal temperature between 145 and 160 degrees. At the end of the recipe, you are going to crank up the temperature to 450 degrees for 10-12 minutes to help caramelize the ham while it's in the roasting pan.
What Should You Serve with Pineapple Glazed Ham?
Serving Pineapple Glazed Ham with other dishes is easier than you may think. It goes with so many different sides. Those pineapple slices really bring a lot of flavor, which means you can cook almost anything to go with it. Some of my favorites include corn, pasta, mashed potatoes, buttered noodles, and rolls!
How to Keep Leftovers
If you happen to have leftovers (this ham always goes too fast), then you will want to know HOW to keep those leftovers. This ham makes for an excellent protein source, so make sure you don't throw it away. The pineapple ham glaze taste lasts for days and it's so good! 
 
Once the ham has had a second or two to cool down, you will want to wrap it and place it in the fridge. Once it's cooked and stored in the fridge, it can last anywhere from 5 days to 1 week. If you think you won't consume it in that time period, then make sure you freeze it!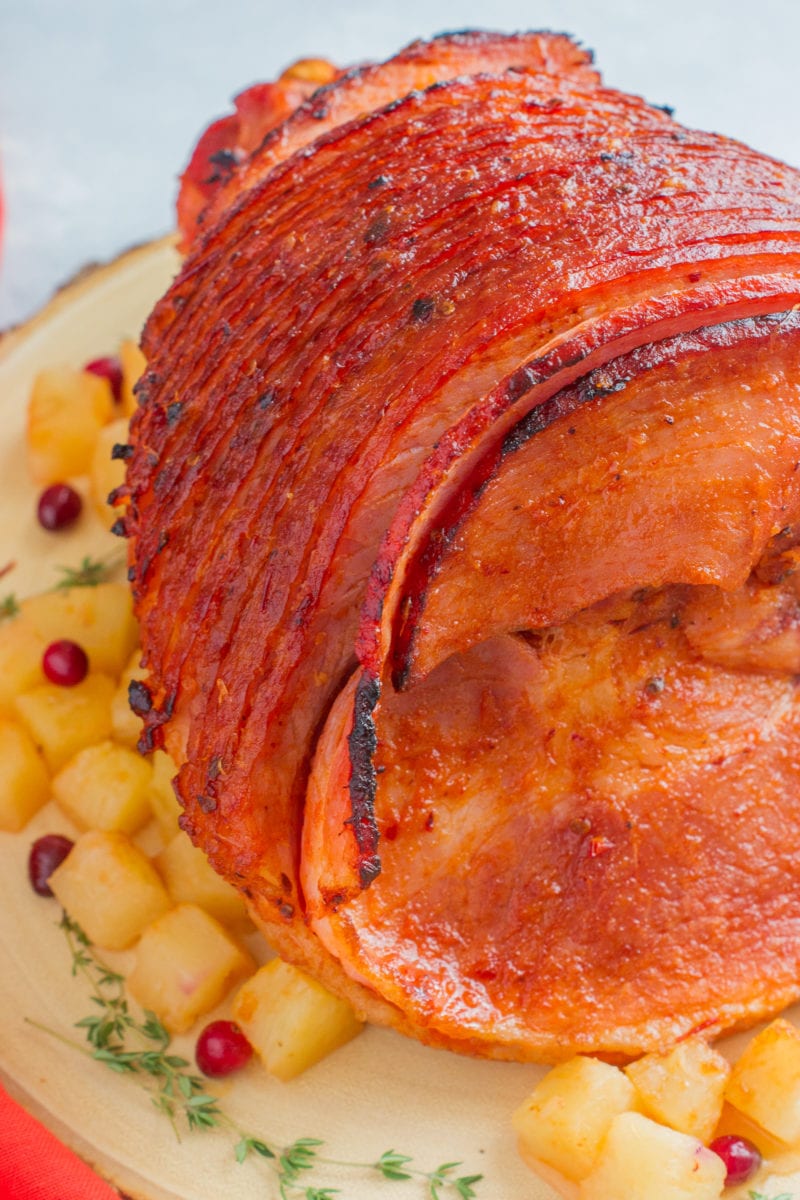 Ways to Use Leftover Ham
If you'd like to use up this leftover ham, you may be wondering what kind of recipes you can make with it. You can always go for making soups or sandwiches.
Sandwich options: Grab a leftover roll, place the ham inside, add a little bit of cheese, Dijon mustard and you will have an amazing sandwich. You can eat this sandwich cold OR heat it up in foil to make it extra delicious!
Soup options: One of the most popular dishes to make with ham is to do a bean and ham mixture. Letting those ham and beans simmer for a while will give you the most delicious recipe ever! Add a little brown sugar to the ham and bean soup for a little added sweetness.

My absolute favorite recipe to make with leftover ham is these delicious Glazed Ham and Pineapple Empanadas. Give them a try.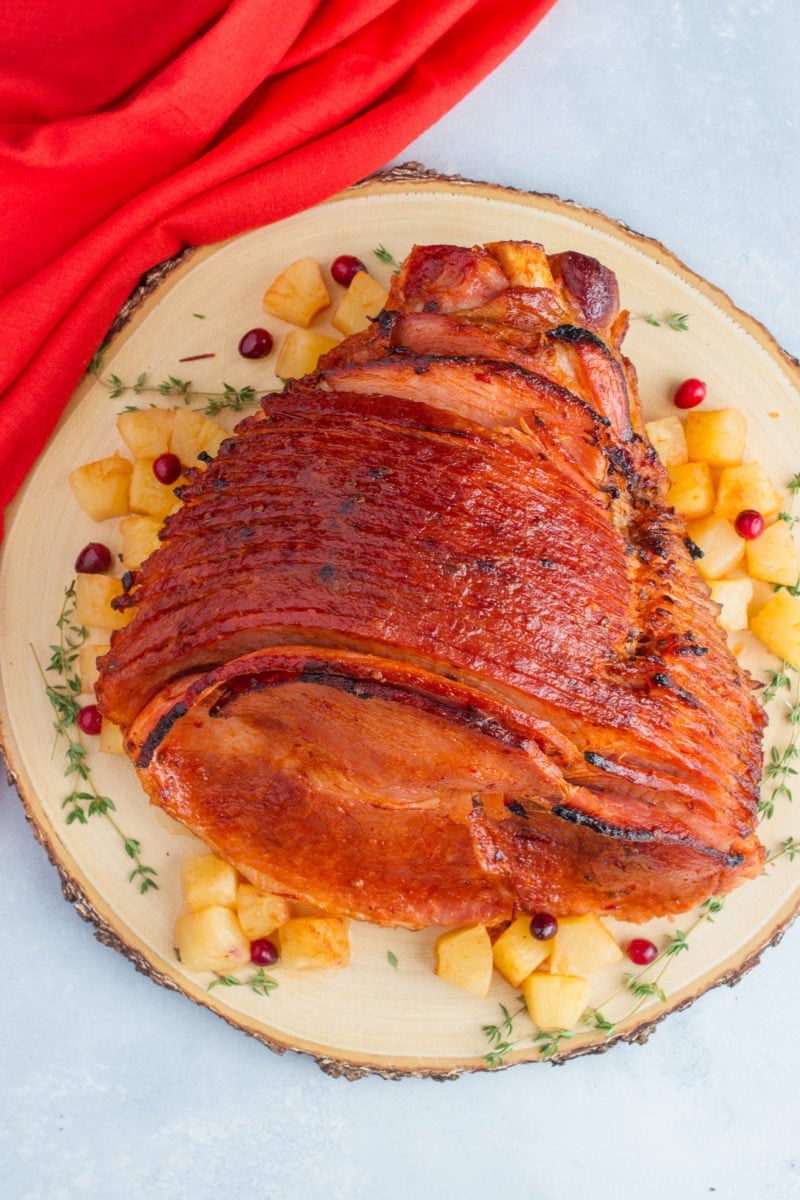 Recipe Tips and Notes
Buy the size ham you need – The beautiful thing about baking a ham is you get to choose the size. There are many options, so pick a ham that you need and want.
Play with the spiciness and sweetness – The recipe calls for a little sweet and a little spicy, you can play with it and change it up!
Ham is freezable – Keep in mind that you can freeze this ham. It's best to take all the ham off the bone, place it in a freezer-friendly container, and then put it in the freezer. The ham needs to be cooled down before you place it in the freezer.
Other Recipes you'll Love: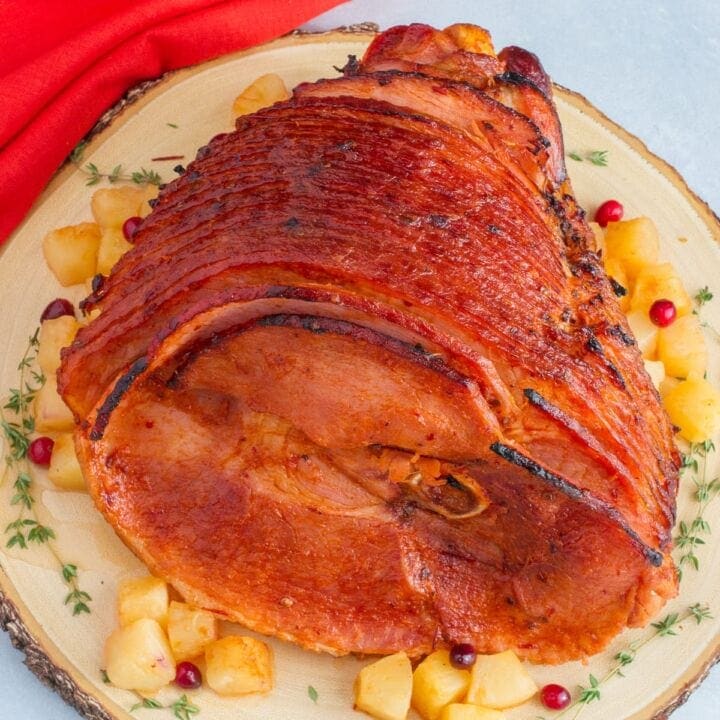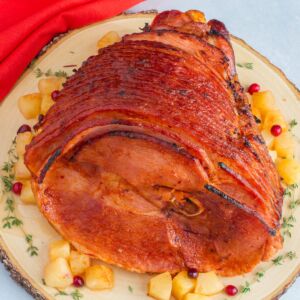 Pineapple Chipotle Glazed Ham
Author:
Smoky and salty ham smothered with a pineapple and chipotle glaze. A sweet and spicy twist to the traditional holiday ham.
Ingredients
5-10 pounds bone-in smoked ham
2 cans 20 oz Dole Pineapple Chunks in 100% Pineapple Juice
2 Chipotle peppers in adobo sauce
2 teaspoons adobo sauce from the Chipotles
1/3 cup honey
Instructions
Preheat oven to 350 degrees.

Add 3/4 cup pineapple chunks, ½ cup pineapple juice from the canned pineapple, chipotle peppers, adobo sauce and honey into a blender or food processor and blend until smooth.

Line a large roasting pan with tinfoil and place ham on top.

Coat the ham with ½ of the pineapple chipotle mixture and cover with tinfoil.

Bake the ham for about 10-12 minutes per pound. This ham was 10 pounds, so it baked for roughly 2 hours.

With about 15 minutes of cooking time remaining, remove ham from the oven and brush with more of the pineapple chipotle mixture. Add the remaining pineapple to the roasting and coat slightly with some of the glaze.

Raise the oven temperature to 450 degrees. Bake the ham uncovered for about 15-20 minutes or until the exterior of the ham is caramelized.

Serve warm with side dish of choice.
Nutrition
Calories: 614kcalCarbohydrates: 11gProtein: 34gFat: 49gSaturated Fat: 11gCholesterol: 88mgSodium: 1814mgPotassium: 554mgFiber: 4gSugar: 7gVitamin A: 114IUVitamin C: 1mgCalcium: 35mgIron: 2mg
The nutritional information of this recipe and all recipes on mydominicankitchen.com is only an estimate. The accuracy of any recipe on this site is not guaranteed.
*This Pineapple Chipotle Glazed Ham recipe is part of a 2018 sponsored partnership in collaboration with DOLE and #WeAllGrow Latina Network. The post was updated in December 2021 with additional tips and notes. As always, all opinions are my own.