Arroz Primavera ~ This beautiful rice dish is mixed with colorful vegetables like green and red peppers, onions, and corn and cooked to perfection!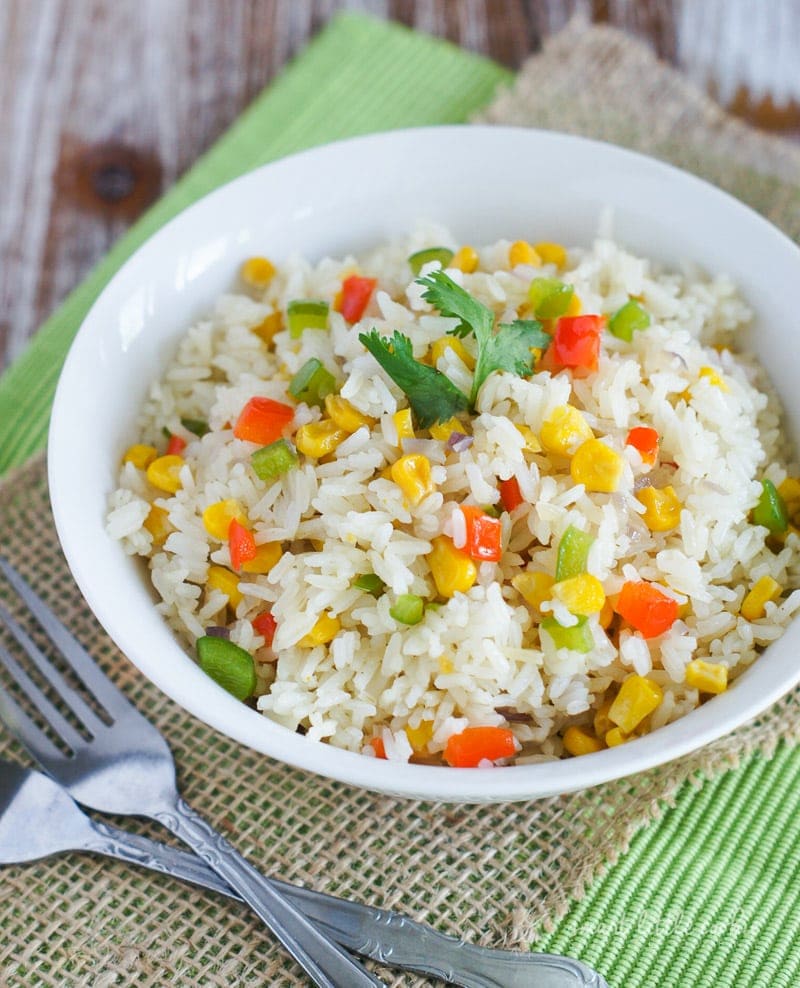 Rice is just one of those ingredients that need to be at a Dominican home's table every single day. If you've ever lived or been to the Dominican Republic for more than 2 weeks, you'll know that rice is a big part of a Dominican family's balanced meal. There is a reason why the national daily meal in the Dominican Republic, which is referred to as La Bandera (The Flag), is stewed meat, rice, and beans.
My mother, for example, is one of those people, who feel a meal is not complete unless a big serving of rice is part of it. My husband feels the same way and it is one of the main reasons I cook rice at home a lot. Although, not to the extent of cooking it every day.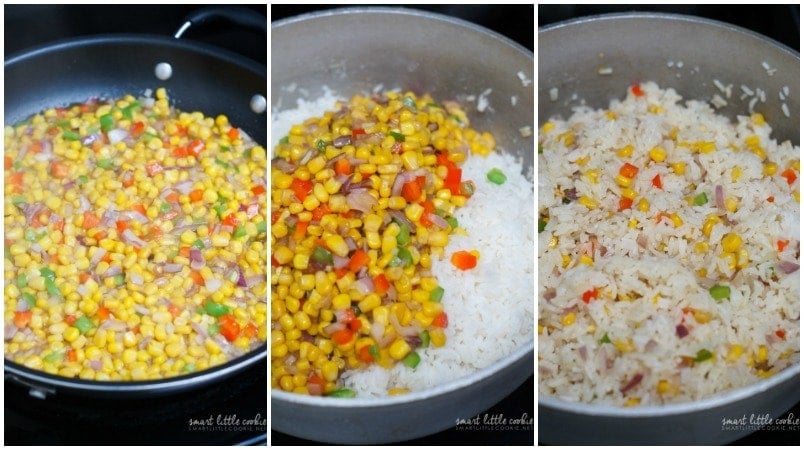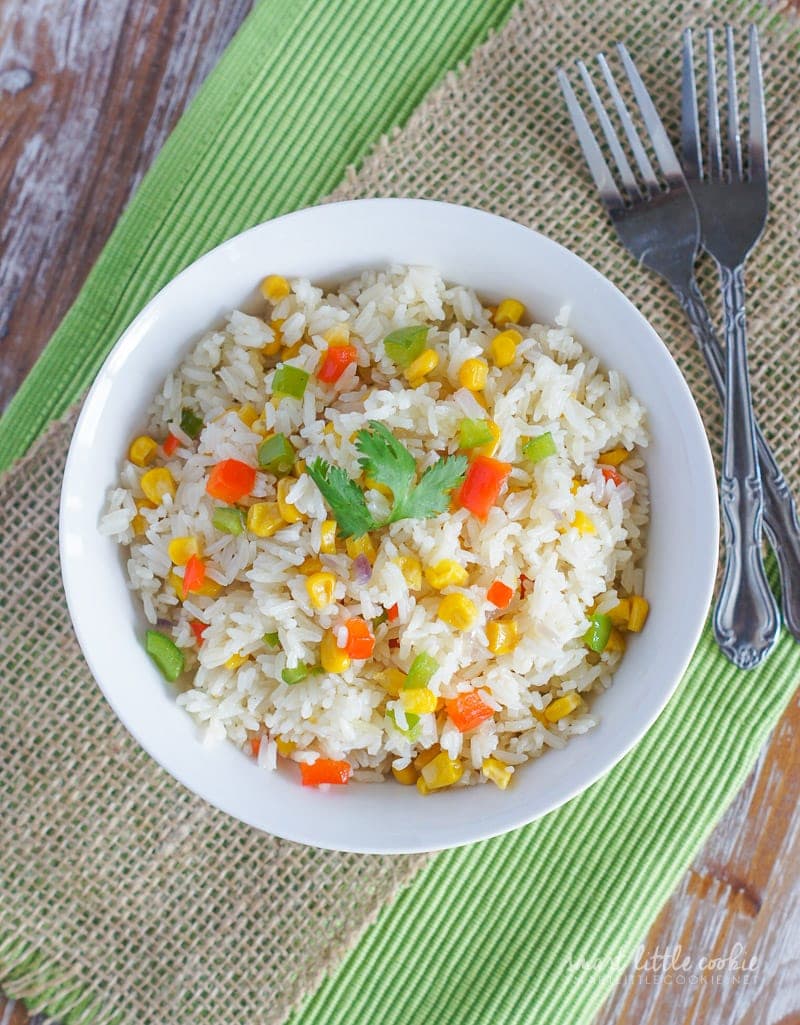 Even though I really love white rice, I do like diversity in my meals. So, I make sure to cook rice in different ways by adding different ingredients and creating a variety of flavors. This way, I can maintain my husband's need for eating rice and my need for having different foods at mealtime.
This arroz primavera, which literally translates to Spring rice, is a recipe I copied from my mom a long time ago. One of my favorite dishes, since I'm a little girl, is rice with corn. I remember that our next door neighbor back in the Dominican Republic would send her daughter to get me every time she cooked rice with corn so that I could come to eat lunch at her house because she knew I loved it so much. Until this day, it is one of my favorite rice dishes.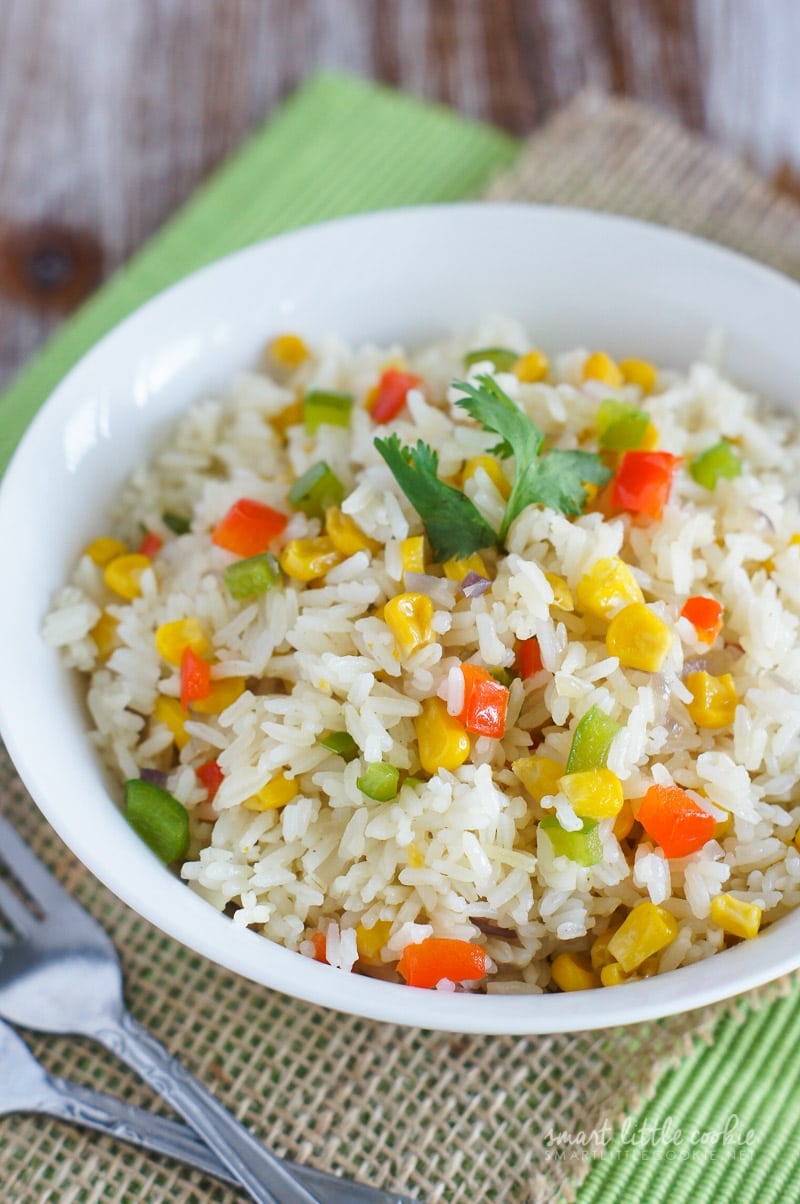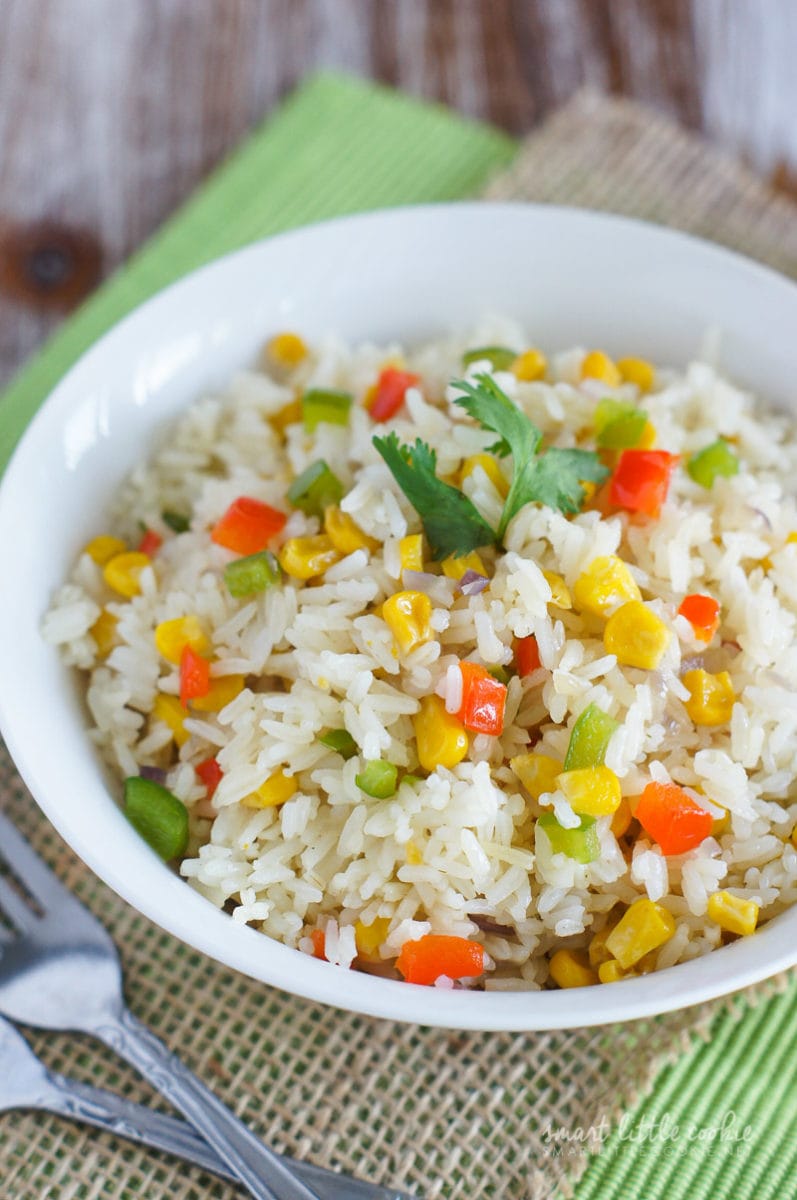 Naturally, any rice with corn in it will be on my list of recipes and I do have one more way of making it that I have not yet shared here. I most likely will share it one of these days. But in the meantime, I will leave you with this one, which is just as tasty.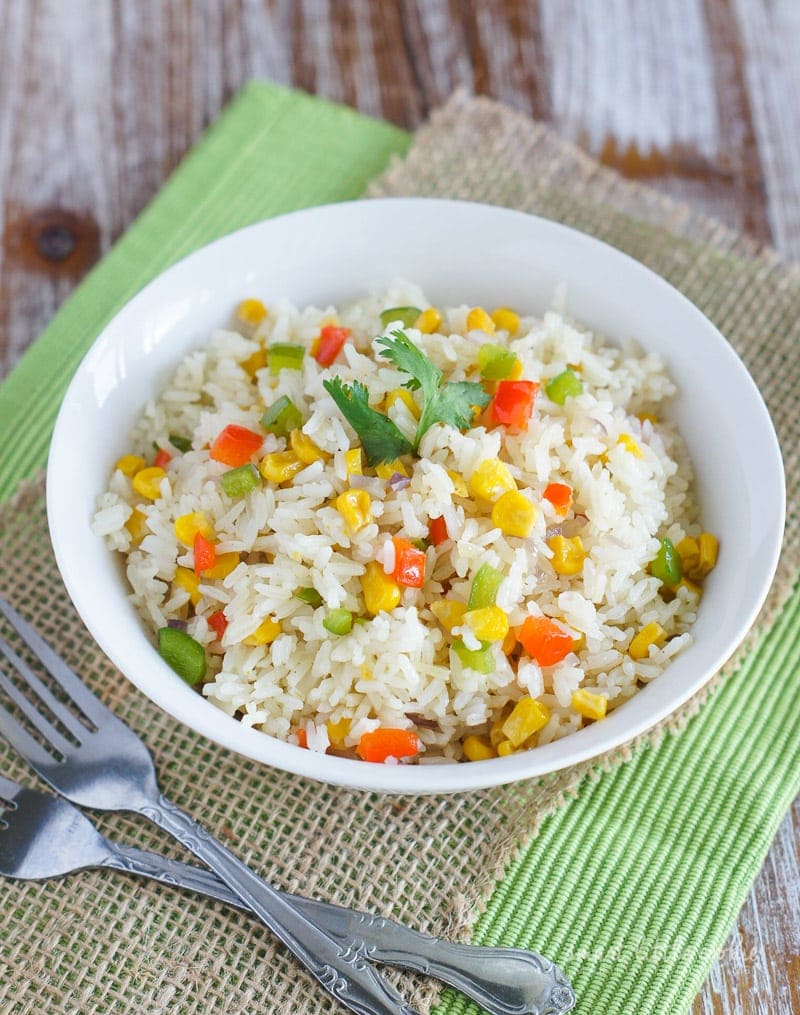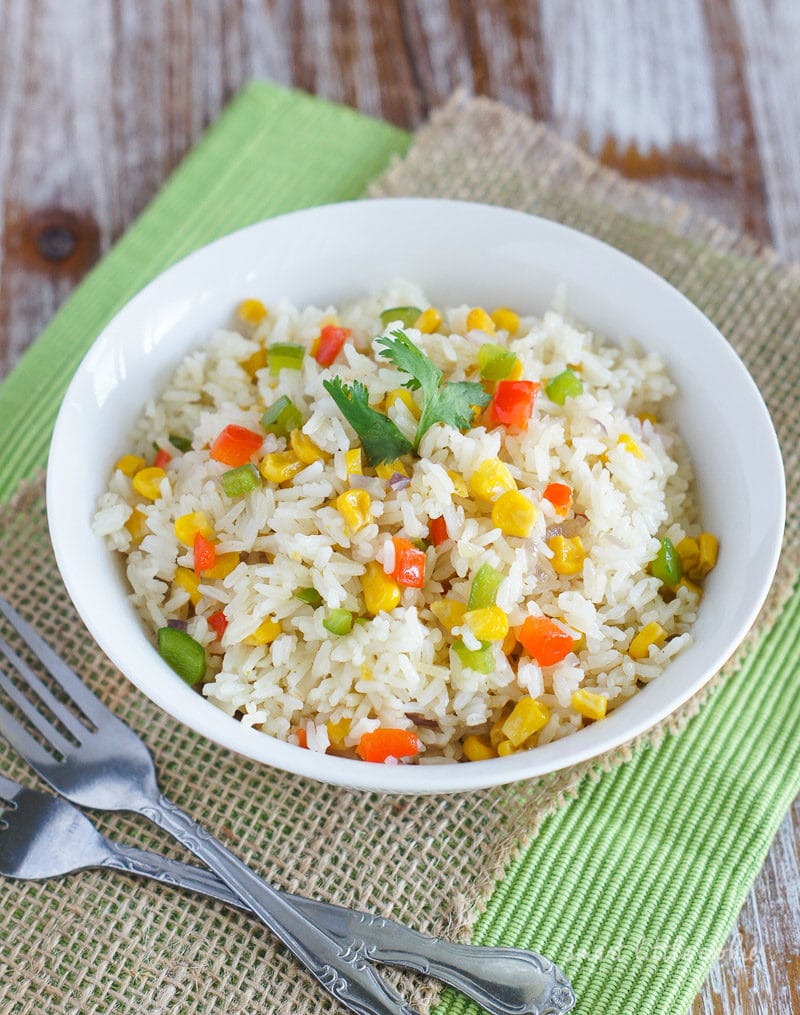 Tell me, do you have a favorite rice recipe? Share it in the comments below. 🙂
Other Recipes You Might Enjoy: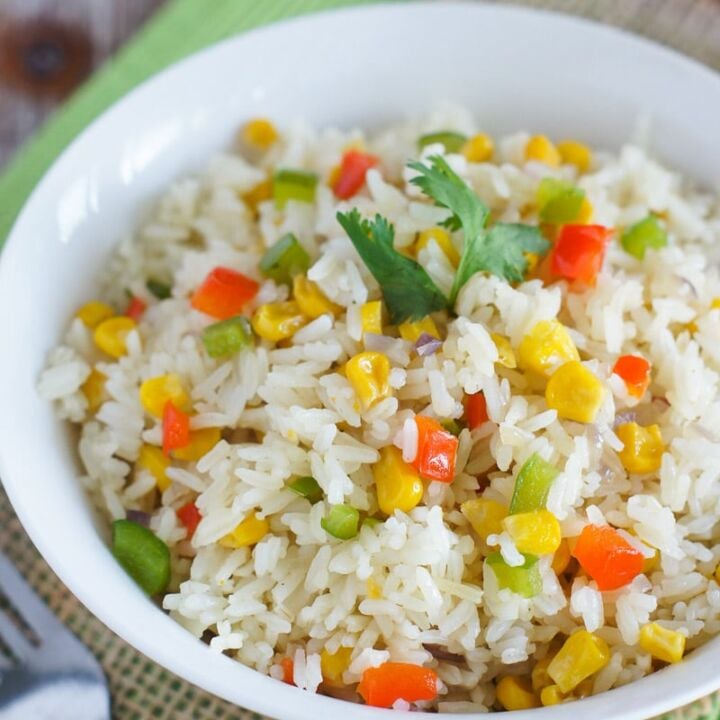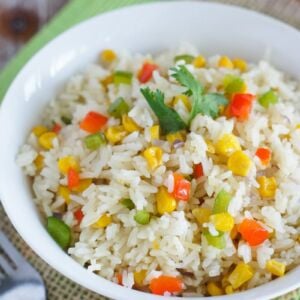 Arroz Primavera Recipe
Author:
This beautiful rice dish is mixed with colorful vegetables like green and red peppers, onions, and corn and cooked to perfection!
Ingredients
4 tablespoons vegetable oil, separated
1/2 teaspoon salt
3 1/2 cups water
3 cups rice
1/2 cup onion, chopped
1/2 cup green bell pepper, chopped
1/2 cup red bell pepper, chopped
15.25 oz can sweet corn
2 tsp chicken flavor bouillon
Instructions
In a cast iron pot over medium-high heat, bring to boil water, salt and 2 tablespoons of oil.

When water is boiling, add the rice stirring occasionally to avoid the rice from sticking at the bottom of the pot. Once the rice has soaked up all the water and begins to dry up, lower the heat to low, cover and let cook for 20 minutes.

Then, stir the rice carefully and cover for another 5 minutes.

In the meantime, heat the rest of the oil in a separate pan. Add the onion, green bell pepper, red bell pepper, corn, and chicken bouillon. Cook until onion has become translucent, about 5 minutes, stirring occasionally.

Remove pan from the heat and add vegetables to the pot of rice. Stir to combine.

Cover the rice. Let cook and soak in all the vegetables' flavor for an additional 5 minutes. Turn off the heat.

Serve warm with your favorite meat dish.
Nutrition
Calories: 487kcalCarbohydrates: 89gProtein: 9gFat: 11gSaturated Fat: 8gSodium: 347mgPotassium: 273mgFiber: 3gSugar: 4gVitamin A: 467IUVitamin C: 28mgCalcium: 36mgIron: 1mg
The nutritional information of this recipe and all recipes on mydominicankitchen.com is only an estimate. The accuracy of any recipe on this site is not guaranteed.
*This post was originally publish on August 2016. It has been refreshed and updated.