**This post is sponsored in partnership with Kura. All opinions are 100% my own. Thanks for supporting the brands that help make this site possible.
Chocolate Chip Cookie Smoothie ~ A quick, easy and nutritious smoothie that satisfies the sweet tooth and is packed with protein.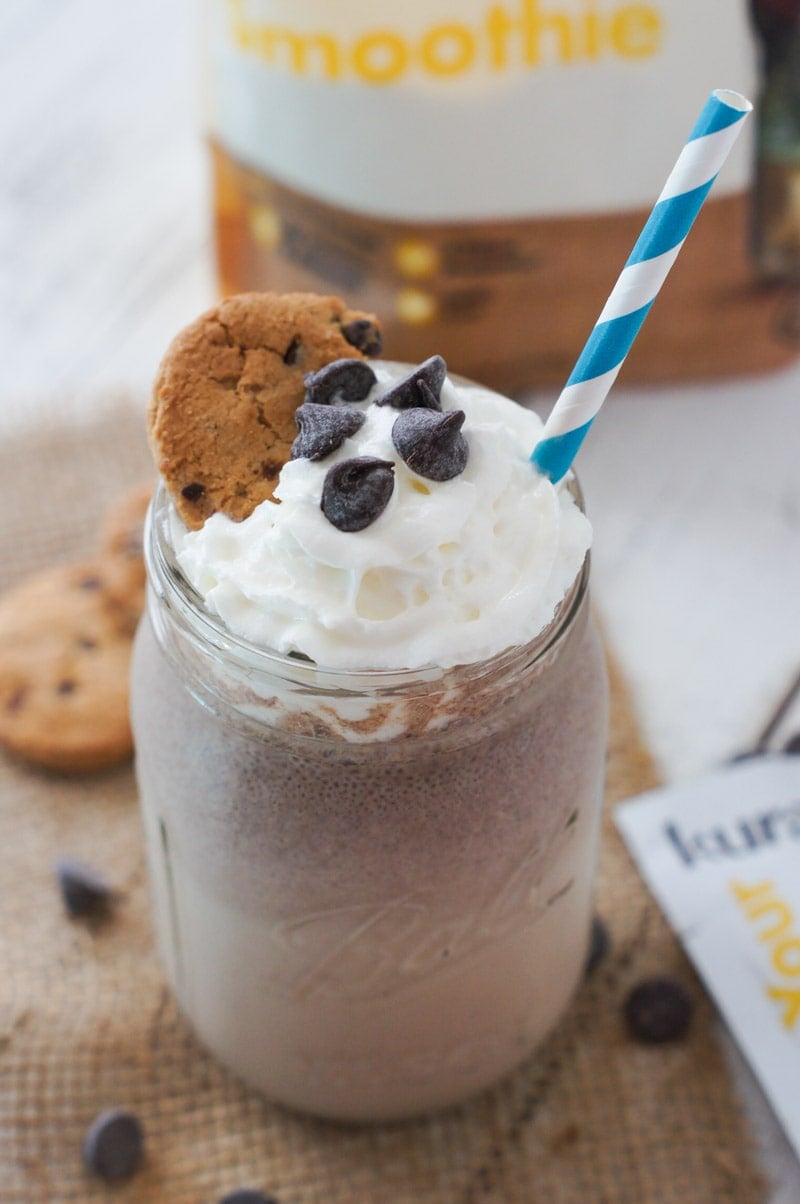 It is no secret that I love smoothies. The convenience of putting a variety of delicious ingredients in a blender, mixing it all up to instantly have a refreshing and nutritious meal is something that to me has no price tag. I've come to the realization that as a working mom with a very long commute, it is nearly impossible for me to cook three full meals a day let alone be paying attention at all times to nutrition labels or how much fruit and veggies I'm eating in any given day.
This is one of the reason's I love smoothies so much. Because you can add your fruits and veggies along with a good protein powder, have it in the morning for breakfast and you are all set for the day. At least with that you know that you have had at least one really good meal for the day with no pressure.
The best part is that you can mix and match your ingredients to the point where you can even make dessert for breakfast without all the heavy calories.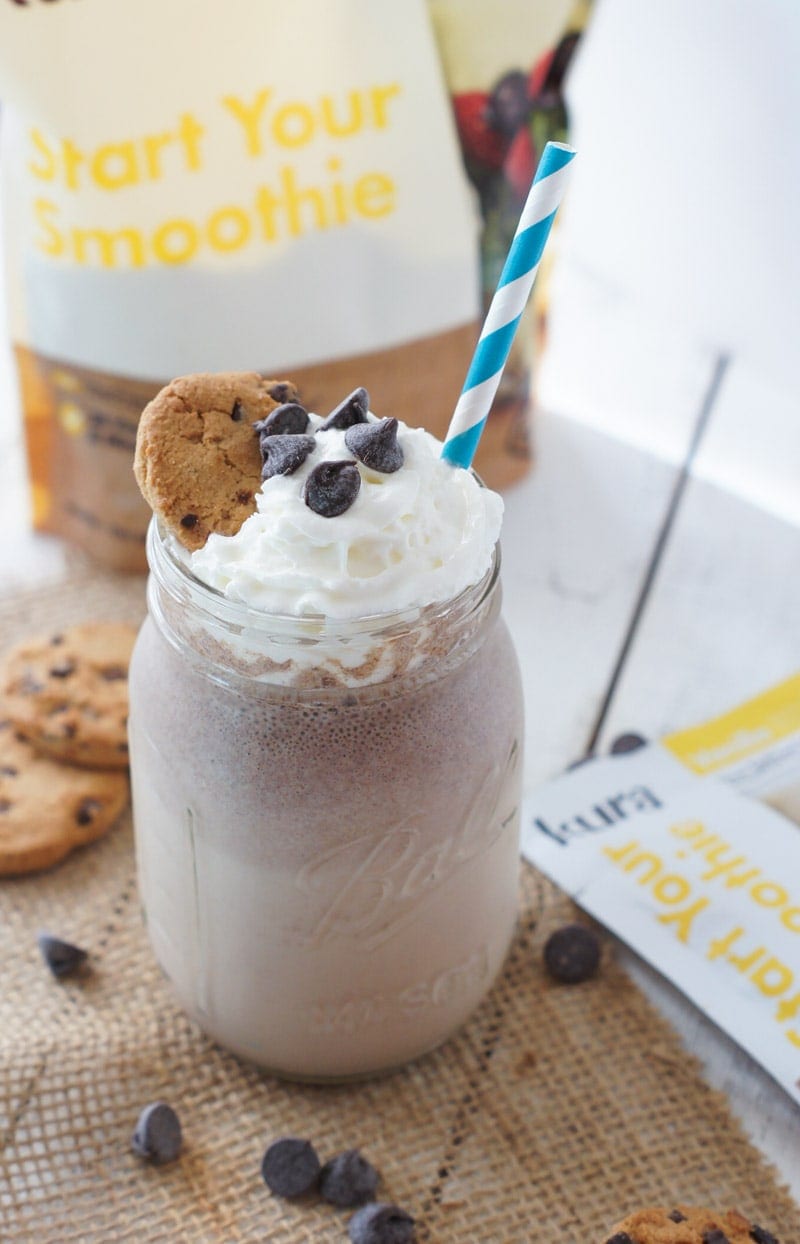 A few months ago, I tried Kura protein powder and fell in love with it! Kura is a GMO and gluten-free protein powder, with natural ingredients, no added sugar and filled with probiotics. It's the same one I used in my Tropical Sunrise Smoothie! I really like this protein powder over all others I've ever tried because it is a true example that you don't need to compromise taste for great nutrition.
Kura has recently made it to the shelves of 3000+ CVS stores and I'm beside myself because I can now walk down to my local CVS store and get my favorite protein powder. YAY!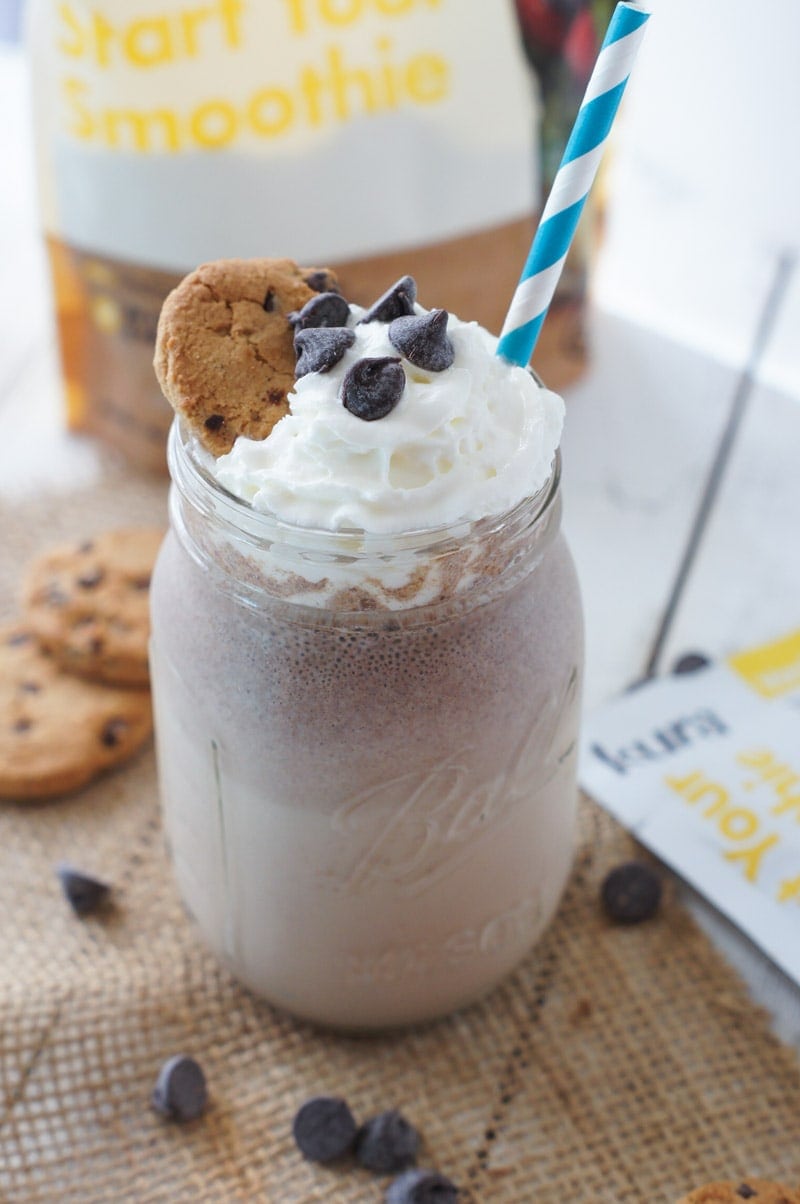 I have partnered with Kura and joined the One Shop Health Stop challenge to visit my local CVS store and created a smoothie with ingredients I found all at CVS. I have also partnered with the brand as an ambassador and will be bringing you fun and delicious recipes every month using Kura. Woohoo!
Now, back to the challenge.
I headed out to my local CVS store and thought I would make a quick and fun smoothie that would feel like you are having dessert for breakfast. My daughter was with me at the store and I remembered how I always have to buy her chocolate chip cookies. Always! She either has me bake them or buy them for her. But, she always has to have some on hand. From that came the idea for this Chocolate Chip Cookie Smoothie, which both my kids tried and loved, by the way.
For this recipe, I only used four ingredients. FOUR! But with all the flavor, you would never know. I grabbed a carton of almond milk, a pack of chocolate chip cookies, a small bag of semi-sweet chocolate chips and of course a pack of Kura. These four ingredients mixed in a blender with a lot of ice and topped with a little whipped cream make the best sweet milkshake like smoothie ever, and it only takes 5 minutes to prepare!
It is so good you must try. So, go ahead and come back to tell me what you think.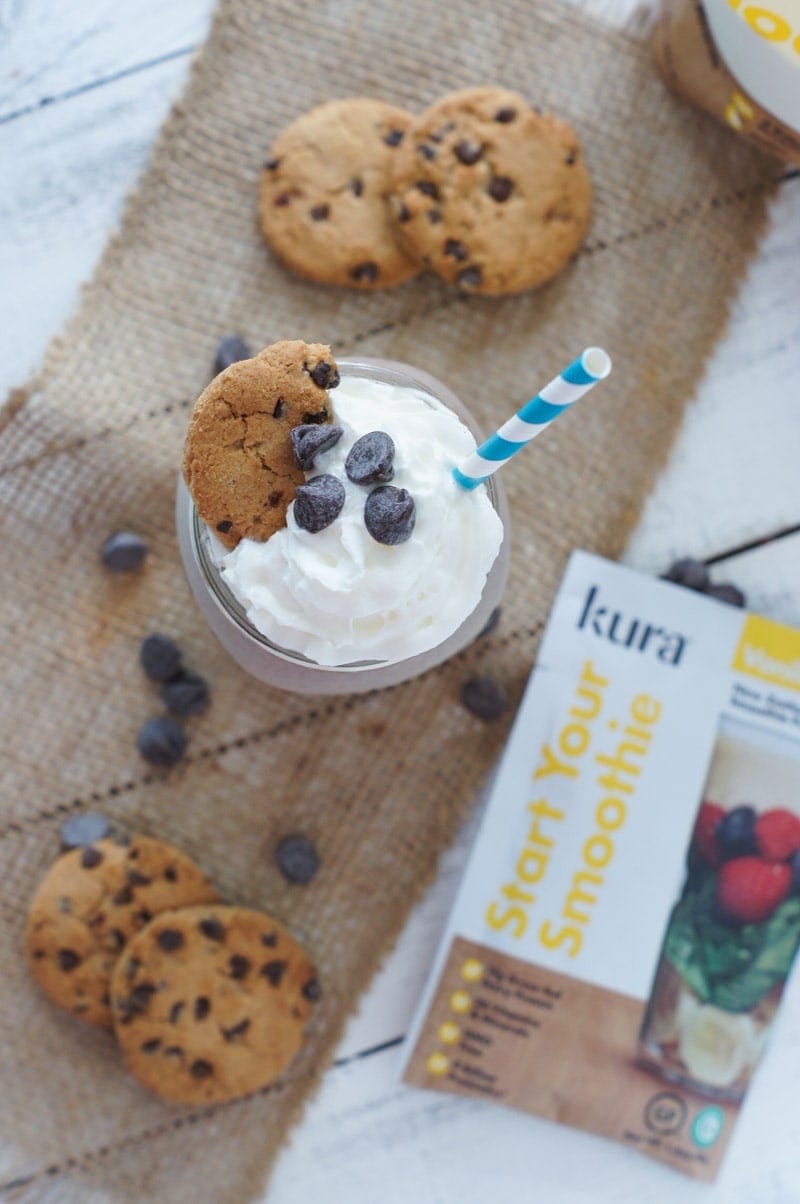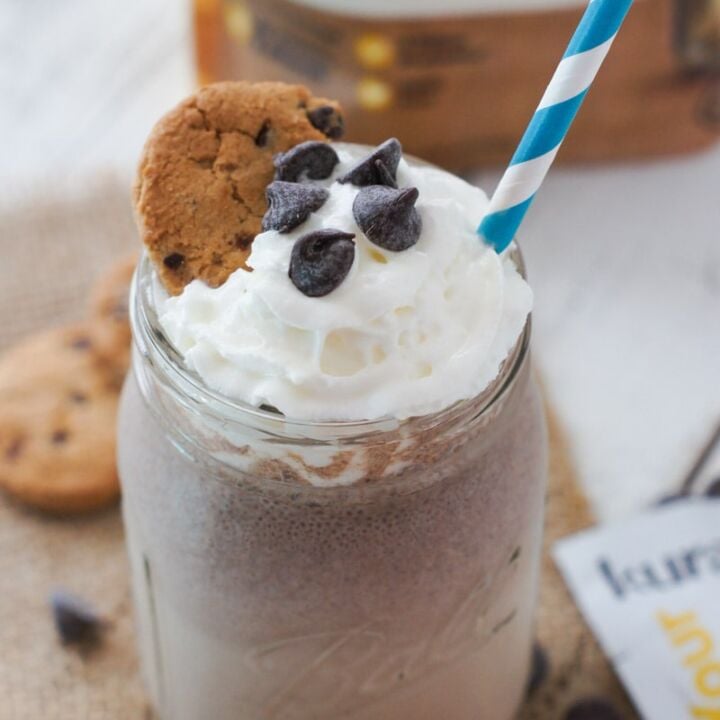 Chocolate Chip Cookie Smoothie
Author:
My delicious Chocolate Chip Cookie Smoothie recipe is quick, easy and nutritious! This chocolate protein shake satisfies the sweet tooth and takes less than 5 minutes to make with simple ingredients!
Ingredients
1 cup almond milk
4 chocolate chip cookies
2 tablespoons semi-sweet chocolate chips
1 scoop protein powder , vanilla flavor
1 cup ice
whipped cream for topping (optional)
Instructions
Mix all ingredients in a blender until well combined. Add more ice for a thicker smoothie.

Top with whipped cream, if desired. Serve immediately.
Notes
Add more ice for a thicker smoothie.
Blend the shake for at least 60 seconds to combine everything really well.
Make this smoothie even more chocolatey by using chocolate milk!
Nutrition
Calories: 267kcalCarbohydrates: 26gProtein: 11gFat: 13gSaturated Fat: 6gCholesterol: 30mgSodium: 284mgPotassium: 180mgFiber: 2gSugar: 13gCalcium: 229mgIron: 1mg
The nutritional information of this recipe and all recipes on mydominicankitchen.com is only an estimate. The accuracy of any recipe on this site is not guaranteed.