Warm, creamy, minty and totally caffeinated, this super easy peppermint mocha is the perfect pick me up drink for cold winter mornings.
I am an avid coffee drinker. My day does not begin until I've had my regular cup of coffee in the mornings. Every day, I try to have my cup of coffee as soon as I get my feet on the floor because when I don't, I'm usually very cranky and in a zombie like state, not sleeping but not fully awake either. It is very hard going through a morning like that let alone a full day.
My husband is also a heavy coffee drinker, so I make coffee for the both of us about 2 to 3 times a day. We are the only people I know that can have coffee right before going to bed and still fall asleep like babies. Isn't that weird? I think so.
My favorite coffee spot is Starbucks. I love Starbucks. Obsessed is more like it. But, very often we chose to just make coffee at home rather than go spend $10 at Starbucks. With the amount of coffee we drink on a daily bases here at home, we would be spending half the household's income if we bought it every time.
Instead, to try and make things interesting without feeling like we are giving up on much, I try to experiment with different coffee flavors and combinations.
This week, I made a super easy peppermint mocha perfect for cold winter mornings, and guess what? It tastes just like the expensive cup of coffee at your favorite coffee shop.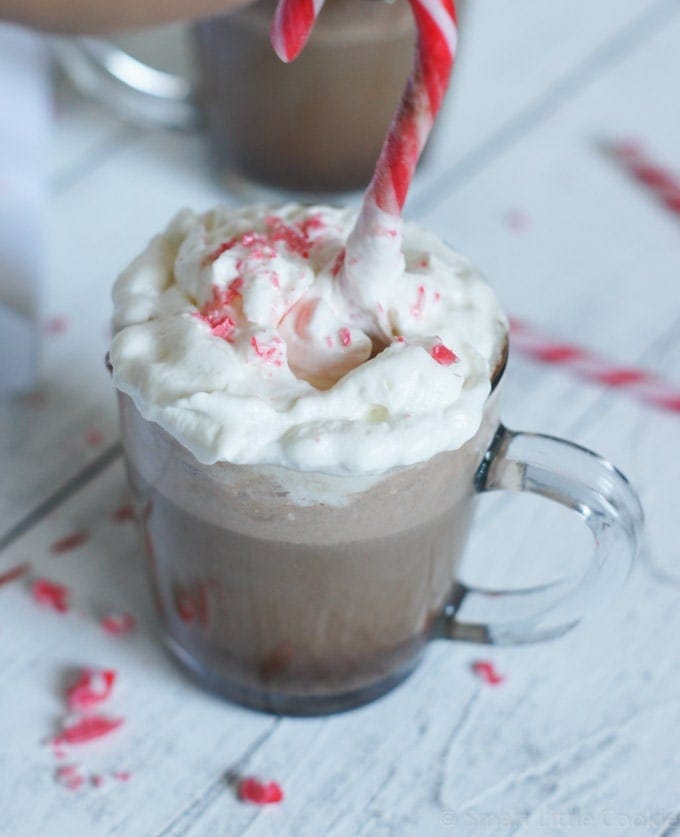 It is really simple. Just place some milk, cocoa powder, and sugar in a pot to warm up. To make it a bit more chocolaty, I added a few dollops of chocolate fudge. The same kind used for ice cream sundaes. Once the milk is warm and well combined, remove the pot from the heat and add a tiny bit of peppermint extract. That stuff is strong, so go light on it. Then, pour the milk into coffee mugs and add brewed coffee. Before adding the coffee, you can froth the milk using a frother if you'd like to add a little foam, but it's not necessary.
I topped mine with a really good amount of whipped cream and a few bits of crushed candy canes, which I then stirred into the coffee and made it just a tiny bit sweeter and definitely tastier.
Print Recipe
This peppermint drink is so perfect for the holidays
INGREDIENTS
1

cup

milk

1

tablespoon

cocoa powder

2

tablespoons

chocolate fudge

2

tablespoons

of sugar

⅛

teaspoon

peppermint extract

1

cup

brewed coffee

whipped cream

(optional)
INSTRUCTIONS
In a small pot heat up milk, cocoa powder, chocolate fudge and sugar. Remove from heat when it starts to boil.

Add peppermint extract.

Pour milk into a mug and use a frother to froth the milk.

Over the side of the mug, pour in brewed coffee.

Top with whipped cream and crushed candy canes, if desired.
Nutrition
Calories:
199
kcal
|
Carbohydrates:
31
g
|
Protein:
5
g
|
Fat:
6
g
|
Saturated Fat:
3
g
|
Cholesterol:
14
mg
|
Sodium:
121
mg
|
Potassium:
311
mg
|
Fiber:
1
g
|
Sugar:
25
g
|
Vitamin A:
198
IU
|
Calcium:
147
mg
|
Iron:
1
mg