Discovering fun, charming and beautiful new places with the family road tripping through Philadelphia and the countryside.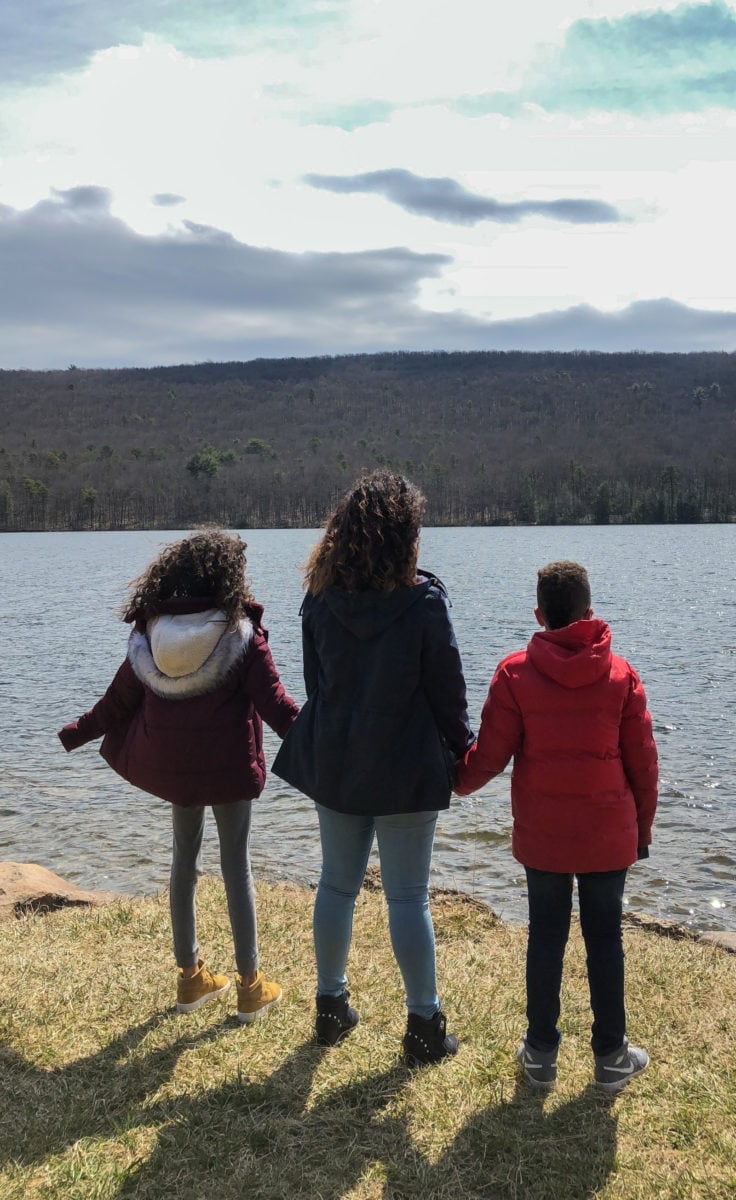 Last month the kids and I took a two-day trip to Pennsylvania to visit family. My aunt lives in Hazelton a small town near the Pocono Mountains, which is about two hours away from home.
Since we are now fairly close given that last year we were living in Florida, I decided to take a quick trip during the kids' Spring break to go visit my aunt and explore in a new place.
Our drive down to Pennsylvania from North Jersey was quite beautiful. We left late in the afternoon on a Friday and all through the ride we were met with beautiful scenery of mountains and lakes during sunset that was absolutely breathtaking.
We arrived at my aunt's house early evening with music, drinks, delicious dinner and habichuelas con dulce (It was Passover) because really that is just how Dominican families do. All through the evening we chatted about life, our family back home and made plans to get together again soon. There were lots of laughs and my kids had the opportunity to have fun and bond with their cousins, whom they had not yet met in person.
The next morning we woke up and got ready to go explore.
I really wanted to go visit Philly since I've heard it's an incredible city and we had never been there before. To my surprise, the city was two hours away! I don't know why, but I really didn't think it would be that far. We drove anyway.
My friends over at Mazda lend me the new Mazda CX-9 for this family trip and I couldn't be happier. I absolutely love this car! Not only because of its chick sophisticated look but also because of its fabulous technology and safety features, which for me were really important especially at the moment when I found myself driving back to Hazelton from Philadelphia at night through a pitch black road, filled with curves and completely surrounded by trees and mountains. It was like one of those moments taken out of a scary movie.
Some of the 2018 Mazda CX-9 Safety features include:
24-hour roadside assistance
Dynamic stability control
Front and rear stabilization bars
Adaptive Front-Lighting System
Multi-function commander control
Hill launch assist
Front and rear side airbags
Smart city brake support
Lane departure warning
Lane keep assist
While in Philly, we took some time to visit some historic areas like the Independence Hall and the Liberty Bell as well as the Rocky Steps. We also took some time to walk around the area in search for food and found a really cute Cuban restaurant named Cuba Libre where I was blown away but a unique compound butter made with mango and cinnamon they serve with bread at every table.
I seriously have been obsessed with this butter ever since I tried and now want to find a way to recreate it at home.
The next day, before our return home, we decided to drive around and explore the area around my aunt's house. We discovered a charming little town named Jim Thorp that left me completely in love.
The downtown area of town is surrounded by colorful old-charm buildings that look taken out of a holiday movie. The town also has a train that takes tourists on a scenic tour through the mountains. That day the train was closed because it was Easter Sunday, but I do plan to return and try it!
Finally, we drove up the town and we came into a serene beautiful lake surrounded by the mountains and completely brought into me a sense of peace and calm that I had only experienced whenever I found myself near the beach.
I am definitely a water-loving soul.
This was definitely a trip to remember. The good thing is that it's close enough to home that we can do it again soon. I'm sure there will be many more fun and beautiful things and places to discover.