Broadway Bites at Greeley Square ~ A seasonal culinary pop-up market in the middle of Herald Square, midtown Manhattan. Indulge in a variety of delicious food from popular chefs in the New York City.
When it rains, it pours. Have you ever hear that expression? It sure was true for me this past month.
If you didn't notice, the blog was down for a week. A WEEK! All due to a mishap with my past hosting company and the new one. We switched hosting companies about three weeks ago when we began getting issues on the site, which was causing the blog to not load properly. Everything was fine until last week when the domain was being transferred from one hosting to the next and the servers had not been pointed properly to the new host. This caused the site too go off line until the transfer was complete and after the transfer is started, nothing can be done but wait for it to be complete. <~ Did I get too techy for you there? Trust me. This was all new to me too. It was an incredibly stressful week to say the least, and I'm sure the people at Bluehost are happy it is finally resolved just so that they don't have to explain the same thing to me for the millionth time.
The good news is that we are back online and hopefully, we'll keep it that way. If the down time caused you any inconvenience, I sincerely apologize.
But enough about that. Let us now get into today's post which I have been eager to share with you for quite a while now.
Summers in New York are lots of fun! Anyone who has ever been here during summer time can easily attest to that. There is not one spot in this wonderful city that is not bursting with fun during the summer months. That is why I started this series of posts meant to help us discover the many wonderful places and activities happening in New York City.
So, join me on this adventure. Our first stop, Broadway Bites at Greeley Square.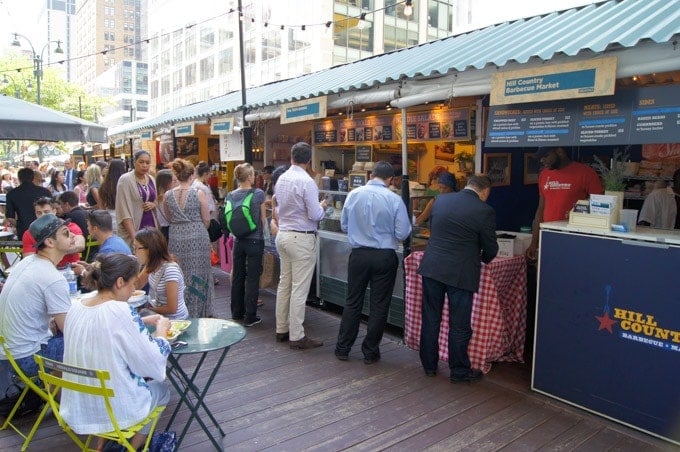 Broadway Bites is a seasonal culinary pop-up market in Greeley Square Park, located at the intersection of 33rd Street and Broadway. Presented by UrbanSpace, the market brings together New York City's most popular chefs, small culinary businesses and artisan producers, setting them up with outdoor kitchens in the heart of Midtown.
Small business restaurants set up right in the middle of the streets and cook to order right on the spot.
At Broadway Bites you can find a great variety of cuisine. From Thai food to Mexican tacos. Lobster rolls to Colombian arepas. There is something for everyone. Enough for one to come and eat something different everyday for an entire summer.
The price is a bit more than you would normally pay for this type of food, but the experience sure makes up for it.
During the work week, the market gets really crowded at lunch time. To avoid the crowds and enjoy the experience better, come later during the day or on the weekends.
The market opens every summer from 11:00 am to 9:00 pm at the beginning of June until the end of July.
I work just a few blocks from here and so far I've had the pleasure of tasting at least half of the food. I can say that it's really good, and worth every penny. As my co-worker usually says, you'll be thoroughly satisfied.
If you come by, do not leave without trying Palenque's Arepas de Chorizo and while you are at it get yourself a nice Thai Iced Tea from the Bangkok bar.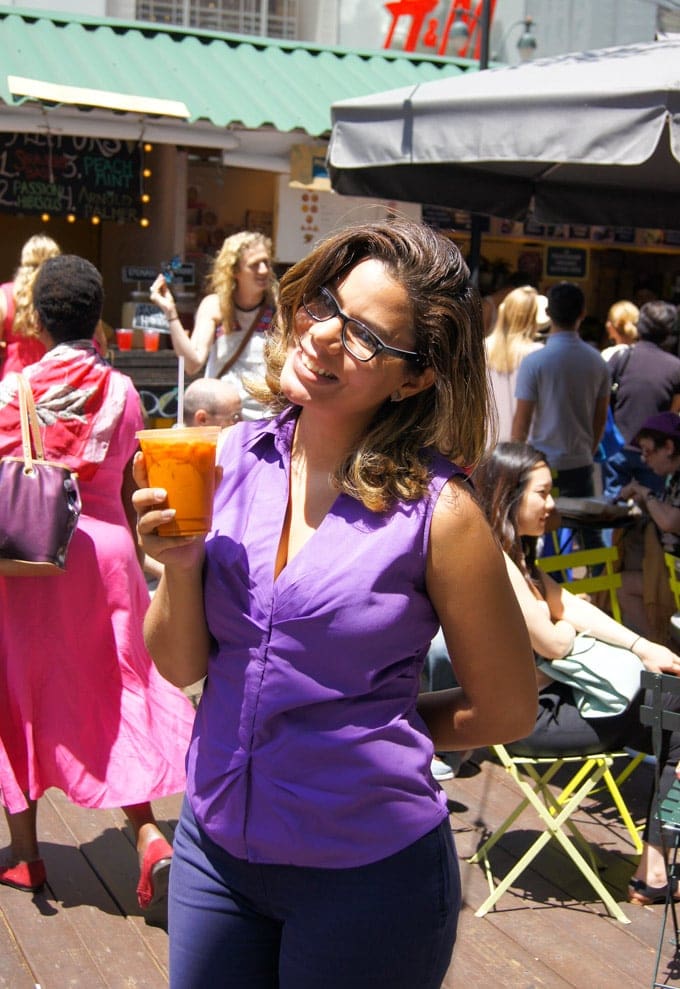 Enjoy and have fun!
Exploring New York City ~ Enjoying the fun of the city one spot at a time.
Disclaimer: This post contains affiliate links. These are products that I use or have used before and feel comfortable recommending.